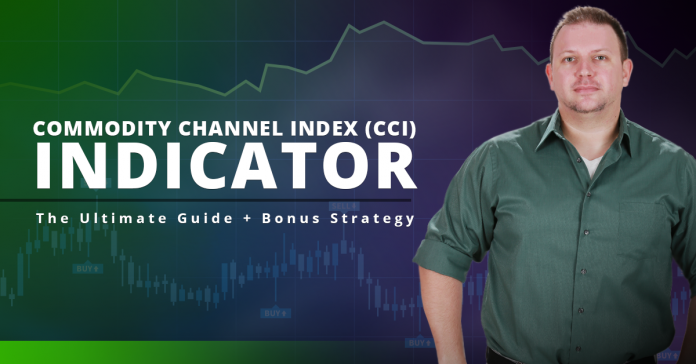 I have been receiving a lot of emails again regarding one of the most popular indicator out there, the Commodity Channel Index aka CCI so here we are.
Today i will introduce you to something that might become your next best friend in trading simply because it is extremely powerful when used the right way, it is super easy to understand how it works and because you will get one of my favorite CCI strategies.
If you prefer videos, we got you covered:
What is CCI?
Commodity Channel Index, often referred to as CCI, is an oscillator indicator created by Donald Lambert.
It is one of the best technical indicators one could use to help identify trend reversal (beginning of a new trend) and extremes.
Lambert's purpose was to create an indicator that will help traders spot the cycles on the commodity markets. However the indicator could be applied to literally any market suck as ETFs, stocks, indices, forex etc.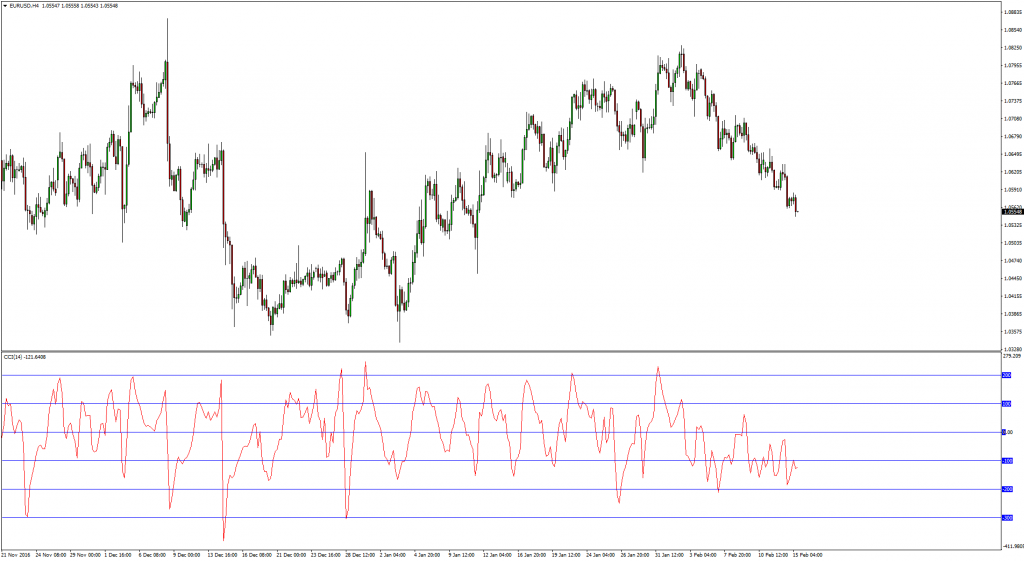 How does CCI Work?
CCI would calculate the relation between the current price to an average price level over a specified period of time. So for example, the indicator will read high values when price is above the average or vice versa it will read low values when price is below the average.
The average being zero, we can say that the instrument is showing bullish momentum once CCI crosses the +100 level. That could be a sign that bulls are taking the control and up moves are expected.
When the indicator crosses the -100 level, it means that bears are taking control and a down trend might be emerging.
On the other hand this is how traders can identify overbought and oversold zones. Readings above the +100 level might be an overbought condition and opposite for -100.
And here comes the million dollar question:
Which one is it – beginning of a new trend or overbought/oversold situation?
The answer is: no one knows! 
This is why when applying any indicator to your trading, you should look for multiple confirmations, and I mean not just from indicators. After all, most indicators are lagging, meaning that, whatever they represent is the history, not the present or the future.
So next time you see +100 don't just press the buy button thinking this is the beginning of a new trend or sell while expecting the price to drop because it is in overbought zone.
CCI Formula and Calculation
I'm not going to dig deeper into how exactly the indicator works, as I believe it is much more important to understand how to use it correct. However for those of you interested below is the formula:
CCI = (Typical Price  -  20-period SMA of TP) / (.015 x Mean Deviation)

Typical Price (TP) = (High + Low + Close)/3

Constant = .015

There are four steps to calculating the Mean Deviation. First, subtract 
the most recent 20-period average of the typical price from each period's 
typical price. Second, take the absolute values of these numbers. Third, 
sum the absolute values. Fourth, divide by the total number of periods (20).
How to Best Use the Commodity Channel Index?
You will find literally million of ways to trade CCI on the internet.
Below I have shared two of the most common and reliable ones. Neither of the methods discussed below are invented by me.
However for the second one (Trend line breakouts) I have included my personal "touch" to the idea which really makes difference in the longer run as it will allow you to filter many of the bad entries, and it will provide amazing risk:reward ratios. Let's begin:
1. Divergences
CCI divergence is one of the best ways to spot reversals (overbought/oversold zones). Those of you who have been following my work, know that I absolutely love Divergences and use them on daily basis. I do that for a reason – because they work! And to get back to the million dollar question from above – here is your first answer.
CCI divergence shows potential reversal (even if it is short term)
This is one way to know that readings above +100 or below -100 that form divergence are NOT the beginning of a new trend, rather a reversal zone.
Trading divergences only could be
If you want to learn more about divergences start with the Basics here, or master the art with my Divergence University Course.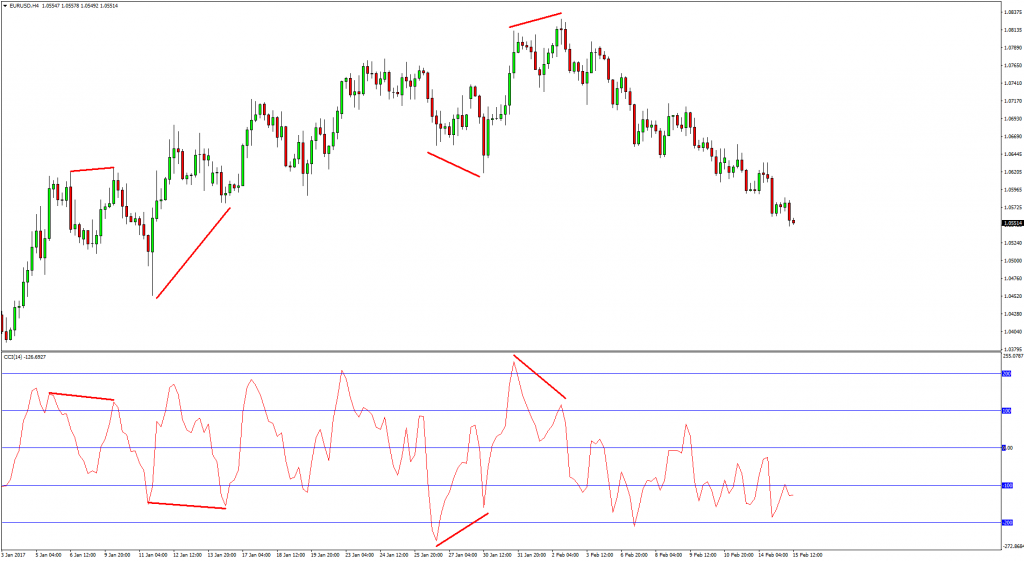 2. CCI Trend Line Breakouts
Another proven over the years method is trading the trend line breakout NOT on the price chart but on the indicator. This is really a different point of you on the markets and some of my fellow traders are actually rarely watching the price action. You can call it "blind" trading if you will but it is true, many traders out there won't rely on any other technical analysis and won't read the candlesticks (or bars) chart at all.
Here is an example:
Divergence (blue lines) at the top (what we assume to be a top because of the divergence). This is our first sign that this bullish momentum might be near its end or at least is due for correction.
Next step is to draw your CCI bullish trend line. Once broken you may choose to go short immediately, or a more conservative approach would be to wait for a re-test and then go short. We apply pretty much the same idea of the traditional trend line breakouts on the price chart.
If you want to learn more about trend line trading click here and scroll down to Lesson 5.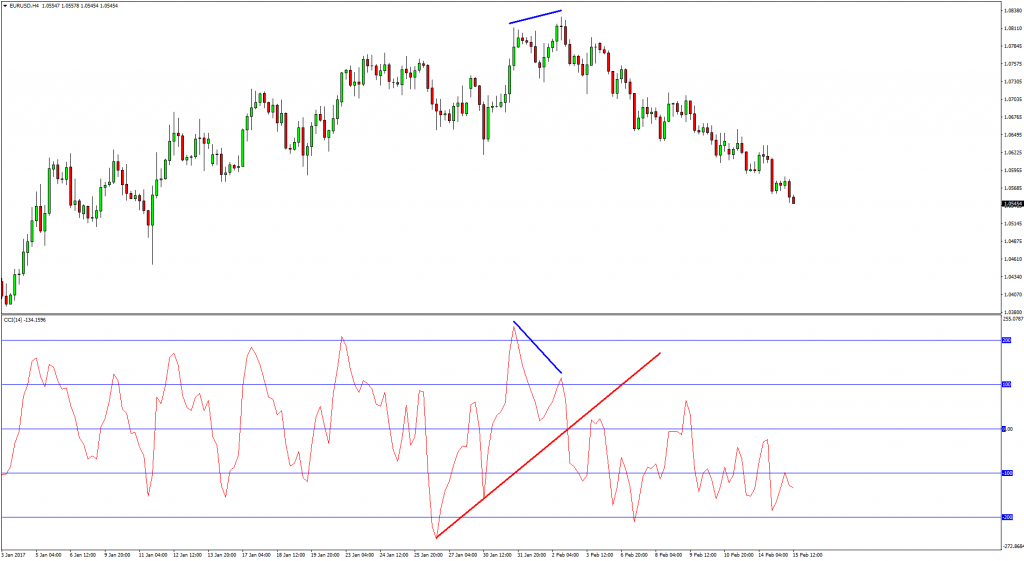 The actual entry is where the real art starts to show. At this point we have a great potential for a winning strategy but "devil is in the details" right?
So here is my way of trading the CCI trend line breakouts: Once the correction starts, wait for a Bottom/Low (when selling, as in the example above) to be created, and once broken down go short. This way your Risk:Reward would be amazing!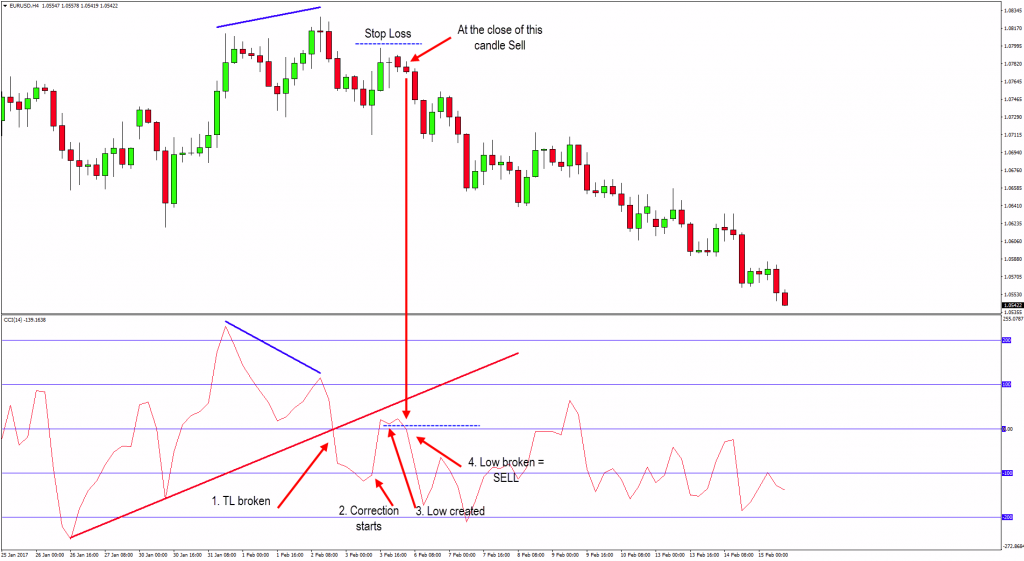 This is an example of a buy:
We wait for divergence to form.
Draw the CCI trend line and wait for breakout.
Re-test of the broken trend line (correction).
CCI high is created, we wait for a breakout above it (only at close of candle) and we go long.
Extremely tight stop loss, picking the absolute bottom of this down move, and huge potential to maximize profits. Risk:reward in most cases will be on your side.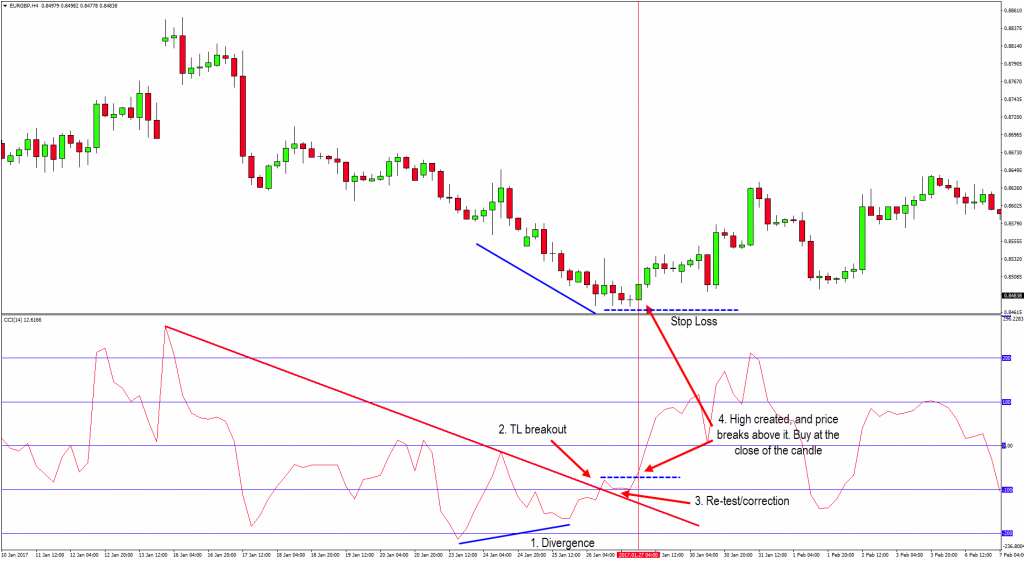 I would like to show you one more example where even though we got a setup, the strategy "naturally" will filter the bad ones and keep you off the market.
Trust me if you blindly follow the rules and don't rely on "hopes", or "that looks like….." you will make money using this strategy.
There is no reason why not to – risk:reward is on your side, which means you can win at least $2-3 for every $1 you risk, you have the built in, natural filter where if divergence is against you, it is obvious that we can expect a reversal of the current trend direction, even if short term, so why trade it, right?
Notice how after the correction, a high was created but at the same time there was divergence on the chart. Now in this case even if we get a break above the high (at #4 on the image), I wouldn't take the trade as i would be going against a divergence.
Later on this setup, turned into a bearish setup (our first example above). So instead of losing money, if you are patient and respect the rules, you will make money.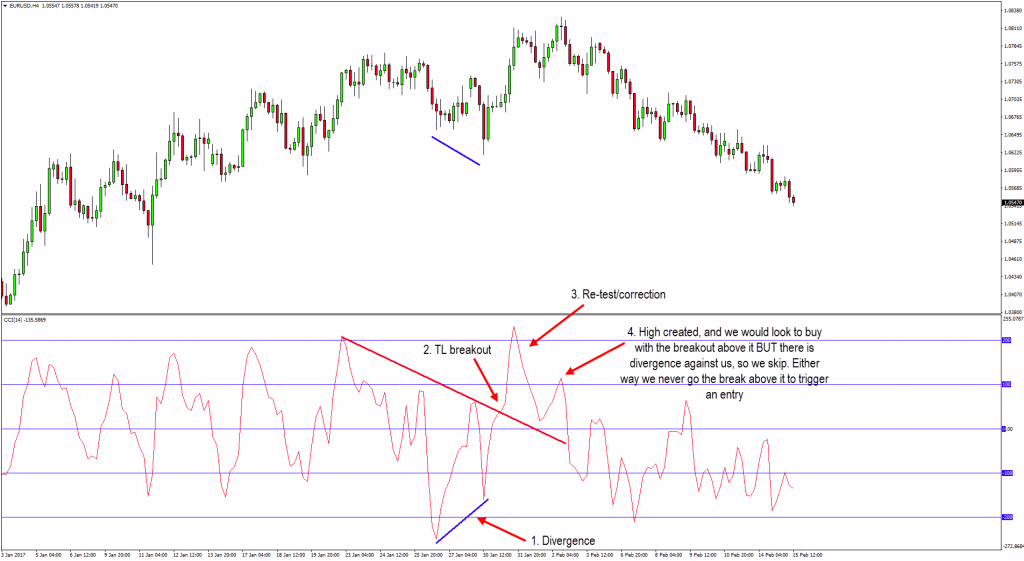 Tip: I would strongly advice you to follow the chart and price action as well, don't blindly rely on the CCI indicator. If everything looks aligned but price flew in the opposite way of your potential entry, then it is time to think about it do you really want to be
CCI in Stocks
Yes you can use it in stocks too. Below I have prepared two examples for you using the Apple chart.
Sell Setup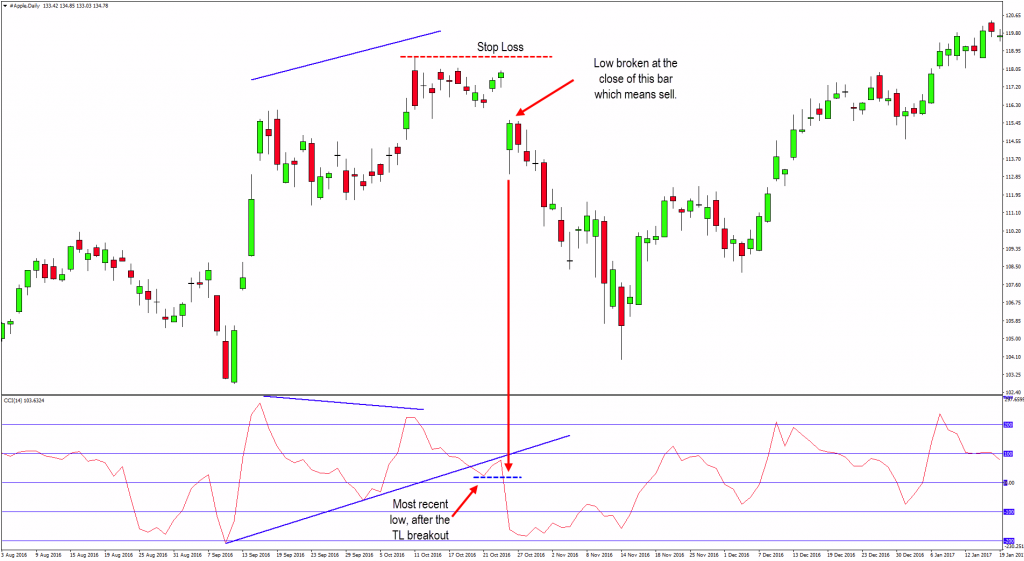 Buy Example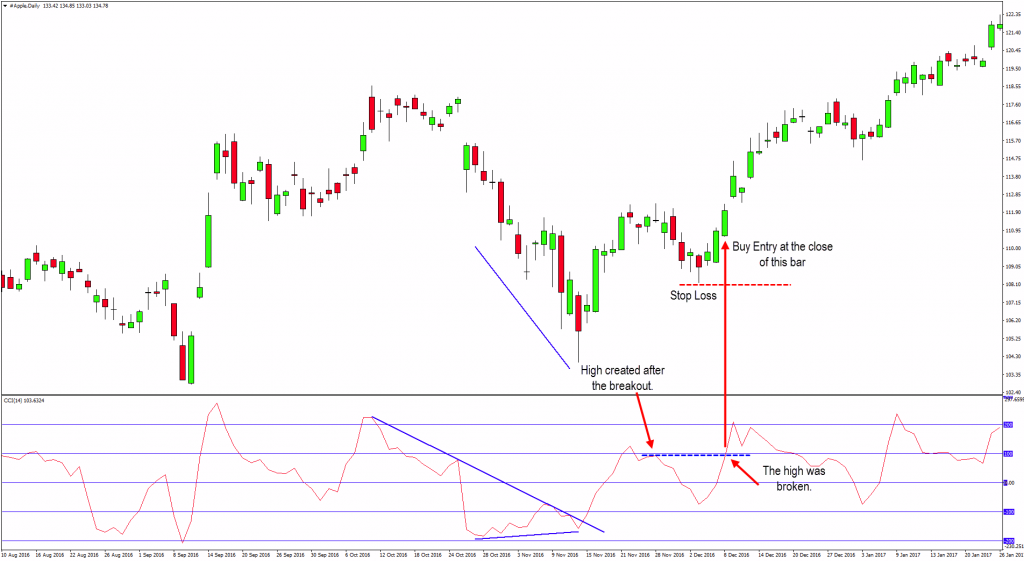 Just remember to use the most recent High/Low created after the breakout. This extra step is a confirmation for us that the momentum is in the direction that we are looking to trade. Is it going to work 100% of the times?
No, of course not, BUT it will give you a very good edge and in the longer term you will see the results of your work.
If you like this article please like and share it in the social medias!
Have a question?
Don't hesitate to drop me a line below in the comments section or jump in the chat room on the blog and say hello live!
Yours,
Vladimir