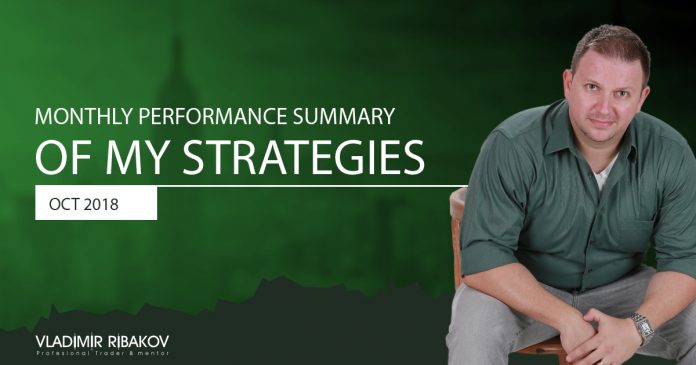 Click To Join Our Community Telegram Group
Hi Traders! Here is the portfolio monthly performance summary of my strategies October 2018 of the trades taken with sRs Trend Rider 2.0, Forex Triple B 2.0, Divergence University, Forex Scorpio Code, Forex Gemini Code, Forex Crystal Ball, FX Delta and Forex Libra Code.
October was an amazing trading month! sRs Trend Rider 2.0 is the best performer of the month with an outstanding performance of +9.82% profits, next we have Forex Triple B 2.0 with +9.32% profits, next we have FX Delta with +8.18% profits, then we have Forex Crystal Ball with +7.82% profits and then we have Divergence University with +5.73% profits, Forex Libra Code with +3.54% profits, Forex Scorpio Code with +3.35% profits and Forex Gemini Code (2 weeks) with +1.08% profits.
This is definitely another good trading month in this year considering the amazing results provided by my strategies! The results of the month of October has once again proved why my strategies are the best. It is definitely possible for you to use my strategies and achieve similar results or even better!  Most importantly I provide you a best chance by giving you my systems completely free! You can find all the details and get your copy right here
Keep in mind that you don't need to use all the systems, you can choose the ones that matches your trading style.
Weekly Performance Summary
srs trend Rider 2.0


Total pips
+438.2


Return on investment
+9.82%


Forex Triple B 2.0


Total pips
+805.1


Return on investment
+9.32%


FX Delta (Yordan)


Total pips
+331.7


Return on investment
+8.18%



Forex Crystal Ball


Total pips
+161

Return on investment +7.82%



Divergence University


Total pips
+313.8


Return on investment
+5.73%



Forex Libra Code


Total pips
+149.8


Return on investment
+3.54%



Forex Scorpio Code


Total pips
-75.3


Return on investment
+3.35%



Forex Gemini Code


Total pips
+28.3


Return on investment
+1.08%

Total


Total pips +2152.6


Return on investment
+48.84%
SRS TREND RIDER 2.0
Advertisement