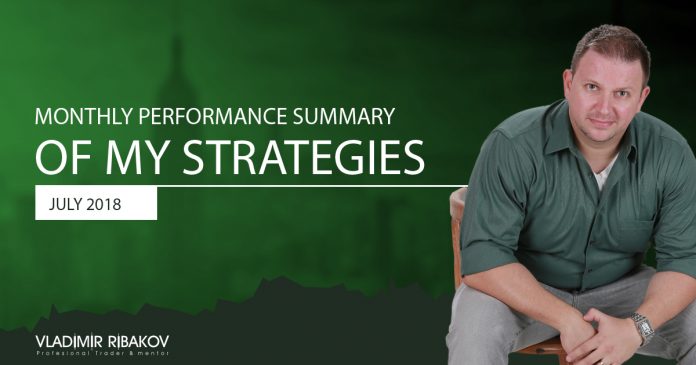 Hi Traders! Here is the portfolio monthly performance summary of my strategies July 2018 of the trades taken with sRs Trend Rider 2.0, Forex Triple B 2.0, Divergence University, Forex Scorpio Code, Forex Gemini Code, Forex Crystal Ball and Forex Libra Code.
It was a good trading month! Divergence University is the best performer of this month with an outstanding performance of +5.24% profits, next we have Forex Libra Code with +1.6% profits, next we have Forex Scorpio Code with +1.31% profits, then we have Forex Crystal Ball with +0.98% profits and then we have Forex Triple B 2.0, Forex Gemini Code and sRs Trend Rider 2.0 which ended in a loss.
Important!!!! – NO, you don't need all the systems. You need the one or ones that match your style!
Advertisement
And to give you the BEST chance to be profitable, I give you my systems for completely free! I am not asking a penny for it!
You can get the systems free thanks to the amazing brokers partnership program we have.
Get your copy right here
Monthly Performance Summary
Divergence University

Total pips
+277


Return on investment +5.24%


Forex Libra Code


Total pips
+160.1

Return on investment +1.6%

Forex Scorpio Code


Total pips
+59.2

Return on investment +1.31%


Forex Crystal Ball

Total pips
+109.9

Return on investment +0.98%

Forex Triple B 2.0


Total pips
+63.3


Return on investmeNt
-1.01%


Forex Gemini Code

Total pips
-41.4


Return on investment
-1.07%


sRs Trend Rider 2.0

Total pips
-129.7


Return on investment
-1.93%


Total


Total pips +498.4


Return on investment
+5.12%
Divergence University