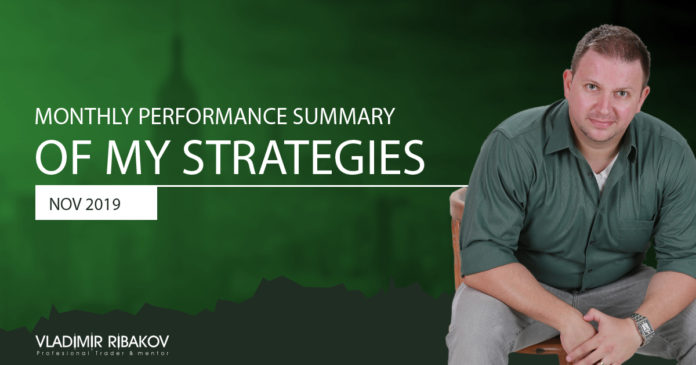 Hi Traders! Here is the monthly performance summary of my strategies November 2019 of the trades taken with sRs Pro, sRs Trend Rider 2.0, Forex Triple B 2.0, Forex Crystal Ball, Divergence University and FX Delta.
It was an amazing trading month. sRs Pro is the best performer of the month of November with an outstanding performance of +10.26% profits, next we have Divergence University with +6.14% profits, sRs Trend Rider 2.0 with +4.96% profits, Forex Triple B 2.0 with +4.26% profits, FX Delta with +2.88% profits and then we have have Forex Crystal Ball with +1.97% profits (one week result).
I hereby provide you a wonderful opportunity by giving my systems completely free! Yes, you read it right but you don't need all the systems, you need the one or ones that match your trading style! Make use of this wonderful opportunity and get your copy right here
You can check my road map here to find about all my trading systems and see what works best for you.
Monthly Performance Summary

sRs PRO

Total pips
+450.2

Return on investment
+10.26%



Divergence University

Total pips
+154.9


Return on investment
+6.14%



sRs Trend Rider 2.0

Total pips
+263.2

Return on investment
+4.96%



Forex Triple B 2.0

Total pips
+1131.2


Return on investment
+4.26%



FX Delta (Yordan)

Total pips
+1049.6


Return on investment
+2.88%



Forex Crystal Ball

Total pips
+44.8

Return on investment
+1.97%


Total


Total pips
+3093.9


Return on investment
+30.47%