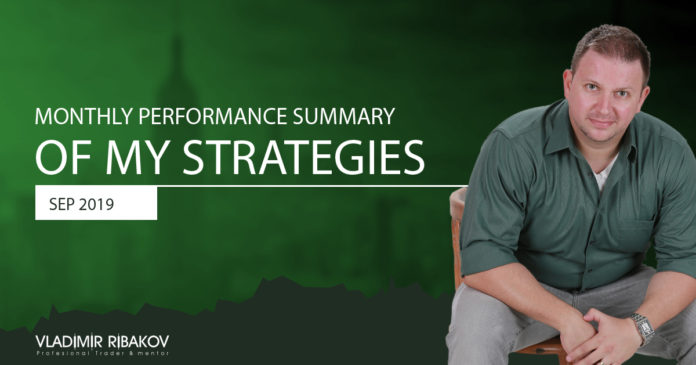 Click To Join Our Community Telegram Group
Hi Traders! Here is the monthly performance summary of my strategies September 2019 of the trades taken with sRs Trend Rider 2.0, Forex Triple B 2.0, Forex Crystal Ball, Divergence University and FX Delta.
Note: Due to technical issue we weren't able to upload some of our great trades that we've had in the month of September. This performance summary is based on two or three weeks trade results of the strategies.
It was a good trading month. sRs Trend Rider 2.0 is the best performer of this month with +3.93% profits (3 weeks), next we have Divergence University with +3.93% profits (2 weeks), Forex Triple B 2.0 with +2.46% profits (2 weeks), Forex Crystal Ball with +0.88% profits (2 weeks) and then we have FX Delta which ended in Break Even.
You can also achieve similar results or even better using my systems. To give you the BEST chance to be profitable, I give you my systems for completely free! I am not asking a penny for it!
You can get the systems free thanks to the amazing brokers partnership program we have.
You can find all the details and get your copy right here
Monthly Performance Summary

sRs Trend Rider 2.0

Total pips
+227.4


Return on investment
+3.93%


Divergence University

Total pips
-15.5


Return on investment
+3.93%



Forex Triple B 2.0

Total pips
+407.3


Return on investment
+2.46%



Forex Crystal Ball

Total pips
+15.3

Return on investment
+0.88%



FX Delta (Yordan)


Total pips
+54.1


Return on investment
Break Even


Total


Total pips
+688.6


Return on investment
+10.38%
SRS TREND RIDER 2.0
Advertisement