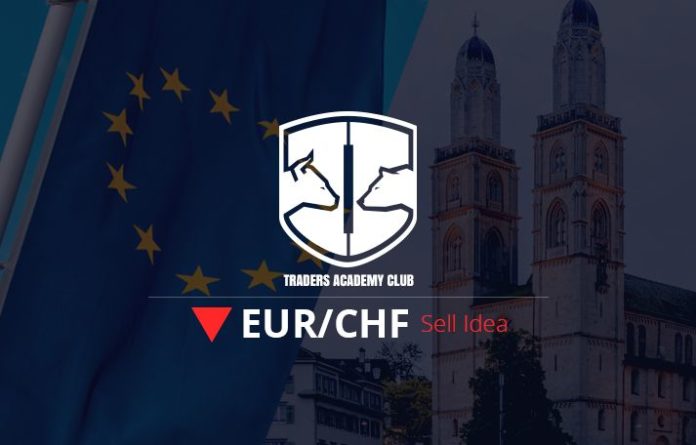 Traders Academy Club - Learn How Trader Earns!

VIP Membership Club for Traders by Vladimir Ribakov
Hi Traders! Here is my technical analysis on EURCHF sell idea. As we do in every technical post we are going to perform the multi-time frame analysis on this pair in order to find the possible trading opportunities. We do our analysis on the MetaTrader4 platform (MT4). Some very interesting and useful tips and hacks about the MT4 platform could be found here. Lets start our analysis now from the weekly chart.
EURCHF W1(Weekly) Chart Analysis – Bearish Trend
On the weekly chart the price which is moving lower has currently created a bearish trend in the form of lower lows, lower highs pattern. So until we get a bullish divergence, we may expect this bearish trend to continue. Now lets move down to the lower timeframes and see if we can find evidences which supports our bearish view.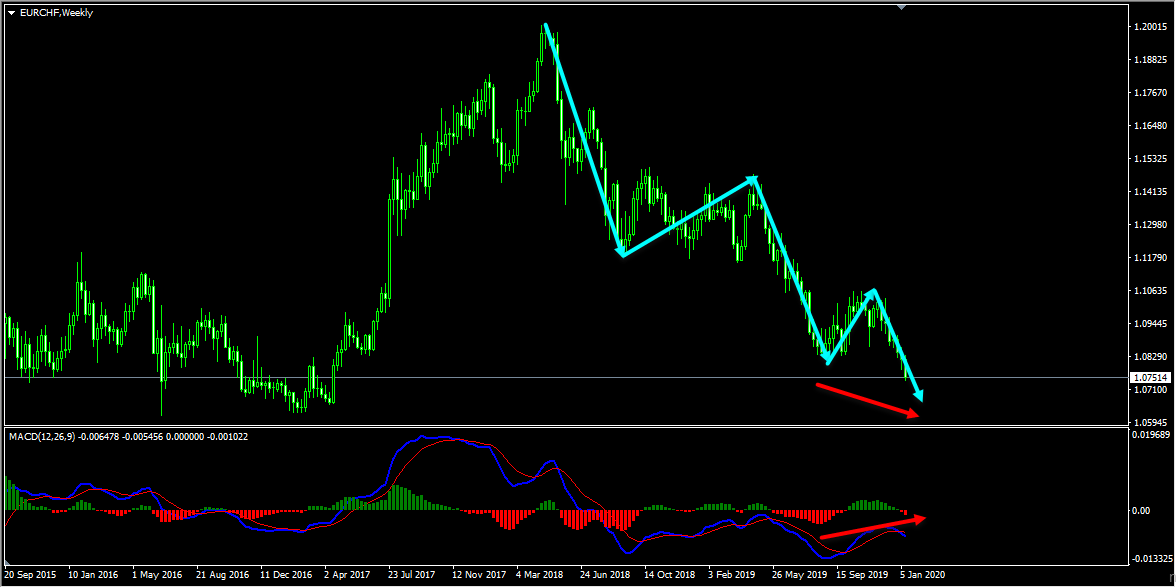 EURCHF D1(Daily) Chart Analysis – Triangle Pattern Breakout,

Heikin Ashi Candles
Looking at the daily chart we can see that the price which was moving inside a triangle pattern has broken below the bottom of this triangle pattern and is holding below it which we may consider as an evidence of bearish pressure. Also while checking the MACD indicator and RSI indicator we can see that both these indicators are clearly supporting the bearish trend.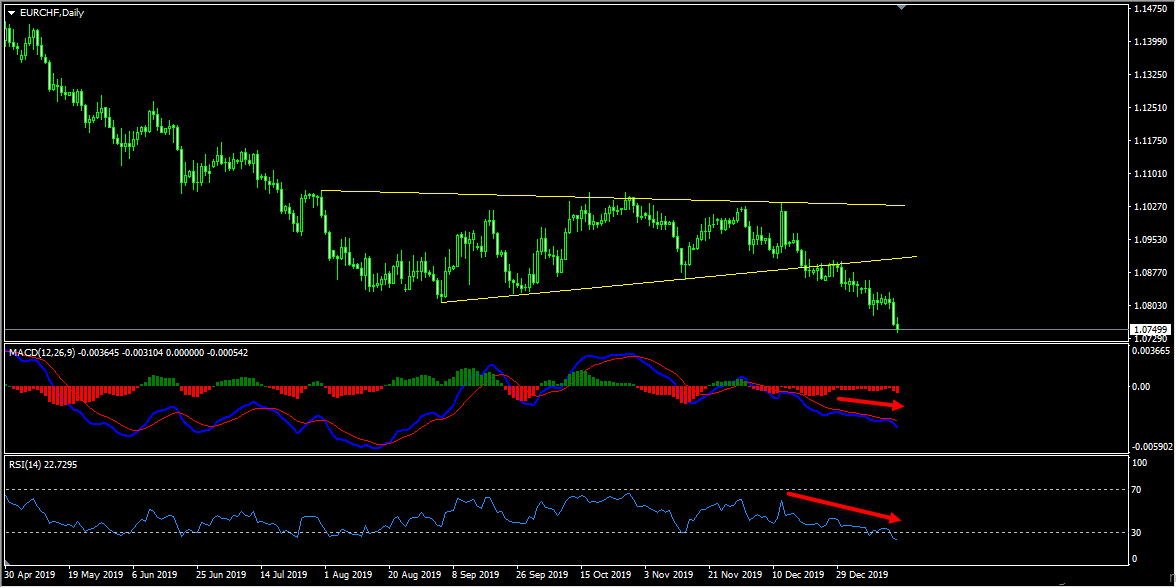 Also based on the Heikin Ashi candles we can see that currently we have strong bearish bodies in downward moving market conditions so it basically reflects a bearish environment so until the condition changes my view remains bearish here.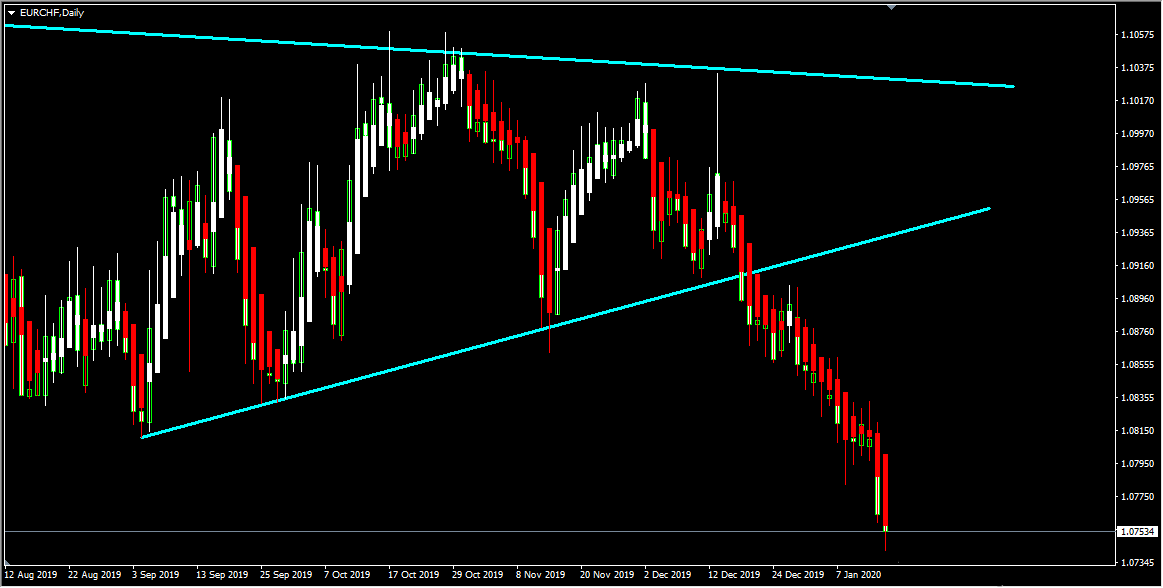 EURCHF H4(4 Hours) Chart Analysis – Bearish Trend Pattern
On the H4 chart the price which was moving lower had created a bearish trend pattern (3 waves down – if you want to learn about bearish trend pattern please watch the video here). Generally as per the book scenario we may now expect possible corrections to happen and then further continuation to the downside. In addition to this looking at the MACD indicator we can see that there is no divergence against us, so everything looks good here for the bears as well.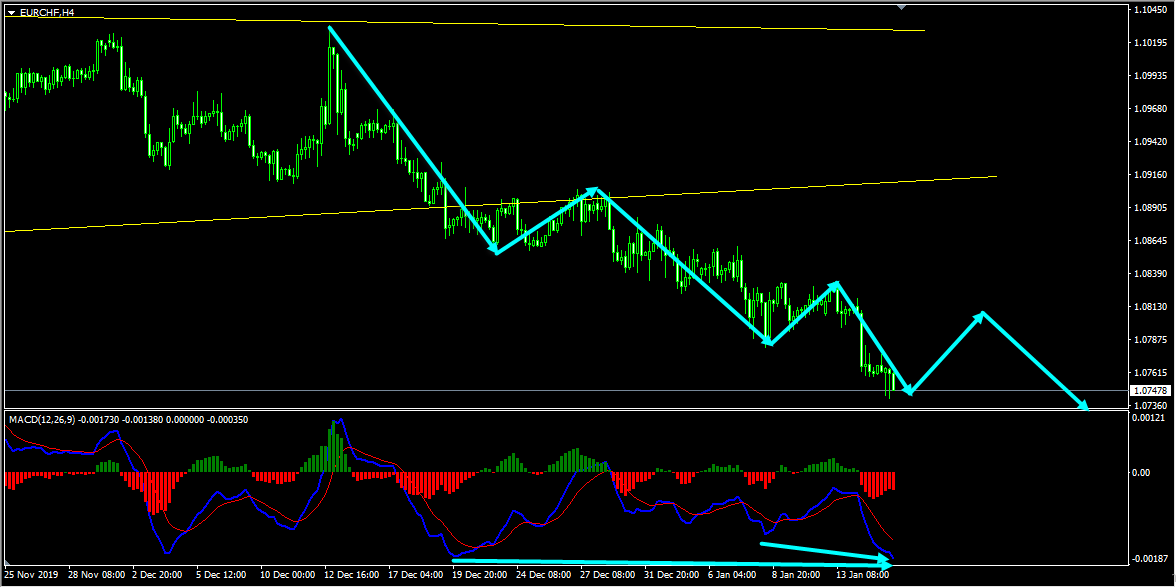 EURCHF H1(1 Hour) Chart Analysis – Bearish Trend Pattern
We also have a price action based bearish trend pattern on the H1 chart as well which makes our bearish view much stronger. We may now look for pullbacks to happen, once the pullback completes itself we may look for bearish setups with more bearish evidences (candle stick patterns, false breaks, trend line breakout etc…) in order to start looking for the sells.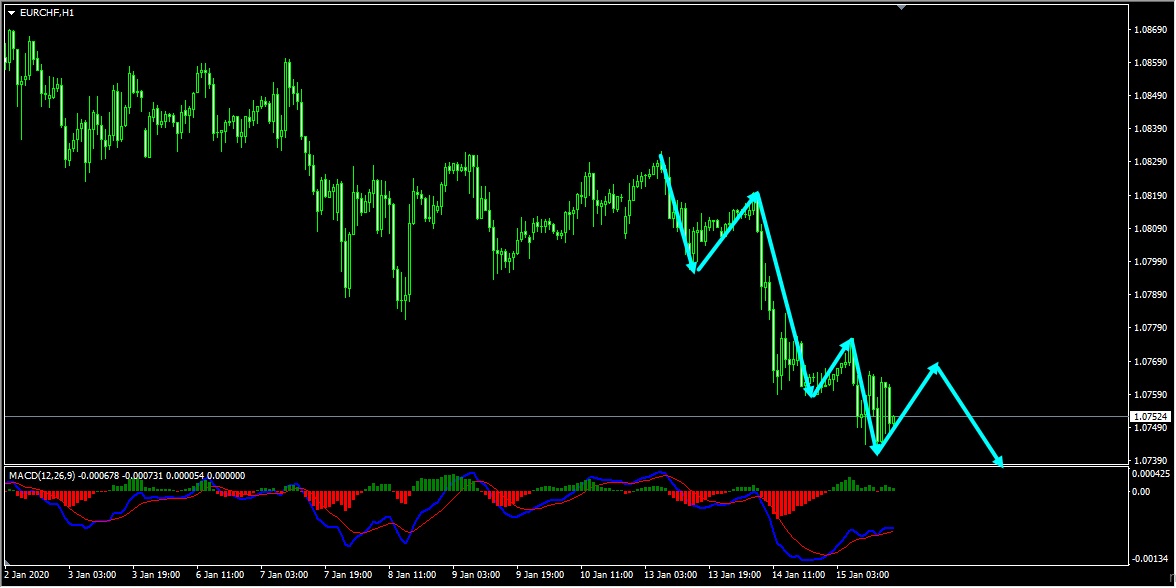 Technical Analysis & Forecast Summary
Lets recap and summarize the analysis we had so far:
EURCHF W1(Weekly) Chart Analysis:
EURCHF D1(Daily) Chart Analysis:
Triangle Pattern Breakout,

Heikin Ashi Candles
EURCHF H4(4 Hours) Chart Analysis:
EURCHF H1(1 Hour) Chart Analysis:
You can watch my video on EURCHF Sell Idea here:
Trading Tips
It is always recommended to look for confirmations before you jump into any trade. If you are not sure about how to trade this sell setup then you can use any setup and strategy that you have in your arsenal to look for bearish moves and join this sell trade.
Also don't forget to protect your sell trade using a stop loss and make sure to set a target and keep a proper risk/reward ratio.
You will also find a pretty extensive database of educational materials here in the blog – just use the search or check out the Forex Education section above.
Not sure how to enter a trade? Spot reversals (bounces)? Not sure how to spot breakouts?
I invite you to join me in my live trading rooms, on daily basis, and improve your trading with us.
Also you can get one of my strategies free of charge. You will find all the details here
If you have any further questions, don't hesitate to drop a comment below!
Yours to success,
Vladimir Ribakov