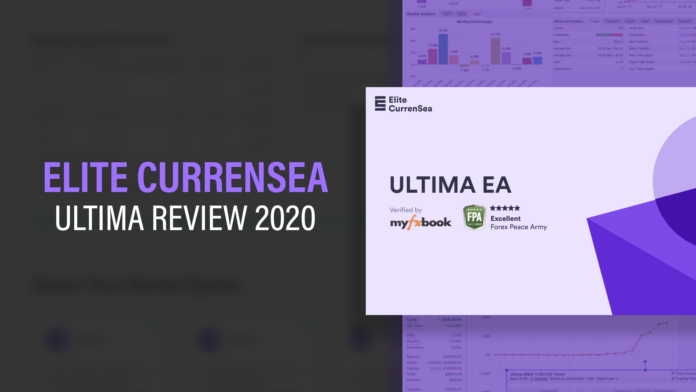 There's been an undeniable buzz within the day trading community regarding a newly innovated Expert Advisor (EA) launched by Mislav Nikolic and Elite CurrenSea.
Functioning as an automated trend trading system, the Ultima EA executes all of the trading decisions (such as entry, exit, stop-loss and take profit) along with conducts comprehensive trade management which features a trail stop loss.
Now we've seen plenty of auto traders throughout our decade-plus experience with day trading but seldom do we encounter a system that allows transparent results prior to being asked to fork over cash to use their system.
The system is completely automated, there are no upfront costs to using the UItima EA and you only pay when profits are made, sounds like quite the deal, right?
We thought so too, which is why we wanted to take the time to conduct a thorough review regarding the highly rated and anticipated Ultima EA by Elite CurrenSea.
With this in mind, let's dive right in.
Who is Elite CurrenSea?
Elite CurrenSea provides award-winning trading and educational services.
Providing trading strategies, day trading systems, and in-depth educational materials, Elite CurrenSea tries to blend together the perfect marriage of trade execution and wisdom.
Reflecting hundreds of 5-star reviews online with notable Forex WatchDogs such as ForexPeaceArmy, FX Street, Forex Factory and more, it is difficult for many prospective investors to debunk the value of Elite CurrenSea offers.
Founded by Nenad Kerkez and Chris Svorcik in 2014, Elite CurrenSea has groomed its trading and educational company with the intention of simplifying day trading.
You can learn more regarding Elite CurrenSea in our Full Elite CurrenSea Review.

What is Elite CurrenSea Ultima EA?
The Ultima EA is an automated trend trading system that was created by the Founders of Elite CurrenSea, Mislav Nikolic and Chris Svorcik.
Designed as an Expert Advisory (EA), the Ultima EA conducts fully automated trading for the Forex markets and reflects a cumulative success rate between 55% to 60%.
Ultima is said to use dynamic price swings, automated Fibonacci targets along with breakout rules and filters to create small losing streaks and substantial equity boosts.
No minimum deposit amounts or trading sizes are enforced with the Ultima EA while, as we mentioned earlier, you only pay when profits are being made.

How does Ultima EA Work?
We won't dive into the complexities of how the Ultima EA works for your sake but you can better understand how the system functions through their 5 trading steps.
A trend is determined by comparing price versus the long-term MA (144 EMA). Candles residing above the 144 Exponential Moving Average indicator are considered an uptrend whereas candles below are considered a downtrend. By using additional filtering through the Elite CurrenSea ecs.WIZZ indicator, traders better understand the trend under analysis while gaining a better understanding of how much space is available within the trend.

Ultima EA then waits for a pullback by waiting for the HMA (Hull Moving Average) to point in the opposite direction of the current trend, which is used to indicate a retracement occurring. A bearish HMA is needed for the uptrend while a bullish HMA is required in a downtrend. There are specific rules and conditions in place with the Ultima EA to calculate the correct pullback, which allows traders to avoid too shallow pullbacks, too deep retracements, or reversals.
Ultima EA then seeks a continuation to confirm a breakout, the continuation occurs after the price action has made a pullback in a trend. Special rules are employed to avoid weak breakouts and trend reversals.

Multiple filters are used to filter out weak trading setups so that the Ultima EA only enters trades with decent long-term profitability expectancy.

Ultima EA is a dynamic system, capable of automatically adjusting its targets and stop losses dependent upon price volatility. Automatically executing your trade entries, exits, stop losses, and take profits, the Ultima EA automates day trading for you.
Ultima Trading Performance
Transparency is crucial to proving the value of any system, strategy and trading approach within the online trading arena.
Fortunately, there are no shortages of documented trading results for the Ultima EA.
Shared below are 4 currently MyFXBooks live accounts displaying the performance of the UItima EA across various time frames with different assets:
Ultima EA FXDD – (+229.28%)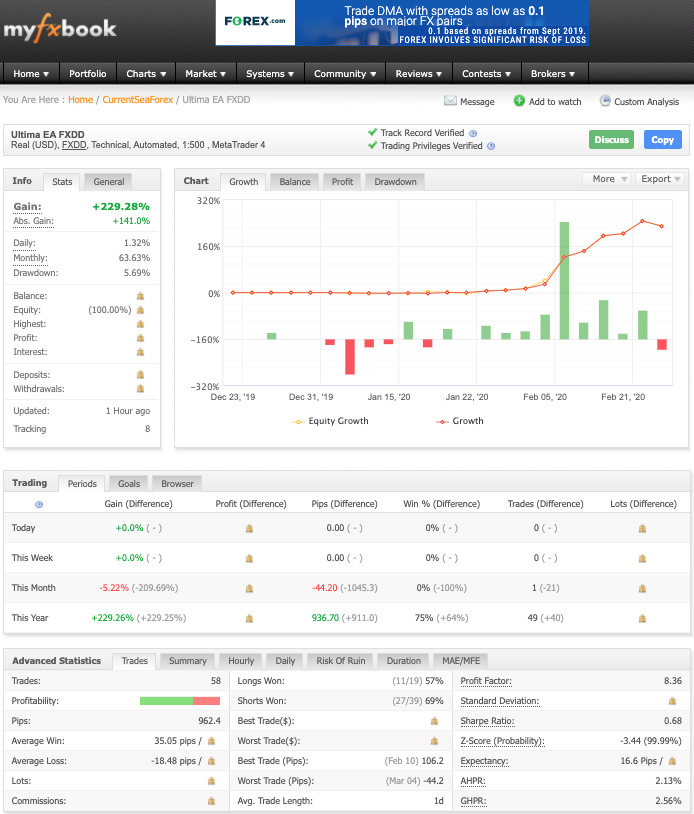 https://www.myfxbook.com/members/CurrentSeaForex/ultima-ea-fxdd/4442338
Ultima SWAT EA – (+348.15%)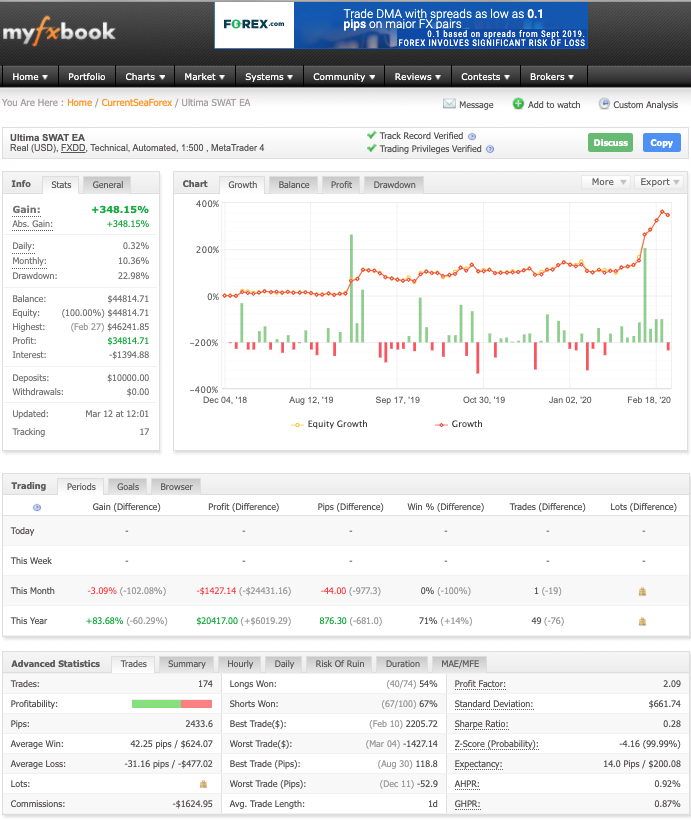 https://www.myfxbook.com/members/CurrentSeaForex/ultima-swat-ea/3601444
Ultima.SWAT GBP/USD 60 min – (-3.84%)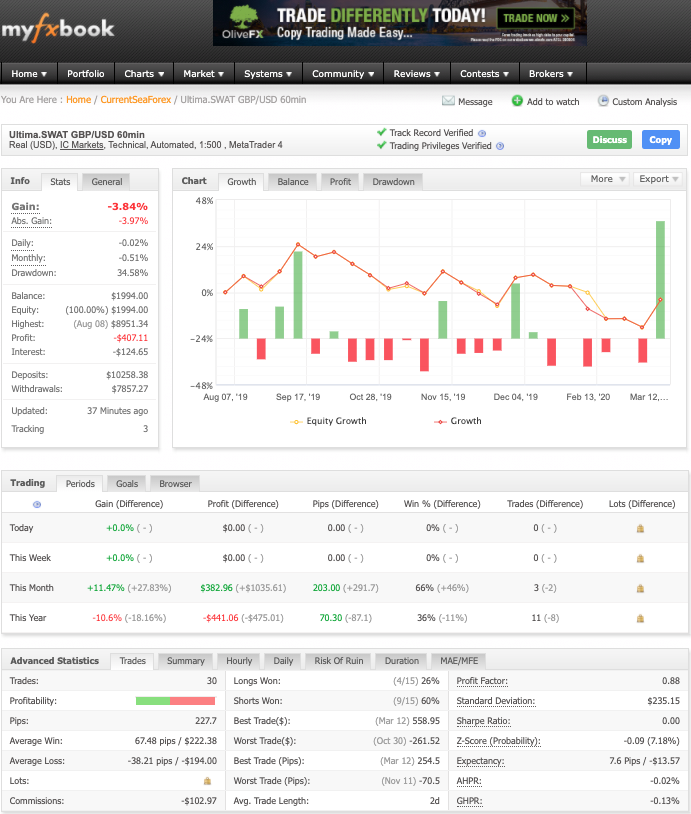 https://www.myfxbook.com/members/CurrentSeaForex/ultimaswat-gbpusd-60min/3524417
Ultima.SWAT EUR/USD 15 min – (+545.55%)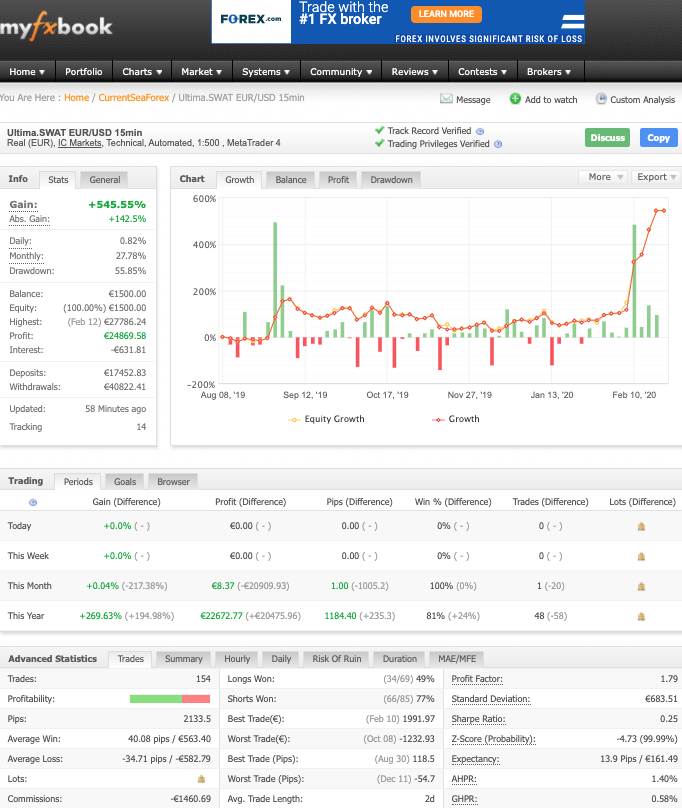 https://www.myfxbook.com/members/CurrentSeaForex/ultimaswat-eurusd-15min/3524413
Elite CurrenSea Ultima EA Tutorial Webinar

Ultima EA Systems
There are 3 rental options to use the Ultima EA.
UEA Plus – €2,599.00
24/5 Email Support
Lifetime Membership
Dedicated VPS Management
Premium VPS Maintenance
UEA Year – €2,099.00
24/5 Email Support
1 Year, 1 Account Membership
UEA 6 Months – €1,399.00
24/5 Email Support
6 Months, 1 Account Membership

Ultima EA Reviews
There is a good assortment of Elite CurrenSea and Ultima EA reviews found online.
At Forex Peace Army, Elite CurrenSea reflects a 4.7/5.0 star rating.
Shared below are 4 of the most recent Ultima EA reviews we found:
LatvianFx – "I am trading with help of Nenad, Chris and their team since 2015. So far all is cristal clear and transperent. In my point of view Nenad and Chris are not only good traders but also good educators. They like what they do and therefore they results and attitude is Excellent. In my opinion Ultima EA is excellent tool if you like trading, but you don't have time for it. It is fully automated, And with profit sharing solution you don't need to have PC that runs MT4 for 24/7. As i have Ultima EA for more than one month i can say that it is excellen when there is trend. As EURUSD had stable downtrend in last month it outperformed my hopes. I am only 1 month with this EA tool. I am realistic and i don't expect that ULTIMA EA can generate 100% per week sustainably every week. But still it can generate good profits. My own aim was built a EA robot, but with Ultima EA i see that i don't need it any more. Because with expierence of EliteCurensea.com and their coders i don't think that i will do it better.I recomend EliteCurensea.com and Ultima EA."
SLtrader5 – "I have been very cautious at first as I have never used an EA or a managed account for forex trading before. Still I have joined Ultima EA as Chris, Nenad and Mislav have earned my absolute trust with the genuine effort they have put on their systems in Elite currensea. I have just signed up one month ago and today my account has gained more than 200% profit. Its just remarkable! Best part is, they never promised this much, they have just stated this will be profitable in the long run and that they have tested it thoroughly. Ultima EA appears to have great filtering mechanisms which prevents it from trading fake moves. The way it smartly adds up new positions when market is moving in favor has truly amazed me. Overall, it's a very solid EA created by trusted traders and have proven its worth in just one month."
vitraiser – "I have been following Nenad Kerkez and Chris Svorcik for quite some time (their online materials and videos they provide for free) and I can say that these guys really know what they are doing. When Chris introduced Ultima EA in January, I was hooked as it opened my first opportunity to join one of their offers. Even though I was at first hesitant to join due to FXDD reviews I found online (as Ultima must be connected to FXDD account for now), I finally decided to go for it before the end of January due to two main reasons: I trust Chris and Nenad and their FX professionalism AND Ultima seemed like something truly truly good. Yes, FXDD can be difficult, it took 2 weeks for me to set up the account and go through all the issues with paperwork and wiring my deposit but at the end it all worked. So after 2 weeks I was all set and live. Now I am live for 7 days and my account rose 30% already. What can I say? Yes, I will see how it works long term, but for now, I am greatly impressed.
FL7780 – "I am joined Ultima EA on 16 Jan 2020. I am funding USD600.00 to test the services. I really cant believe by end of 10 Feb 2020 my account have been making 250% from USD600 become USD1500. And today the trade just closed about 30 minutes ago, my account latest balance USD1833. I am really speechless to describe how good the Ultima EA is performing."
These testimonials, and more, can found at ForexPeaceArmy.com.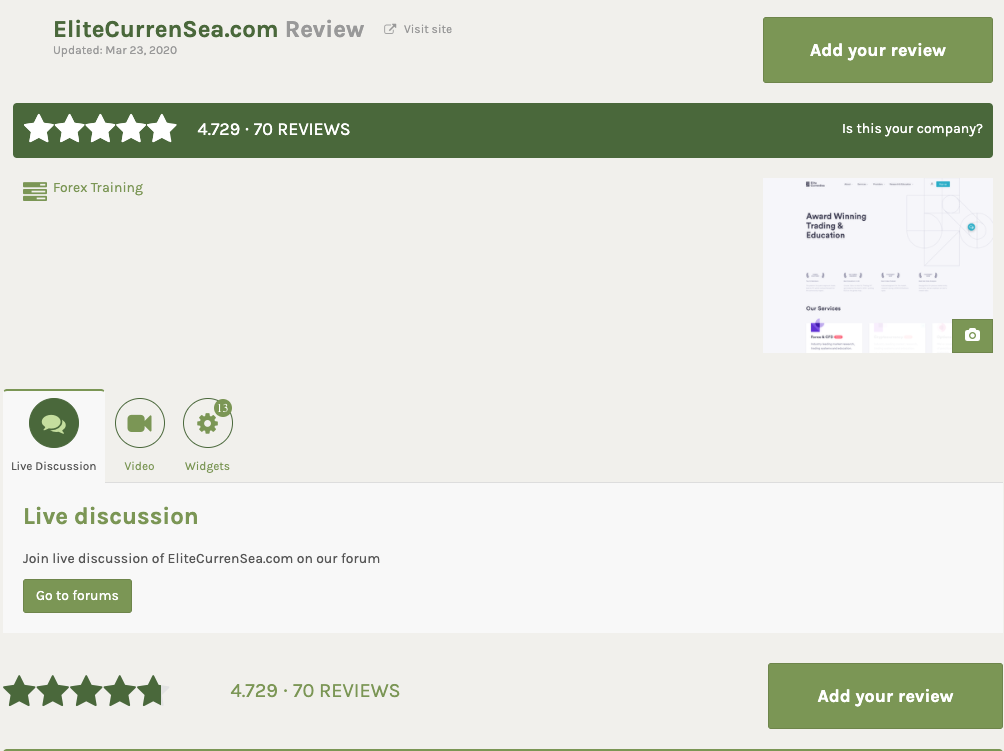 Elite CurrenSea Ultima EA Recap
Mislav Nikolic's Ultima EA is an automated trend trading system that tackles the foreign exchange markets with the intention of maximizing an investor's ROI and time.
Trusted by forex traders across the globe, Elite CurrenSea is a legitimate provider of forex trading and in-depth FX education.
Possessing hundreds of positive reviews online, it is hard to debunk the value of the services and systems rendered by Elite CurrenSea and their system, the Ultima EA.
Remember, you pay nothing until you begin generating money and the trading results are all verified and documented through MyFXBooks.
With this in mind, we're going to bring our Ultima EA review to a close but if you'd like to get started or learn more about the Ultima EA, visit their site risk-free below.