Year Founded: August 2017
Web Address: https://fundrequest.io

FundRequest is crowdfunding platform which was founded in Belgium. The project start date is August, 2017. There is a lot off of excitement around this project since the main idea behind it is that the developers will get compensated as well as they will contribute to a certain feature of the platform.
The project is very interesting already. FundRequest platform will offer greatly rewarding open-source contributions. Even though there is still a lot of work on improving the concept, FundRequestCrowdsalehas begun. The platform uses Eutherum smart contracts, so users will be able to contribute to developers for improving the code, finding bugs, or adding new features.
Users who will be looking for their codes to be improved will be able to create smart contracts for every job. Funds will be held in a certain contract until its contractor accepts that solution or if no one claims that specific bounty.
About FundRequest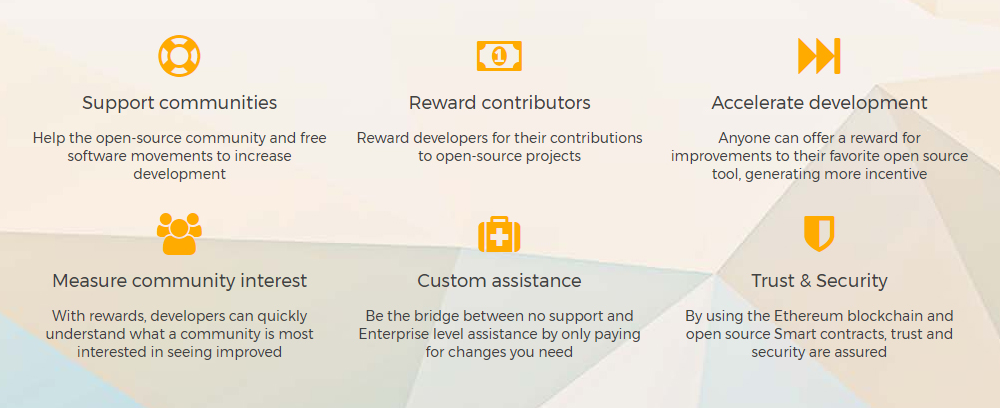 The company is still finalizing some details around the project and around the technology, they have used for the platform. However, at the moment we know that the platform will support MetaMask which is a chrome plug-in which will enable users to set up their Ethereum accounts quickly so they will access apps without the need for running Ethereum nodes. MetaMask technology will also allow users to fund their smart contracts within browsers which they will be using.
They will associate a certain smart contract with an identifiable problem like Stack Exchange question or GitHub. They will further fund that particular smart contract with Ethereum. Users who obtain FundRequest plugin will also be able to see any smart contract associated with a particular issue. If users successfully resolve an issue, the funds will be sent to their Etherum Address which is associated with a certain username. This, in fact, presumes that there is an integration with Stack Exchange and GitHub identities.
Research

The FundRequest is a platform where developers from all over the world can get compensated for their work. The FundRequest team consists of Tim Dierckxsens who is a strategy advisor, Tom Degroote responsible for the infrastructure of the platform, David Hanson and Quinten De Swaef who are core developers, and Karel Striegel, the founder of FundRequest. The platform will give an amazing opportunity for developers to get clear feedback from their loyal users including fixes, bugs, instant feedbacks and everything else which would help them to improve their products and services.
The project is completely based on crowdfunding on Ethereum. The platform will allow its users to claim certain portions d fees which are associated with using the network. The platform will take a commission fee of 10% on all Ethereum distributed and it will take 90% of the fee which will go to token holders.
When it comes to the sale terms, it has begun on 1st of February 2016. It is interesting that the participants needed Ethereum and there was a maximum of 2 million tokens. The initial price was .2 Ethereum per FND. The price was later raised to .25 Ethereum per FND. An approximate evaluation of tokens is between $3.2 and $4 million.
Smart Contracts Already Available
The FundRequest team is currently finalizing portions in terms of the technology stack, but many details regarding the project can be found in their whitepaper. The team is working on the project part-time, but the sale has enabled them to quickly shift to building the platform full-time. When it comes to the smart contract code, it is available on GitHub for review.
Open an account with FundRequest