Year Founded: July of 2016
Founders: Robin Linus
Web Address: https://nimiq.com/

Nimiq is the third generation of blockchained cryptocurrency which was created in order to provide simplicity. The platform is web-based which means that you don't have to download any content before accessing the blockchain to start mining Nimiq tokens. Nimiq is completely frictionless PVP protocol which combines elements of Etherum and Bitcoin streamlined particularly for the web platform. Without any doubt, the platform is a decentralized and open-source. Main features include free installation, instant transaction, and syncing within minutes, so users will get the best possible experience when it comes to the crypto world.
Nimiq Research

The Nimiq team is based in Costa Rica and Robin Linus is responsible for the original design of the blockchain platform. The team consists of German developers and several Costarrican engineers, so they are thinking about having their office in Germany as well. They believe that having the team working in different time zones will enable them to get everything done just around the clock. The platform is peer-to-peer protocols which is intended for online use. Nimiq will greatly reduce the rate of obstacles since they have established connectivity both for developers and consumers which will enable mass adoption. Nimiq team have developed the first browser-based blockchain protocol which is an ecosystem with scalability, ease-of-use, and great speed. The team believes that the solution to the various blockchain adoption problem, in fact, is the lack of simplicity and that is why they have designed purely simplified ecosystem.
It was the first to develop a blockchain technology which can solve various web-based blockchains challenges like network and storage. The network is the base when it comes to the launching peer-to-peer connections and storage is used for information and diligent keys which are all related to the blockchain. Cryptography is used for verifying, signing in and for hashing. Nimiq team recently launched two approaches for solving these challenges that were the crucial problem. The team has introduced excellent payment experience in addition to the speed browser-baser blockchain. The technology behind Nimiq platform is carefully designed with an understanding that every service or products engage in trade for payments. The design is mainly based on the idea that friction-less payments, in fact, are the most important part of cryptocurrency technology. Cryptocurrency is great for all payment transactions since there is no trust needed between the parties which are involved.
Features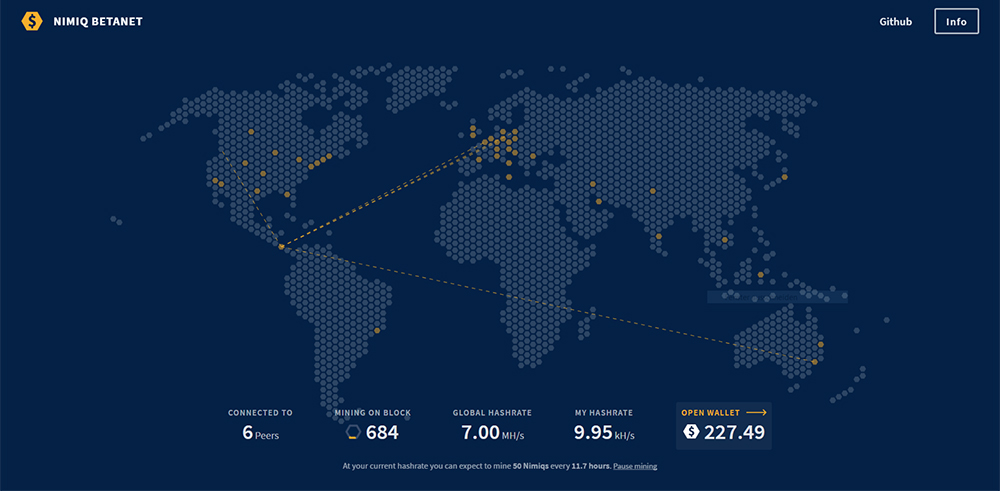 Cryptocurrencies really explore the world possibilities and limits of blockchain technology which are amazingly incorporated into Nimiq platform. Web or online market is the biggest tool for selling any services and goods. Therefore, Nimiq is a protocol designed for payments which are web-based. The platform possesses some cutting-edge browser features and it is supported by almost anyone out there in the world who can access the internet. When it comes to the Nimiq features, it employs open source protocol that is designed for peer-to-peer payments and it comes with different attractive features which will make the journey more interesting. Nimiq is web-based and employs WebSockets in order to establish network communication. The platform can run on various servers, even it is web-based by its nature. The greatest advantage is that it is free to install and launch immediately. Many users can feel various obstacles when it comes to the connecting with others through the world since issues like loss of connectivity and collision may commonly occur. On the other hand, Nimiq will provide its users fast synchronization with peer-to-peer connectivity. Another great feature is that the platform possesses HTC's or Hashed Timelock contracts which help users establish secure channels for payments with other users in order to transfer on-chain transactions. Transactions are commonly instant with low cost and there is no need for block confirmation.
Open an account with Nimiq