Year Founded: March 2017
Founders: Shawn Owen
Web Address: https://www.saltlending.com/

SALT is a membership-based borrowing network. The platform will allow its users to leverage their assets to secure cash loans. On the platform, users will be able to obtain loans by using their cryptocurrency holdings which will act as a collateral.
With the platform, users will be able to leverage the value of particular digital assets. They will have access to offsetting tax events and cash, and they will, at the same time, avoid trade fees as well as maintain their position in the particular asset they hold.
The concept of the platform was conceived in 2016 and a private seed funding took place in December of 2016. The company hired the team in January of 2017 and the first blockchain-backed Loan Agreement was signed in March 2017. SALT membership sale is in the third quarter of this year and the team will launch their blockchain-backed lending platform in the fourth quarter of this year (2017).
About Salt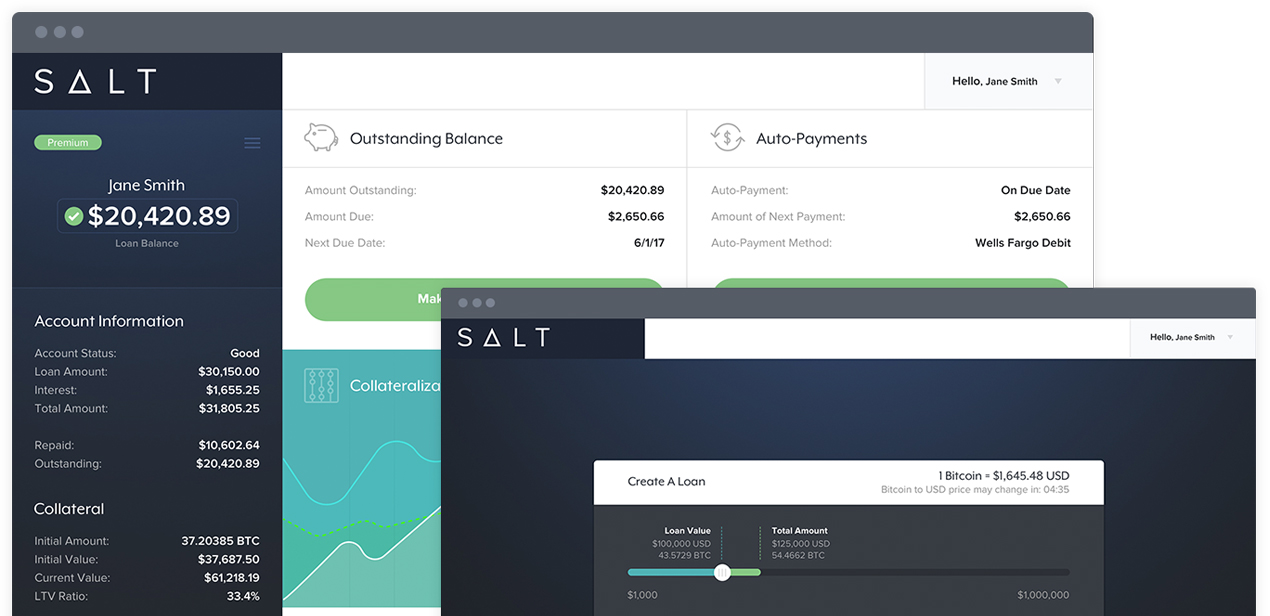 SALT is blockchain-based loans platform which is created to leverage Bitcoin assets. SALT stands for Secure Automated Lending Technology. The platform is a membership-based around the certain financial ecosystem.
The company behind it is based in Denver, Colorado, and the team is launching what they claim to be the first platform of this kind which will support loans that are denominated in various national currencies as well as collateralized by certain blockchain assets like Bitcoin.
This platform will provide crypto-based asset holders with great loaning opportunities. The users will be able to leverage investment for certain cash loans and they won't need to liquidate their holdings.
Membership sale has begun, so interested users have the ability to sign up for a waiting list. The SALT team's goal is to broaden new blockchain technology to a global reach. Traditional banks today are commonly under-serving clients, so the team has recognized a need for a platform like this on a global level. They have recognized that there is the wealth inherent commonly in blockchain assets, which is the concept behind their project.
Research
The SALT platform can be referred to as traditional lending secured but by not so traditional collateral. The platform browser assets are digital currencies including Bitcoin ad Ethereum which can be acknowledged and commonly used as collateral. SALT, in essence, seeks to widely streamline every step involved in the loan process and they have facilitated a blockchain-based lending market in order to accomplish that.
The platform is built on Ethereum with twenty smart contracts, so it will enable users to access capital-on-demand through a network of worldwide lenders. This, in fact, helps preserve that value of various investor holdings. With this platform, the user will be able to borrow a preferable asset to spend regardless of geographic constraints and credit history.
The members of SALT will maintain a long position whatever blockchain asset they choose. The SALT team consists of twenty-five people. Erik Voorhees is the board director, CEO is Shawn Owen, Greg Bell is responsible for finances, Ben Yablon deals with a strategy, and Blake Cohen is responsible for business development.
The System
In order to obtain SALT tokens or get loans, users have to participate on the SALT platform. A larger amount of SALT tokens can be obtained if a user spends more tokens each year.
When it comes to the SALT system it involves three fundamental steps including loan creation, loan repayment, and loan competition. The loan creation step is when a borrower sends certain collateral to the SALT wallet. These funds are further transferred to a bank account of the borrower.
The SALT Oracle Wallet is blockchain wallet that stores collateral as well as automatically enforces certain lending terms like triggering maintenance cells. The loan repayment step is when a borrower makes periodical payments to his lender. Loan competitions take place upon repayment of the loan. In other words, a loan is completed when the borrower's collateral is returned in a full amount.
Open an account with Salt