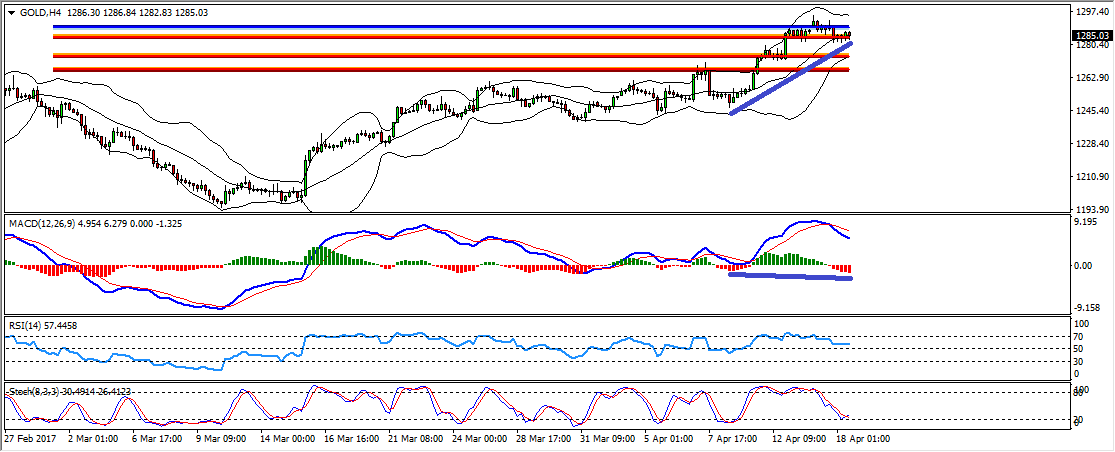 Hi Traders! Hope you had a wonderful Easter weekend. US Session technical analysis April 18th is here. Its now time to get back to the market to analyze and find the best trade setups it has provided for us.
EURUSD H4 Chart:
In this pair the price is currently in a bullish momentum and is moving higher towards the resistance zone 1.0689. This bullish momentum is expected to continue and the price is expected to move higher and reach this 1.0689 key level as long as the last low holds at 1.0569. If a momentum change occurs and if the price breaks below the last low then we may expect the price to reach the 1.0539 support zone. Sells might be a good idea near the resistance zone if it holds.
GBPUSD H4 Chart:
In this pair the price which was in the key level 1.258 has now moving higher above this level with a powerful green bar. Buys might be a good idea as long as we get a re-test of the broken key level, near the up trend line. A breakout of this uptrend line and the key level 1.258 might result in the price moving lower towards the 1.241 support level.
AUDUSD H4 Chart:
The bearish cycle which started in the mid of March is over which we can confirm with the bullish divergence and bullish convergence which has formed earlier. Currently this pair is in a bearish momentum and the price has reached below the 0.754 support level and this bearish momentum is expected to be the correction and once this correction completes itself we may expect the price to move higher towards 0.766 resistance zone. This is a good place to look for buy as long as swing low holds.
Gold H4 Chart:
Price got rejected from the resistance zone at 1288 and has now reached the support level at 1283. Currently we have a hidden bullish divergence that has formed and hence we may expect the price to move higher from this support level and reach the 1288 key level.
You can get more trade ideas by joining my club for free now. You can enroll today using our Broker Sponsorship project here: 
You can also get one of my strategies free of charge using the same Sponsorship project.
Yours,
Vladimir