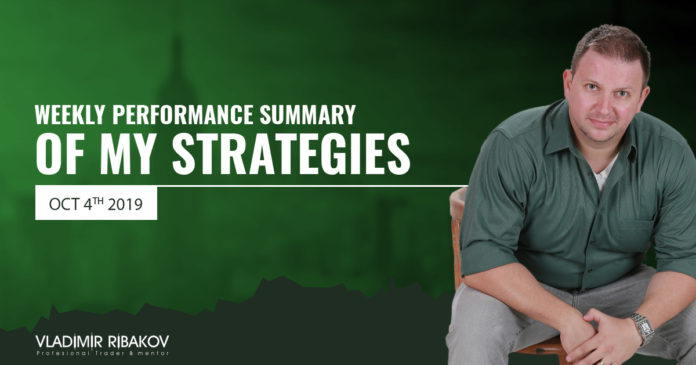 Click To Join Our Community Telegram Group
Hi Traders! Here is the weekly performance summary of my strategies October 4th 2019 of the trades taken with sRs Trend Rider 2.0, Forex Triple B 2.0, Forex Crystal Ball, Divergence University and FX Delta.
It was a good trading week. Divergence University is the best performer of this week with +6.23% profits, next we have Forex Triple B 2.0 with +2.98% profits, sRs Trend Rider 2.0  with +2.46% profits and FX Delta with Break Even. Regarding Forex Crystal Ball we didn't find any good setups this week. If you don't find any good trade setup then don't force yourself into any trade, its better to stay away until we find a good setup.
I hereby provide you a wonderful opportunity by giving my systems completely free! Yes, you read it right but you don't need all the systems, you need the one or ones that match your trading style! Make use of this wonderful opportunity and get your copy right here
You can check my road map here to find about all my trading systems and see what works best for you.
Weekly Performance Summary

Divergence University

Total pips
+238


Return on investment
+6.23%



Forex Triple B 2.0

Total pips
-411.6


Return on investment
+2.98%



sRs Trend Rider 2.0

Total pips
+183.7

6Return on investment
+2.46%



FX Delta (Yordan)

Total pips
+84.3


Return on investment
Break Even

Total


Total pips
+94.4


Return on investment
+11.52%
Divergence University
In GBPCHF we had a bullish momentum and the price has created higher highs. Whereas we had lower highs on the MACD forming a bearish divergence. Hence we entered this trade based on the bearish divergence principle and the price moved in our favor providing fantastic returns.
Advertisement