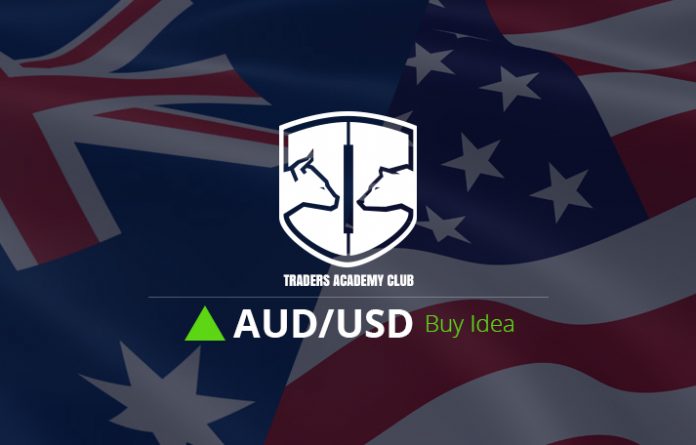 Traders Academy Club - Learn How Trader Earns!

VIP Membership Club for Traders by Vladimir Ribakov
Disclaimer : This is not investment advice. Past performance is not an indicator of future results.
Hi Traders! Strong support zone provides AUDUSD buy trade setup for us. A detailed analysis of this bullish opportunity is as follows:
Indicator used: RSI
Tool used : Fibonacci retracement
AUDUSD

Analysis – Buy Trade Setup On Daily Chart
On the daily chart we had a bullish divergence between the first low which was formed on 5th August 2019 and the second low which was formed on 2nd October 2019 based on the RSI indicator and then the price moved higher and broke above the previous swing high which was formed on 12th September 2019 at 0.68941 and created the current new high on 31st October 2019 at 0.69295 thus creating higher highs, we may consider these as evidences of bullish pressure. Also while measuring the whole move from October 2nd's low at 0.66704 versus the top on 31st October at 0.69295 we can see the price is currently respecting the 23% Fibonacci retracement level at 0.68684. We may now look more bullish evidences on lower timeframes in order to join the bulls.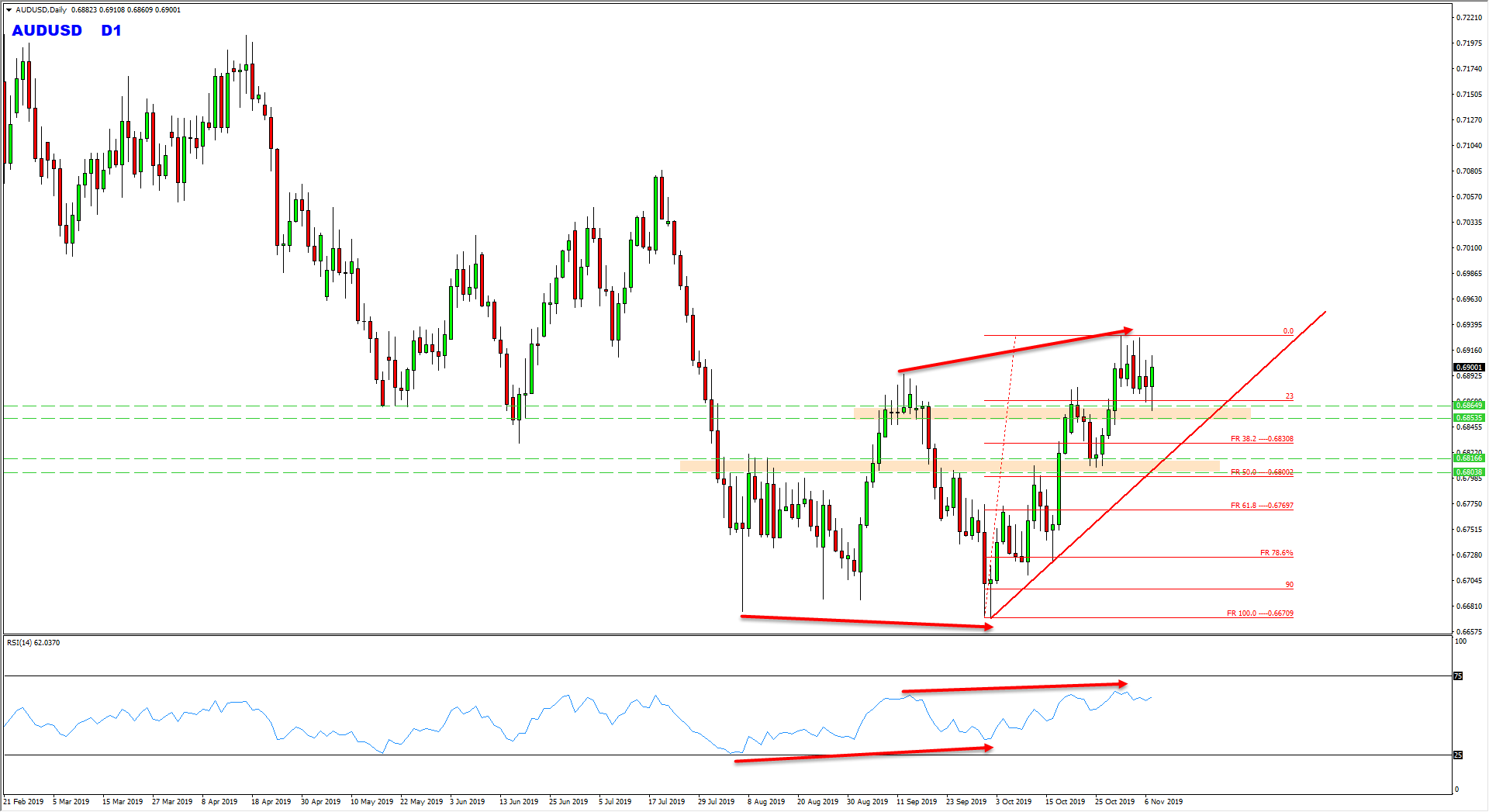 AUDUSD

Analysis – Buy Trade Setup On

H4 Chart
On the H4 chart the price is moving inside a channel, this channel is formed by the highs and lows parallel resistance and support zones. The price is respecting these two zones so far and has currently reached the middle of this channel. In addition to this we also have a strong support zone in the range of 0.68649 – 0.68535 and the price is holding above this zone. Until the price holds above this zone we may look for bullish setups with more bullish evidences in order to start looking for the buys.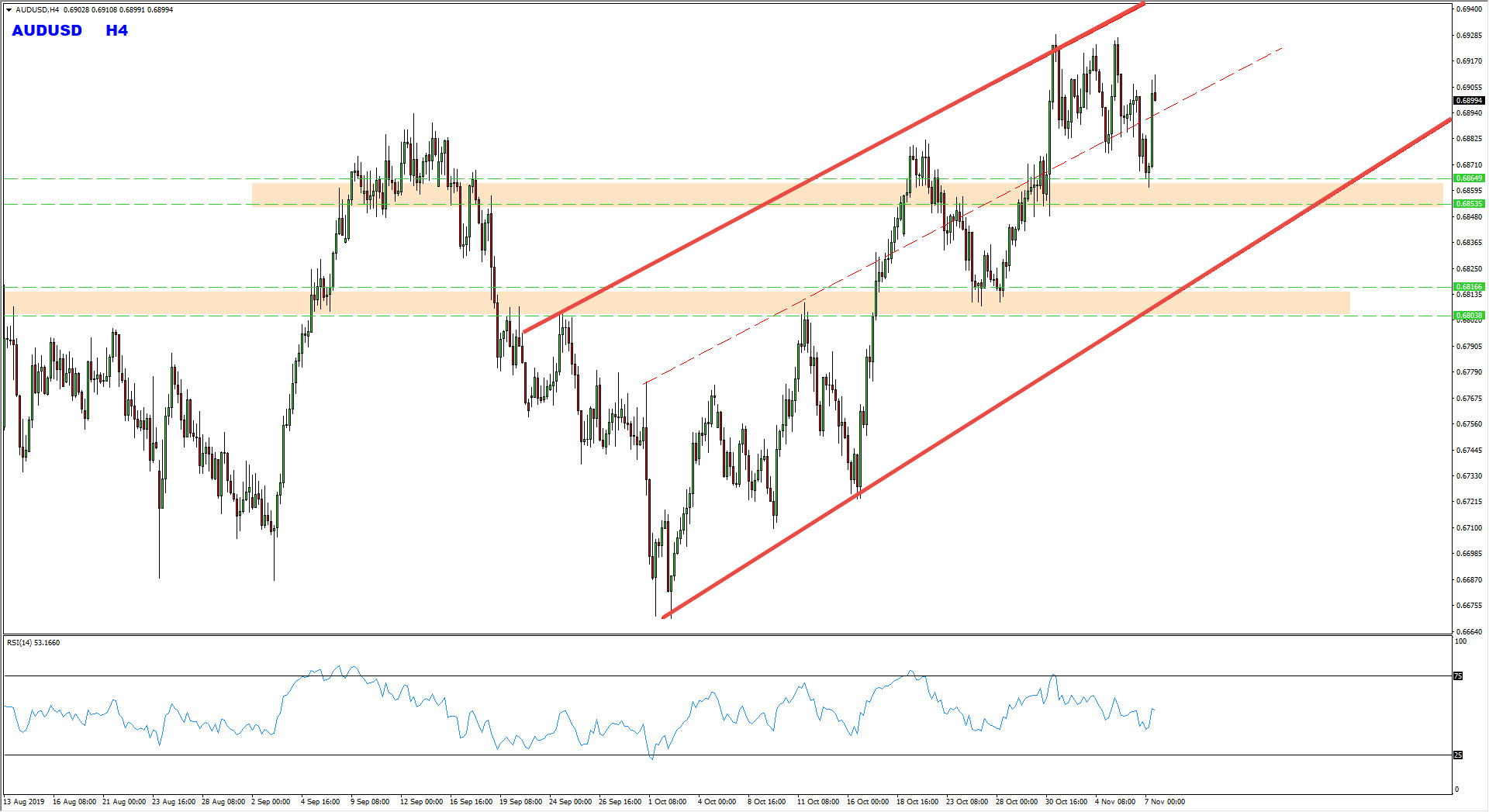 Invalidation:
If the price moves lower and breaks below the bottom of the H4 channel then this buy setup will be invalidated.
Conclusion
The combination of bullish divergence, higher highs and 23% fibonnaci retracement level with the H4 channel and the strong support zone could provide us a good buy trade setup, we may now look for bullish setups with more bullish evidences in order to start looking for the buys.
Trading Tips
It is always recommended to look for confirmations before you jump into any trade. If you are not sure about how to trade this buy setup then you can use any setup and strategy that you have in your arsenal to look for bullish moves and join this buy trade.
Also don't forget to protect your buy trade using a stop loss and make sure to set a target and keep a proper risk/reward ratio.
Not sure how to spot reversals (bounces)? Not sure how to spot breakouts?
I invite you to join me in my live trading rooms, on daily basis, and improve your trading with us.
Also you can get one of my strategies free of charge. You will find all the details here
Regards,
Yordan Kuzmanov
Chief Trader at Traders Academy Club