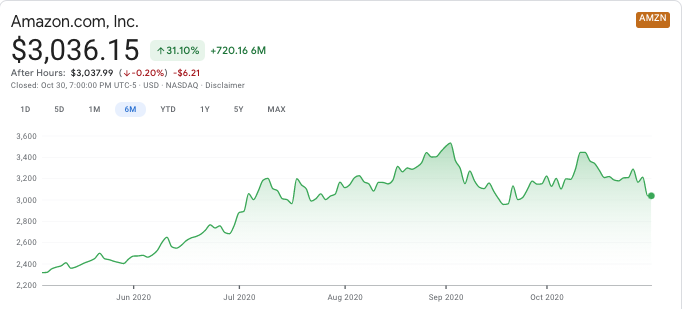 Focal Points
Amazon's net a bullish 450% 5-year gain

Amazon's ROI is 6x's the S&P 500 Index of 67%

AMZN shares may hit +$10,000 by mid-November 2024

Amazon's growth since IPO tops more than 12,000%
Amazon.com, Inc. reaps the rewards of having one of the most versatile and sector-applicable business models. 
Combined with brand loyalty, enormous success has been all but eminent for Amazon, while their historical market performance has made them wildly rewarding for mid to long-term investors. 
To help put Amazon's growth into perspective, Amazon has appreciated more than 2,200% over the past decade, generated an ROI six times greater than the 67% return of the S&P 500 Index, and has grown in value by nearly 12,040% since its IPO.
Below are four critical advantages of investing in Amazon:
Unparalleled Leadership –

The ethos of Amazon runs thick, bringing an extraordinary amount of focus on satisfiable customer experiences, ruthless business acquisitions, and unbelievable leadership backed by Bezos. 

Sector Versatility –

Amazon first ventured into the e-commerce industry as a disruptor, driving many booksellers out of business due to their unprecedented scale, user-preference and convenience, and more affordable costs. Since then, Amazon has modernized its platform to disrupt hundreds of industry sectors, leaving huge growth room. 

Brand Loyalty –

More than 50% of U.S. shoppers begin their shopping with Amazon, while over 100 million subscribers are active Prime members. Currently, Amazon mocks up a near 40% contribution of the U.S. e-commerce market, while its market presence continues to grow. 

Tremendously Untapped TAM –

Amazon has an estimated total addressable market of $20 trillion, only 10% of which is actively penetrated. As a whole, Amazon flexes the largest TAM of every internet-technology platform.
Will Amazon Stock Go Up?
Nearly four dozen analysts have provided a 12-month forecast for Amazon, revealing the following AMZN projections:
Lowest Estimated Price: $2,646.00

Highest Estimated Price: $4,500.00

Median Estimated Price: $3,760.50 (+23.91%)
Perhaps the most optimistic forecast, generated by Gov Capital, predicts that Amazon will continue its bullish surge and rise to a share price of more than $10,700 by mid-November 2024. 
Lastly, and more relevantly, here are Longforecast's projected Amazon's stock prices over the next two years:
January (2021): $2,572.00 Min. – $2,900.00 Max.

November (2021): $3,452.00 Min. – $3,856.00 Max.

January (2022): $3,353.00 Min. – $3,781.00 Max.

November (2022): $3,518.00 Min. – $3,968.00 Max.
The Bottom Line
Continually revising, adapting, and improving the way they operate, Amazon is a consumer-centric platform driven by affordability, scalability, and providing the best and most convenient customer experience possible. 
Given Amazon's ultra-success and unrivaled business model, Amazon has grown into one of the hottest investment stocks that is a must-have. 
Their untapped total addressable market reveals colossal room for adequate growth, while their unwavering brand loyalty will ensure their favoritism in the market for years to come.
MT
Amazon to Grow +119.37% – 4 Advantages of Investing in AMZN
MD
Incorporate our Amazon market report findings to learn why you should invest in Amazon. Additionally, we feature four advantages regarding Amazon and how they're structured for long-term growth. 
Captions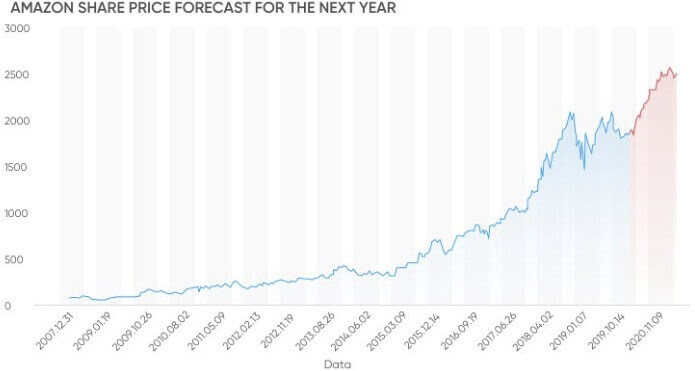 Amazon's share value has appreciated more than 450% over the past five years and has risen more than six times the 67% return of the S&P 500.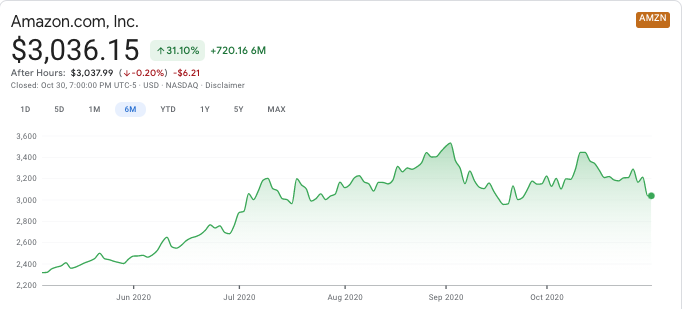 Forecasts by Gov Capital reveal that Amazon has the potential to reach a stock price of $10,720 by mid-November 2024.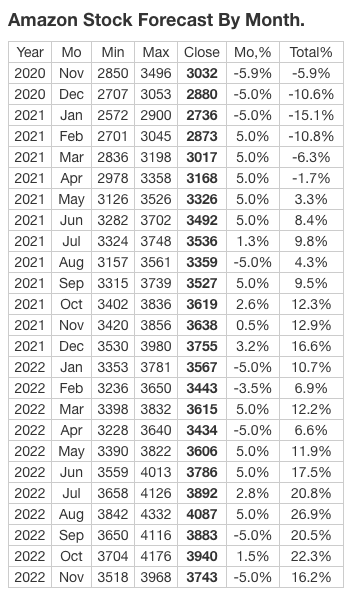 Amazon's historical performance, core advantages, and market forecasts categorize AMZN has one of the most prominent investment stocks of the 21st century. As you can see, Amazon is predicted to continue to bullish ascend and flourish to new company highs.