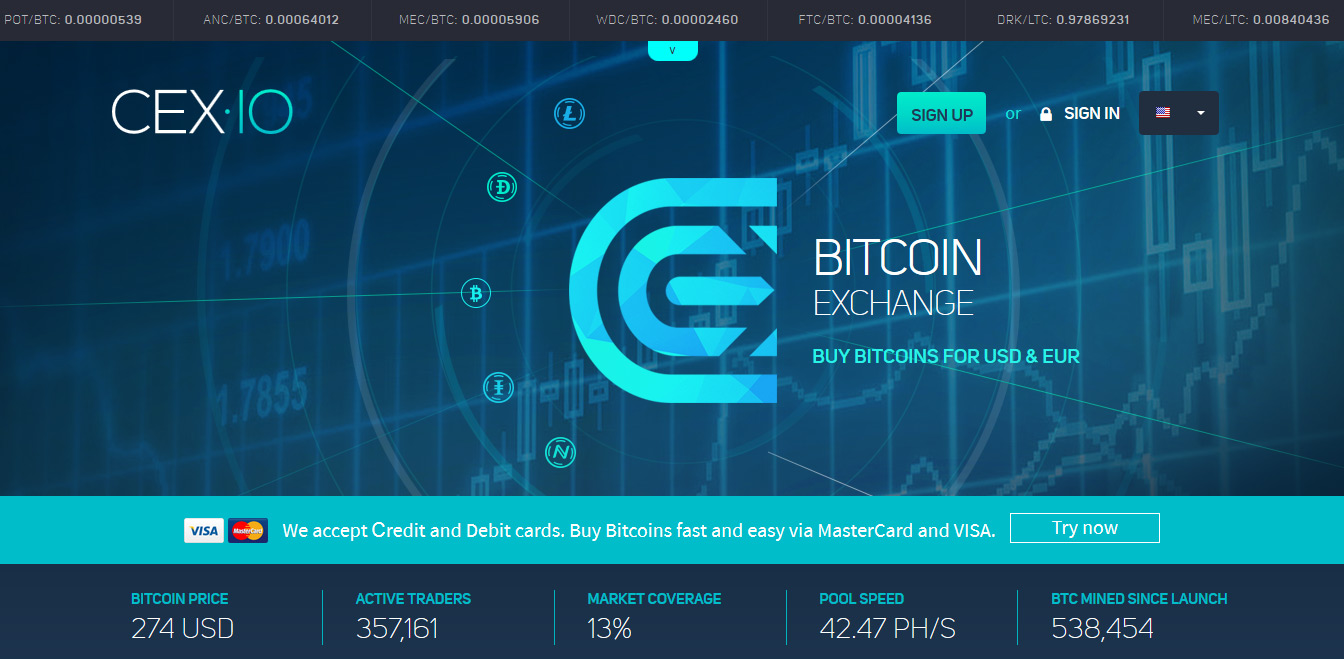 CEX.IO is one of the first Bitcoin exchange platforms to appear. The company was founded in 2013 in London as cloud mining provider and BTC exchange provider. CEX.IO mining pool is popularly known as Ghash.io. It is so big that it held around 42 percent of the total network mining at some point. However, CEX.IO mining provider Gnash.io has shut down all its operations back in 2015. On the other hand CEX.IO continues to work independently as a Bitcoin exchange platform. The platform is available for users worldwide since the company provides its services in 99 percent or worldwide countries as well as in 25 USA states.
The platform has been present in the industry since 2013, and the company location is in England, London. When it comes to the fee for the transaction, CEX.IO charges very reasonable fees so it is not surprising that the platform has a large number of active and loyal traders who buy bitcoins and exchange it using a bank transfer or their credit cards. One of the greatest advantages of the platform is that it allows buying Bitcoins for low fees, but o the other hand there is an extensive verification process in order to increase buying limits. CEX.IO platform is registered with FINCEN and it also applies know your customer or KYC as well as AML or anti money laundering policies. In other words, in order to buy and exchange Bitcoins on this platform, you have to register and verify your identity first.
Payment Methods and Fees
The platform allows you to buy Bitcoins using a wire transfer as well as a SEPA transfer if you live in the European Union. Another popular payment method is using a credit card. On the other hand transactions on this platform work differently in comparison to some other Bitcoin exchange platforms since transactions here are based on Fill-or-Kill orders which are known as FOK. These orders are those which are executed instantly and in full. So what you agreed to get or pay, that is exactly what will happen. This is different from an order on other Bitcoin exchange platforms and there are some liquidity issues which may encounter. For instance, if you buy 4 Bitcoins at an already agreed rate, you will receive that exact amount. On the other hand, if you buy 4 Bitcoins on some other platform like Bitstamp or Bitcoins, you will have to wait for someone to sell you that amount of Bitcoins at a certain requested price. It should be noted that this features to work fully, CEX.IO has to charge users a premium and at that point, they are able to fulfill their order immediately, hence that higher exchange rate.
CEX.IO is a major cryptocurrency exchange platform which lets you trade, sell and buy Bitcoins at your own convenience. The platform accepts Euro, USD and British Pound and you can trade in Bitcoins and other major virtual currencies. There are many user complaints regarding the platform's many hidden charges. The platform initially takes 7% fee for its service and this amount is charged from the flat amount which you pay. For instance, if you buy $1000 worth Bitcoins, you will get Bitcoins in the worth of $930. In other words, this means the high exchange rate you see on the platforms is already included within the service fee, and there are no applied any additional fees. However, this fee is relevant when you want to directly purchase with the platform. CEX.IO provides trading services and different fees that will be applied. Before you get started, you need to fund your account with a credit card or a bank account. There is no commission taken when you fund your account via a bank account. On the other hand, when you fund your account via a credit card there is 3.5% $0.25 commission. As soon as you enter a trading, you have to pay a %0.2 transaction fee. This fee is depending on your part in each trade. To conclude, fees charged for trade transactions, buy and sell are 0.2 percent and that is love in comparison to the price of Bitcoins. If you are using a credit card as deposit and withdrawal methods, funds are available in two days at most. You can sell and buy Bitcoins via debit and credit cards and the fees vary. The fee for USD $4.99 and the commission is 2.9%. The fee is the same if you are using other fiat currency including Euro and British Pound. When it comes to the bank transfers, there are no additional fees, but your bank may charge you conversion fees depending on your deposit.
Trading and Buying Limits
In order to start Bitcoin trading on CEX.IOsirt you have to register and fund your account. The verification process is very simple and there is a detailed verification guide for newcomers available at CEX.IO website. Identity verifications are also mandatory, and you have provided personal information, ID card and your proof of residency. Once you register and validate your account, you have to fund your account and you are ready for trading. The overall verification process can take up to twenty-four hours.
There are four different accounts available including basic, verified, verified plus and corporate. You will choose one based on your preferences. These accounts offer different buying limits. A basic account can buy Bitcoins worth up to $500 per day or Bitcoins worth $2000 per month. Verified account can buy  Bitcoins worth up to  $10,000 per day or Bitcoins worth $100,000 per month. Verified and a corporate account can buy an unlimited amount of Bitcoins. Once you set up your account, you are able to deposit and withdraw money in all supported currencies. Supported virtual currencies are Etherium, Litecoin, Bitcoin and cloud-based hashing power or GHS. When it comes to the supported fiat currencies you can use United States Dollar, Great Britain Pound Russian Rubble, and Euro.
When it comes to the trading, the platform offers a nice trading interface. CEX.IO trading features include market order, limit order and stop order. The trading on this platform involves more than 400,000 trades per every month. It means there is a large trading volume that gives users a plenty of exciting opportunities to sell, buy and trade which isn't offered by some other smaller volume exchange platforms. The platform's API is also great and it gives customers great control over their accounts since CEX.IO uses custom software which is geared in order to meet users' needs and wishes. On the other hand, the platform doesn't support trading with futures and derivatives, but it does offer margin trades in several trading pairs.
Customer Support and Security
There are many controversies surrounding the CEX.IO user reviews. There are also some worried reviews of the platform due to its many hidden additional fees. However, CEX.IO has made it clear how much you pay and what you get for your money. On the other hand, the company greatly cares about their reputation, and most of the bad user reviews received a response from the company. When it comes to the customer support, you can contact them via email which is provided on the website. There is also help button if you have concerns and issues. When you contact customer support department, there will be an almost instant detailed response. The company really can be proud of their customer support department. They always answer quickly and with detailed information. The website, in fact, looks good and all relevant and useful information is just one click away. When it comes to the trading interface, it is easy to use and suitable for newcomers. The best part is the exchange has mobile apps for both iOS and Android based portable devices. When it comes to the security, CEX.IO provides features like two-factor authentication as well as security question which are used for greater account protection. The majority of virtual coins are stored I the cold storage. The platform also offers email and SMS alerts so users can rest assured that their funds are secured. To conclude, as long as you are aware of CEX.IO additional fees, you are good to go.
Open an account with CEX.io