*2019 Update*
Hello traders and investors!
In this page we will regularly update some of the hottest coins that we believe have the potential to deliver great returns!
Before we begin:
Step 1
Please watch the video below to understand the general difference between Diversified Portfolio and Focused Portfolio.
Step 2
NOTE – the list is constantly updated, make sure to follow up on the updates.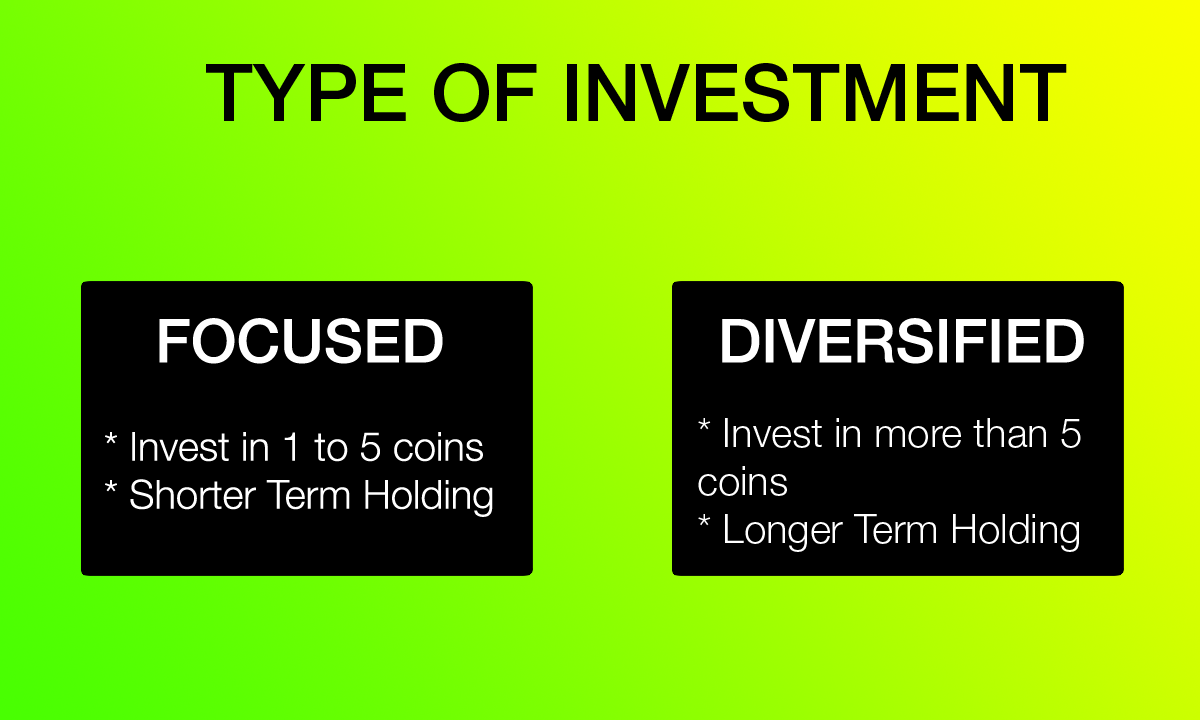 High potential coins to invest in:
► BITCOIN (BTC)
Bitcoin is a cryptocurrency and worldwide payment system. It is the first decentralized digital currency, as the system works without a central bank or single administrator.
► STEELLAR LUMEN (XLM)
Stellar is an open platform for building financial products that connect people everywhere.
► ETHEREUM (ETH)
Ethereum is a decentralized platform for applications that run exactly as programmed without any chance of fraud, censorship or third-party interference.
► RIPPLE(XRP)
Ripple connects banks, payment providers, digital asset exchanges and corporates via RippleNet to provide one frictionless experience to send money globally.
► LITECOIN (LTC)
Litecoin is a peer-to-peer Internet currency that enables instant, near-zero cost payments to anyone in the world.
Litecoin is an open source, global payment network that is fully decentralized without any central authorities.
► OMESEGO (OMG)
OmiseGO is a public Ethereum-based financial technology for use in mainstream digital wallets, that enables real-time,
peer-to-peer value exchange and payment services agnostically across jurisdictions and organizational silos, and across
both fiat money and decentralized currencies.
► BANCOR (BNT)
Bancor is a Decentralized Liquidity Network that allows you to hold any Ethereum token and convert it to any other token in the network, with no counter party, at an automatically calculated price, using a simple web wallet.
► MONERO (XMR)
Monero is a secure, private, and untraceable cryptocurrency. It is open-source and accessible to all. With Monero, you are your own bank.
Only you control and are responsible for your funds. Your accounts and transactions are kept private from prying eyes.
► ZCASH (ZEC)
A decentralized and open-source cryptocurrency that provides strong privacy protections. Shielded transactions hide the sender, recipient, and value on the blockchain.
► STORJ (STORJ)
Distributed, encrypted, and blazing fast object storage, where only you have access to your data.
► CIVIC (CVC)
Civic's identity verification and protection tools give both businesses and individuals the power to control and protect their identities through the blockchain.
► STRATIS (STRAT)
Create, attest and share your blockchain identity: Stratis Identity for mobile devices is now in open beta. Read more.
► ARK (ARK)
ARK provides users, developers, and startups with innovative blockchain technologies. We aim to create an entire ecosystem
of linked chains and a virtual spiderweb of endless use-cases that make ARK highly flexible, adaptable, and scalable.
► DASH (DASH)
Use Dash to make instant, private payments online or in-store using our secure open-source platform hosted by thousands of users around the world.
► WAVES (WAVES)
Create a multiple-currency wallet and invest in verified crypto assets and the underlying WAVES platform token.
► GOLEM (GNT)
The Golem Project creates the first global market for idle computer power.
► PEERCOIN (PPC)
Peercoin seeks to be the most secure cryptocoin at the lowest cost, rewarding all users for strengthening the network by giving them a 1% annual PPC return when minting.
► DOGECOIN (DOGE)
Dogecoin is an open source peer-to-peer digital currency, favored by Shiba Inus worldwide.
► LISK (LSK)
Develop and publish blockchain applications with your own sidechains on the open-source Lisk Platform.
► Counterparty (XCP)
Secure & Open Source. All Counterparty software is open source and has been formally reviewed by several well-known Bitcoin security experts since it's release in January 2014.