Back in the day, mining bitcoins was easy and everybody could do it with their simple home computer. Those who got in the game early were able to mine quite a few bitcoins, and those who decided to stick with them earned handsomely.
Over time, however, mining bitcoins and other cryptocurrencies has become a very demanding task, and trying to mine using your home rig has become an exercise in futility. Buying expensive equipment and setting up a mining operation at home is still possible, but it costs money, requires a lot of space, and creates the kind of inconvenience most people aren't ready to deal with.
So, what is the best way to get in on the mining gig without having to do any of this? Join a pooled operation and earn your fair share without having to do any of the above. Genesis Mining is one of the leading solutions in this area, offering everyone interested in mining bitcoins and other cryptocurrencies a chance to do so remotely, using their hardware setup – for a fee, of course.
What is Genesis Mining?

Established in 2013, Genesis Mining started with a vision of a pooled bitcoin mining operation. Over the years, their user base kept growing, allowing them to expand and set up new mining farms all over the world.
The entire project is led by the people from different walks of life, all involved with cryptocurrencies in one way or another, but having different backgrounds and different education. They were brought together by their common faith in the success of cryptocurrencies. Key people in the team are:
Marco Streng – Genesis Group CEO and co-founder
JakovDolic – Co-founder and Head of Sales
Stefan Shindler – CTO at Genesis Mining
Benefits of Joining Genesis Mining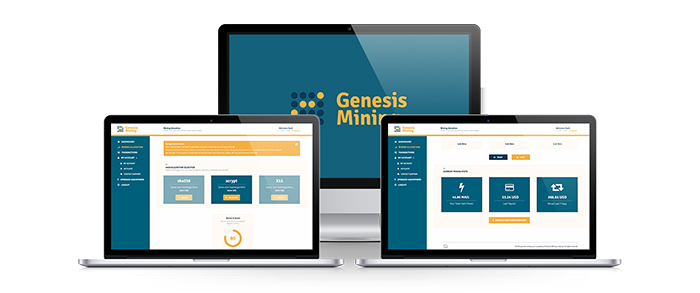 If you've been looking for a smart and simple way to invest in bitcoins, Genesis Mining offers the perfect solution. The system they've set up is equally suitable for newcomers to the market and those who have been around for a while. Relying on the cloud technology, the company's mining algorithm provides an efficient way to become involved with bitcoin and altcoin mining operations.

Until 2014, Genesis Mining was focused on bitcoins, but with that sphere becoming overcrowded, they turned to other opportunities provided by different altcoins. The company now offers an opportunity to mine altcoins, which are then converted to bitcoins based on the needs.
As mentioned, setting up a mining rig at home or in your garage costs money and creates different inconveniences, such as noise, high temperature, etc. Users don't have to deal with any of this with Genesis Mining as their mining rigs are set at remote locations and everything happens online. Furthermore, all users are guaranteed access to the state-of-the-art technology with optimized energy usage and carefully chosen locations so that rigs get the best possible cooling.

Basically, users who join, are purchasing a certain amount of hashpower, and they are free to use it as they like. You can focus on just one cryptocurrency or mine different coins at the same time. Users can allocate the hashpower themselves through the Genesis Mining simple and user-friendly interface.
How to Join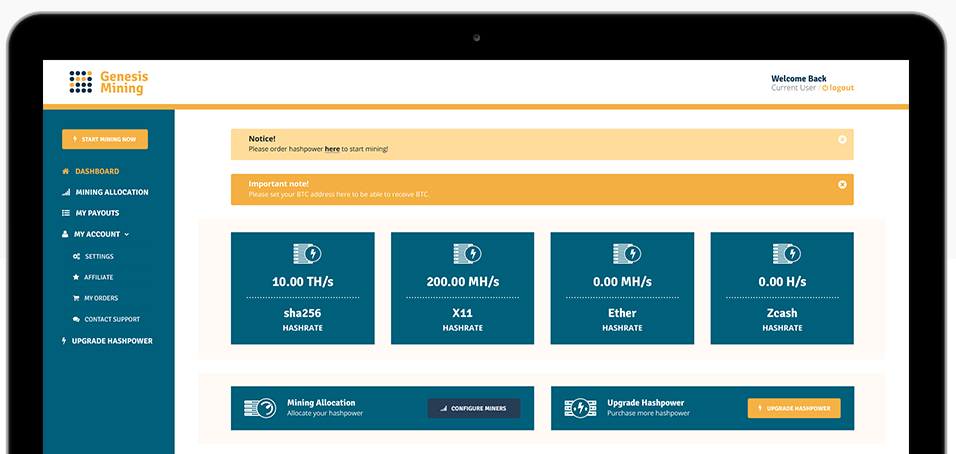 Genesis Mining offers several different packages for different user needs. Whether you are just testing the waters or are already an experienced miner and know what you need and want. Some of the packages on offer are:
Gold: 200 GH/s (gigahash per second): $30
Platinum: 2,500 GH/s: $250
Diamond: 15,000 GH/s: $1,950
Custom plans: giving you even more mining power
With all the plans, there is also a fixed maintenance fee that applies to all the contracts as long as they stay profitable. At the moment, it is $0.00028 per GH/s on the daily basis.
If you're interested in getting involved, feel free to visit the site and find out more details. You can also easily reach out to their Customer Service and ask more specific questions if you have any.
VISIT Genesis Mining WEBSITE