The Australian dollar performed better than the Canadian dollar for some time, but recently the latter one has gained a lot of traction against most major currencies. So, I think the AUDCAD pair is also likely to continue trading lower in the short term, and to support that view it has breached an important support area around the 1.0150 level. So, we should be looking for sell opportunities.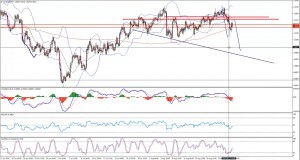 The AUDCAD might continue trading lower from the current levels or a bit higher levels. It is likely to duplicate the last move and trade closer to the highlighted trend line as shown in the 4 hour chart below. There are several resistances around the 1.0150-70 area. So, if the pair spikes a little towards the mentioned levels, then we can enter into a sell trade.
Initial target should be around the 1.0100 level, and final target could be around the 1.0070 level. Stop should be above the 1.0200 level.
Reviewing yesterday's events and trades
There was no major economic release during the NY session yesterday. This caused some profit taking moves in the market, as the US dollar was seen trading a touch lower against the Euro, the British pound and the New Zealand dollar. There was only one major release during the London session yesterday i.e. the German GFK consumer climate was released. The outcome was somehow disappointing, as the German GFK consumer climate fell to 8.6 from 8.9. The Euro managed to hold the ground after the data release.
Fundamental Outlook for the day
Today, there were a couple of important economic released lined up during the NY session in the US. The US GDP data, pending home sales figure and the US initial jobless claims data were published. The US GDP was expected to grow by 3.9%, down from 4.0%. The outcome was a bit higher than the forecast, as the US GDP is expected to grow by 4.2%. The US dollar climbed a bit higher after the release. Moreover, the Japanese CPI and retail sales data will be released during the next Asian session, which might cause some swing moves in the yen pairs.
This analysis is taken from today's Daily Market Forecast, which also includes trade opportunities on: EURUSD, GBPCHF, AUDCAD, AUDUSD, NZDUSD, GBPUSD and EURGBP.
Get it HERE: Vladimir's Markets Forecast
Trade carefully friends. Happy trading!