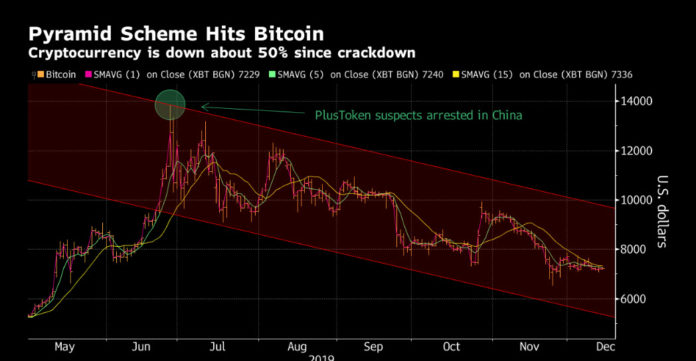 Chinese crypto scam unwind suggests bitcoin risks extending drop. Bitcoin may have a tough time getting out from under the fallout from one of the biggest cryptocurrency scams ever, according to researcher Chainalysis Inc.
The largest cryptocurrency is likely to remain under pressure as perpetrators of the estimated more than $2 billion PlusToken scandal dump coins to cash out, the New York-based firm said Monday in the wake of a five-month investigation that continues to track the tokens as they filter through various blockchain ledgers.
Bitcoin has tumbled almost 50% from its 2019 peak in late June, when Chinese authorities arrested multiple suspects in the pyramidscheme that promised returns as high as 600% and guaranteed that investors would be rewarded for inviting new members. Since that time, market observers have often pointed to possible sales tied to PlusToken suspects not in custody as one of many reasons for price declines.
Chainalysis estimates that PlusToken conspirators have sold about 25,000 Bitcoins and another 20,000 Bitcoins are spread out across more than 8,700 anonymous crypto addresses. Additional coins such as Ether were also used to bilk investors.
"That's certainly something to consider when you are thinking about where the price is going, at least in the short term," Kim Grauer, senior economist at Chainalysis said in a phone interview. "It could be, according to our research, continued downward pressure."
While the transparency of the decentralized ledger technology that powers cryptocurrencies makes it easier to monitor transactions, criminals still take advantage of the anonymous nature of the accounts to mask movements.
Many of the transactions were conducted through so-called mixers such as Wasabi Wallet that offer coin shuffling services that make it almost impossible to identify the user, the researcher said.
Chainalysis suspects that over-the-counter trading desks that deal directly with individuals outside of exchanges are helping to launder the proceeds and cycling the coins through exchanges in China such as Huobi.