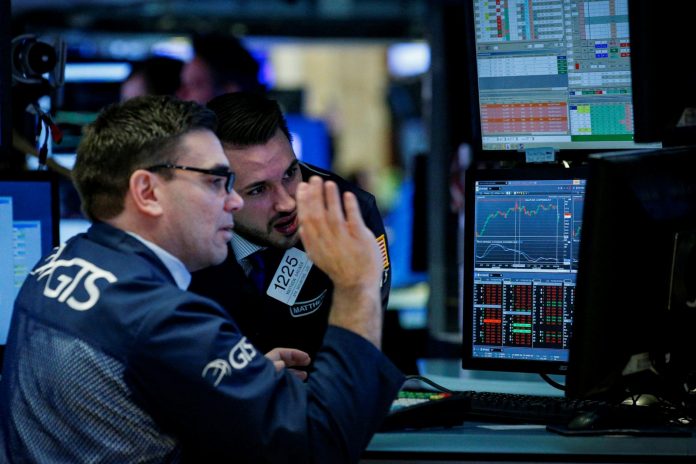 Dow, S&P turn lower as tariffs weigh on industrials. The S&P 500 and the Dow Jones Industrial Average fell on Monday as worries about the metal tariffs signed into law last week by President Donald Trump weighed on industrial stocks.
Shares of companies such as Boeing Co (BA.N), down 2.6 percent, and Caterpillar Inc (CAT.N), down 2.3 percent, have been under pressure as Trump's protectionist stance on steel and aluminium imports could increase costs and hamper sales abroad. Boeing and Caterpillar were the biggest decliners on the Dow.
Trump last week softened his stance on tariffs by exempting Canada and Mexico, but negotiations are ongoing as the European Union and Japan also seek exemptions.
"The big multinational, industrial companies of the world are all taking a hit on the concern that they will be the targets of reprisal sanctions," said Robert Phipps, a director at Per Stirling Capital Management in Austin.
Those losses were tempered by a CNBC report that Larry Kudlow is the leading candidate to replace White House economic advisor Gary Cohn, Phipps said. Kudlow, like Cohn, is seen by some investors as a greater proponent of free trade than Trump's other advisors.
"That offered some comfort to the markets," said Phipps. "However, it's not enough of an offset to protect the companies that are susceptible to retaliation in a trade war."
The Dow Jones Industrial Average .DJI fell 122.02 points, or 0.48 percent, to 25,213.72, the S&P 500 .SPX lost 1.39 points, or 0.05 percent, to 2,785.18 and the Nasdaq Composite .IXICadded 34.90 points, or 0.46 percent, to 7,595.71.
Even with the session's losses, the S&P 500 is just 3 percent below record highs hit on Jan. 26, while the Nasdaq .IXIC has recovered its losses from last month's sell-off.
The tech-heavy Nasdaq was lifted in part by further signs of official disapproval of Broadcom Ltd's (AVGO.O) $117 billion bid for U.S. graphics chipmaker Qualcomm Inc (QCOM.O).
The U.S. Treasury said in a letter to Singapore-based Broadcom that it had confirmed national security concerns about the bid and that the company had not given sufficient notice of its plans to redomicile in the United States.
Broadcom gained 3.7 percent while shares in Qualcomm were flat.
Shares of Micron Technology (MU.O) rose 10.1 percent to $60.09 after analysts at Nomura raised their target for the stock to $100.
Oclaro (OCLR.O) jumped 28.0 percent after laser and optical fibre specialist Lumentum Holdings (LITE.O) said it would buy the optical components producer for $1.7 billion. Lumentum's shares rose 5.5 percent.
Advancing issues outnumbered declining ones on the NYSE by a 1.18-to-1 ratio; on Nasdaq, a 1.39-to-1 ratio favoured advancers.