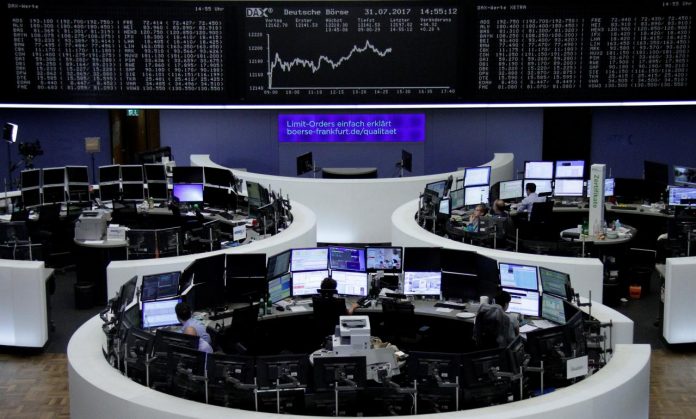 Markets mixed, U.S. monthly job data in focus. Stocks, gold and most metals headed for a fourth week of gains on Friday, as fresh political woes for U.S. President Donald Trump and the prospect of a trade war with China kept the dollar depressed ahead of U.S. payrolls figures.
European markets got off to an underwhelming start, with Britain's FTSE 100, Germany's DAX and France's CAC 40 all lower. The FTSE was nevertheless on course for its best week in two months, having been boosted by the latest tumble in the pound.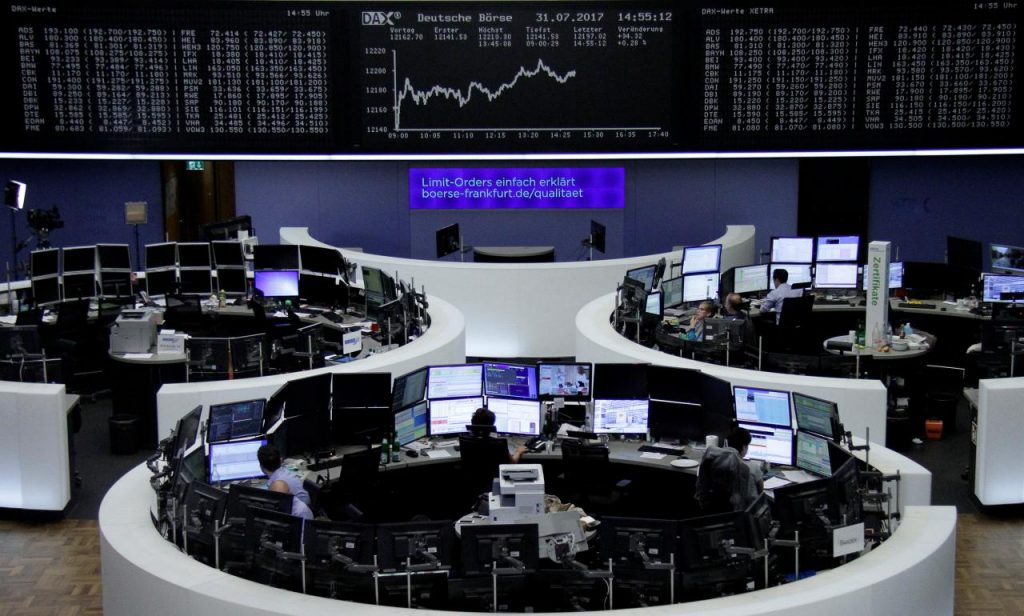 The dollar, meanwhile, was down at $1.18 per euro and near the 2-1/2-year-low touched earlier this week. It has come under fresh pressure following reports that U.S. Special Counsel Robert Mueller has put together a 'grand jury' to investigate allegations of Russian interference in last November's presidential election.
Sources told Reuters that the jury has issued subpoenas in connection with a June 2016 meeting that included U.S. President Donald Trump's son, his son-in-law and a Russian lawyer.
There was also the matter of monthly U.S. jobs data due later, which are normally a market mover as they are seen as a gauge of U.S. economic health by the Federal Reserve.
Payrolls are expected to have increased by 183,000 jobs last month after surging by 222,000 in June, a Reuters survey of economists shows. The unemployment rate is seen falling one-tenth of a percentage point to 4.3 percent.
The dollar index, which has just recorded its worst run of monthly losses since early 2011, was 0.1 percent lower at 92.766 on the day and about 0.6 percent during a week in which it fell to a 15-month low of 92.548.
"We think things are overdone in terms of negative sentiment around the dollar," said PineBridge Investments fund manager Hani Redha.
"Overall we think global growth is going to be quite solid but we think the leadership is going to change back towards the U.S.," he added, saying Trump was also likely to get at least some fiscal stimulus measures through in the coming months.
In fixed income markets, Europe's 10-year benchmark government bond yield and U.S. equivalents were pinned near one-month lows of 0.45 and 2.23 percent respectively amid the U.S. political uncertainty.
U.S. yields — a bellwether for global bond markets which soared to more than a two-year high after Trump's election — have been falling for most of 2017 as the President's travails have cooled expectations for growth and inflation.
TRADE WAR?
Investors were also increasingly wary about the prospect of a U.S. vs China trade war.
In a rare show of bipartisanship, three top Democratic senators have urged Donald Trump to "go after" China this week as he prepares an inquiry into Beijing's trade practices. Trump was expected to give a speech later but it has been postponed.
China's blue-chip CSI 300 closed down 0.5 percent, notching its first three-day fall in almost two months.
MSCI's broadest index of Asia-Pacific shares outside Japan scored a modest 0.4 percent gain for the week though, as it added to its 24 percent rise for the year.
Japan's Nikkei ended the week little changed, dropping 0.4 percent on Friday as a stronger yen weighed. Wall Street was expected to start marginally higher, having seen the Dow index break through 22,000 points this week.
Back in Europe, sterling stayed near a nine-month low against the euro, still sapped by the Bank of England's cut to UK growth forecasts on Thursday which also wiping out rate hike expectations.
"With the central bank downgrading its UK GDP growth forecast for both this year and 2018, sterling is poised for further punishment down the road," Lukman Otunuga, research analyst at ForexTime, wrote in a note.
Venezuela's bolivar currency tumbled 18 percent against the U.S. dollar on the country's black market, ahead of the inauguration of a legislative superbody that the opposition says will give President Nicolas Maduro sweeping new powers.
In commodities, oil prices continued to be weighed down by persistent concerns about high crude supplies from both OPEC and the United States.
U.S. crude slipped 0.2 percent to $48.93 a barrel, after sliding 1.1 percent overnight, putting it on track for a weekly loss of 1.6 percent.
Global benchmark Brent also dropped 0.6 percent to $51.66, extending Thursday's 0.7 percent loss and headed for a 1.2 percent weekly fall.
Gold was steady at $1,269 an ounce and set to score and modestly weekly rise, which will be its fourth in a row.
Source – Reuters
Advertisement