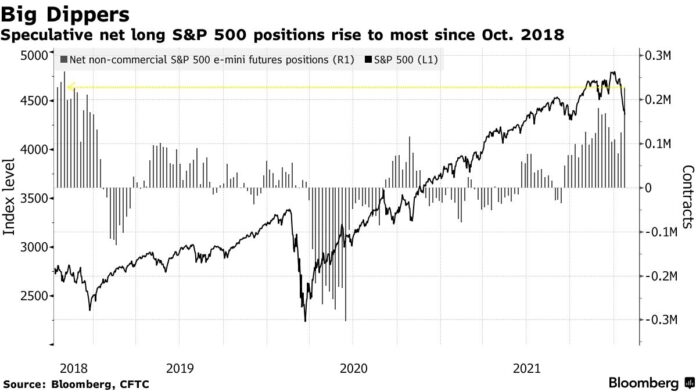 U.S. equity futures fell Monday as investors braced for more volatility from central bank jitters and a flurry of corporate earnings.
Contracts for the S&P 500 shed 0.1% while those for the Nasdaq 100 gained 0.4%. An index of global equities is on track for its worst month since March 2020. Meanwhile, Treasury yields climbed, flattening across the curve, on bets the Federal Reserve will begin successive rate hikes in March.
"Until the market and the Fed stop leapfrogging each other in terms of interest rate expectations, the market will stay volatile," wrote Deutsche Bank's Jim Reid. "With such an extreme month, today's month-end might see some position squaring, so maybe there'll be another late swing/surge/slump in the last 90 minutes."
As investors reconcile to a more hawkish central bank, the expensive parts of the U.S. stock market are undergoing a valuation re-rating along with the bond markets. However, traders see opportunities in less expensive segments such as European and emerging-market stocks, as well as higher-yielding currencies where rate hikes have already happened.
There's fierce speculation over whether the fed funds rate might increase 25 or 50 basis points at the start of the Fed's tightening cycle. Yet, Michael O'Rourke, chief market strategist at Jonestrading Institutional Services, said it didn't matter.
"Debating between 25 and 50 basis point for March is the equivalent to deciding between using a cup or a bucket to start emptying a swimming pool. One is larger than the other, but the difference is negligible relative to the task," he said. Goldman Sachs now predicts the Fed will raise rates five times this year.
Adding to the volatility, companies from Alphabet Inc. to Exxon Mobil Corp. report financial results this week in the U.S. on top of a full earnings calendar in Europe.
So far the stellar run of corporate profitability in U.S. has continued this quarter. Of the 172 S&P 500 companies that have posted results so far, 81% have met or exceeded expectations. Profits have come in about 5% above the levels predicted.
Brent crude headed for its best January in at least 30 years, with top banks and oil companies predicting prices may soon pass $100 a barrel under tighter global markets.
Bitcoin slid to about $37,000, nursing a drop of some 20% since the start of 2022.
What to watch this week:
Earnings are due from Alphabet, Amazon, Exxon Mobil, Ford Motor, Meta Platforms, Qualcomm, Sony, Spotify, UBS Group
San Francisco Fed President Mary Daly due to speak at event, Monday
Reserve Bank of Australia rate decision, Tuesday
Manufacturing PMIs, including euro zone, Tuesday
OPEC+ meeting on output, Wednesday
Euro zone CPI, Wednesday
Bank of England, European Central Bank rate decisions, Thursday
Fed Board of Governors confirmation hearing, Thursday
U.S. factory orders, initial jobless claims, durable goods, Thursday
U.S. payrolls report for January, Friday
Some of the main moves in markets:
Stocks
Futures on the S&P 500 fell 0.1% as of 9:09 a.m. New York time
Futures on the Nasdaq 100 rose 0.4%
Futures on the Dow Jones Industrial Average fell 0.4%
The Stoxx Europe 600 rose 0.4%
The MSCI World index rose 0.3%
Currencies
The Bloomberg Dollar Spot Index fell 0.3%
The euro rose 0.4% to $1.1193
The British pound rose 0.3% to $1.3438
The Japanese yen was little changed at 115.35 per dollar
Bonds
The yield on 10-year Treasuries advanced three basis points to 1.80%
Germany's 10-year yield advanced six basis points to 0.02%
Britain's 10-year yield advanced five basis points to 1.29%
Commodities
West Texas Intermediate crude rose 0.8% to $87.54 a barrel
Gold futures rose 0.5% to $1,796.20 an ounce