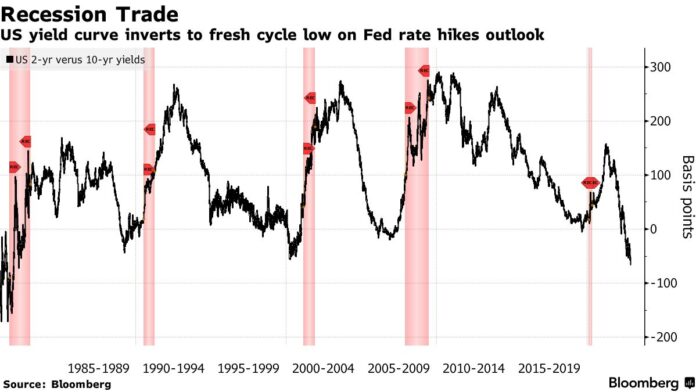 US Futures was poised for another day of losses amid mounting concerns about the health of the broader economy and signs that Federal Reserve officials do not see rate hikes pausing any time soon.
S&P 500 futures turned sharply lower, reversing earlier gains of about 0.3%. Contracts on the tech-heavy Nasdaq 100, whose constituents tend to be more sensitive to interest rate moves, lost 0.6%, as US 10-year Treasury yields rose further, following indications from Fed officials on Wednesday that policy would tighten further. The dollar rallied half a percent against a basket of currencies.
A rally in chip stocks also lost some momentum in premarket trading, with Nvidia Corp. now up less than 2%, paring larger gains made after forecast-topping quarterly sales. While Cisco Systems Inc. rose 4% on a bullish revenue forecast, rivals Advanced Micro Devices Inc. and Intel Corp. saw their gains fizzle.
Stock markets are increasingly focusing on the outlook for the US economy, especially as a closely watched section of the Treasury yield curve remains near levels not seen in four decades — historically, a signal that the world's biggest economy is on the cusp of recession.
In a scenario that has played out repeatedly across world markets in recent weeks, equities were forced to hit pause on their multi-day rally on Wednesday, as stronger-than-expected US economic data and a raft of Fed speakers dampened hopes the US central bank could end its rate-hiking cycle earlier than expected.
"We are cognizant that each time global markets attempt to rally on the back of speculation that the end of the Fed's tightening intentions may be in sight, FOMC officials come out with a new paragraph of hawkish narrative, to tamp down any prospect of irrational exuberance," Simon Ballard, chief economist at First Abu Dhabi Bank, wrote in a note to investors.
With inflation only starting to ease after hitting decades-high level, and a gauge of US retail sales increasing at the fastest pace in eight months, the message from Fed speakers is that they have further to go to extinguish prices pressures.
San Francisco Fed President Mary Daly said a pause in rate hikes was "off the table," and New York Fed President John Williams said the central bank should avoid incorporating financial stability risks into its considerations.
Goldman Sachs Group Inc. upped its forecast for peak US interest rates to 5.25% at the top of the range, up from the previous call 5%.
Yet other signs suggest the world's biggest economy is losing steam as American consumers get squeezed by the highest inflation in four decades. Retailer Target Corp. undershot forecasts Wednesday, saying a pullback from US shoppers had hit earnings.
"The big question ahead is how demand will respond when corporates have likely been too aggressive in marking up prices, both to preserve profit margins and in anticipation of further inflation," said Sebastian Galy, senior macro strategist at Nordea Investment Funds.
Prices for growth-sensitive oil and copper extended losses on signs of a dimming demand outlook. European Central Bank policymakers too are said to be mulling a smaller 50 basis-point rate hike next month, signalling their concern for the economy and pushing the euro lower.
The pound extended losses, trading at a session low, as Chancellor Jeremy Hunt laid out a new fiscal plan that included downgraded growth forecasts.
Key events this week:
US housing starts, initial jobless claims, Thursday
Fed's Neel Kashkari, Loretta Mester speak, Thursday
US Conference Board leading index, existing home sales, Friday
Some of the main moves in markets:
Stocks
Futures on the S&P 500 fell 0.7% as of 7:05 a.m. New York time
Futures on the Nasdaq 100 fell 0.6%
Futures on the Dow Jones Industrial Average fell 0.6%
The Stoxx Europe 600 fell 0.5%
The MSCI World index fell 0.4%
Currencies
The Bloomberg Dollar Spot Index rose 0.5%
The euro fell 0.4% to $1.0350
The British pound fell 0.5% to $1.1857
The Japanese yen fell 0.3% to 139.86 per dollar
Cryptocurrencies
Bitcoin rose 0.3% to $16,576.49
Ether fell 0.3% to $1,202.26
Bonds
The yield on 10-year Treasuries advanced three basis points to 3.72%
Germany's 10-year yield declined two basis points to 1.98%
Britain's 10-year yield advanced four basis points to 3.18%
Commodities
West Texas Intermediate crude fell 1.8% to $84.07 a barrel
Gold futures fell 0.4% to $1,768.10 an ounce