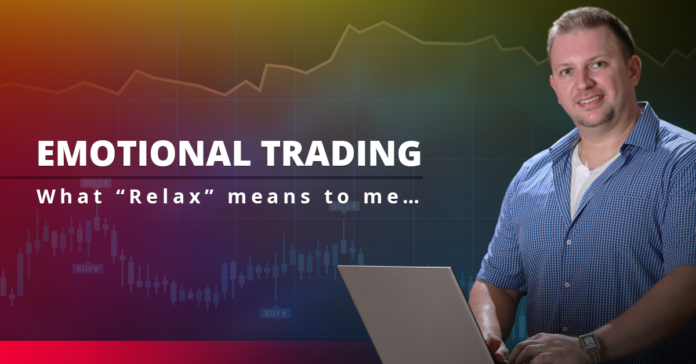 Every successful Forex trader's first advice to a newbie would be to have control on emotions while trading in Forex market. Many professional traders consider emotions as one of the biggest hurdles in Forex trading. Trust me, it is one of the toughest things to control if you are in financial market. Wherever there is money at stake, humans normally do get emotionally involved in it.
Avoiding emotions in Forex market is almost impossible, but you can learn some key tricks to master the emotional element and control it to a good extent so that it does create problems for you while trading. In my view, there are five important points one should consider while trading, and I have termed it as "RELAX".
R – Right Investment. You should invest the money you can afford to lose while trading. Never stake all or most of your money in Forex trading.
E – Engage in the right manner. Stress and Forex trading usually go hand in hand. So, you should learn to engage in the right way. Whenever you feel more stressed, just go out for a walk, have tea or coffee or try any other relaxing technique. Relax for some time and get back to the trading screen.
L – Learn to manage risk. One of the biggest factors in my opinion is to decide the amount of risk involved. You must manage your trading account in such a manner that you do not stake high amount in a single trade. If you manage your risk in an efficient manner, then there will be fewer emotions involved in it.
There are various methods to manage risk, such as risking a fixed percentage of your account on a single trade, or exiting the trades in parts. You should study your options and decide what's most appropriate for your strategy and taste in risk.
A – Accept Mistakes. There is no one in this crazy market who has not lost money. You should always be ready to accept losses and move on to the next trade. Make sure you do not get carried away to regain what is lost.
X – EXecute. Always have a strategy, execute it and stick to it until the end. Do not panic, think twice before taking a decision
Just "RELAX" friends and control your emotions.
P.S. for more on the important role of your mind in your trading results, see my book: Profitable Trading Mind – Vladimir Ribakov