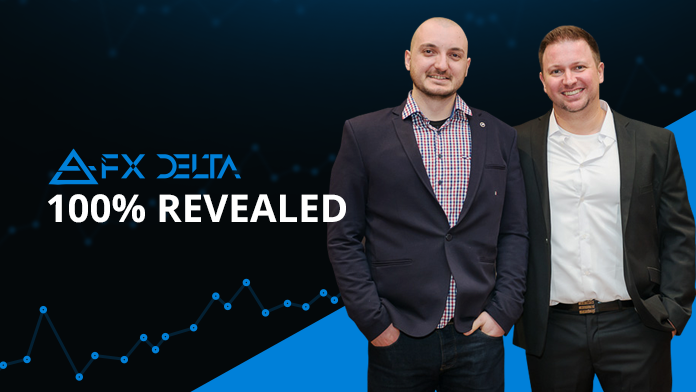 Click To Join Our Community Telegram Group
Hi Traders! Today, The chief trader of my academy club, Yordan, had his fantastic webinar introducing his Fx Delta strategy and I must say  – hats off to him!
He managed to create something simply – outstanding! The FX Delta strategy is based on unique pattern that i'm pretty sure, you haven't seen before (or anything similar to it). Strategy has been developed for about 2 years and it is now successfully used by beginners and experienced traders. The user guide and accompanying video tutorials contain all the background information you should know about the strategy and the unique pattern(no black boxes – everything is revealed).
The system scans trends in long time-frames, while simultaneously looking for market corrections on short-timeframes. The software algorithm then pinpoints the ideal market entries – the exact places with the highest probability of trend continuation and minimal risk. The algorithm uses volume and momentum along with price action to accomplish the trend identification and is suitable for intra day trading as well as long term and swing trading.
The Delta System is composed of 2 elements:
Element 1: The Delta Scanner
A quick, efficient visual tool to pinpoint the markets that are currently moving and suitable for trading. All the markets are covered – Forex, Commodities, Stocks, Indices, Cryptocurrencies. Whatever your broker offers, you can trade it with FX Delta! This is the first step of the FX Delta trading process.
Element 2: The FX Delta Dashboard – Includes 3 "sub" areas and an extra confirmation indicator (the Alfa Pattern):
Navigation – this section provides the general information on where we stand, what we are looking for, and the levels that will validate the setup. In technical terms, here you will find the direction we are looking to trade, the safety range and the validity of the delta pattern on the higher time frames.
Trade management – provides useful information such as: target 1 and 2 in pips, risk-reward ratio towards target 1 and 2, and stop loss in pips.
1- click shortcut trade execution buttons – our traders' favorite part: get effortless 1-click trade alerts that contain Open Market, Set Pending, Close Trade fields.
If you missed the webinar, you can watch the recording where Yordan Kuzmanov reveals everything about the unique Delta Pattern on which the strategy is based on.
The Fx Delta is now available, you can get it here
Don't miss the chance to take part of that record breaking trading system.
P.S – In a short while, Yordan will begin his educational journey to the Fx Delta owners so make sure be there as he starts.
Yours to your success!
Vladimir Ribakov
Advertisement