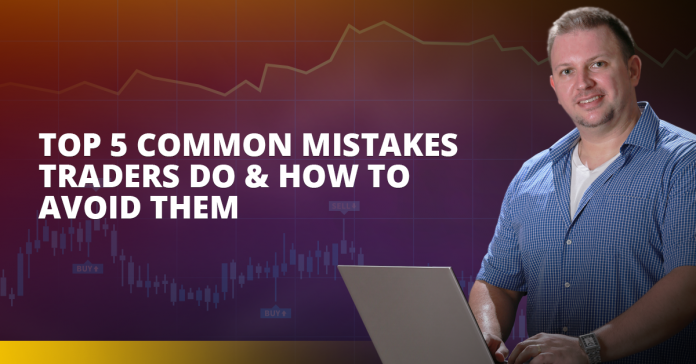 Over the years I have seen many traders losing in the Forex market. If we look at the historical data, then more than 95% of beginning Forex traders fail and stop trading. In this article, I highlighted five common mistakes new trader make, and if you are a newbie (or advanced), I think you should have a look at the points below to increase the chances of staying for long in the Forex market.
COMMON MISTAKE #1 – Over Exposure and High-risk trading
Many new traders get attracted to forex trading because it offers high returns with low investment. They want to make big in a very short time, which leaves them exposed, and as a result they lose most times. One of the main issues is that traders tend to keep bad positions for a long time, which puts the account at risk. It's a human emotion and most newbies fail to have control over the hope and the greed. However, while trading in the Forex market, you need to plan your risk-reward very well, else you may end up blowing up your account.
In order to avoid high-risk trading and over exposure, one must always develop a plan and stick to it. For example, you can decide a maximum amount/percentage, which you can invest in each trade, each day and each week. It can be 1% of your account balance per trade, 2% per day and 5% per week. Once you reach these limits, you should stop trading, and take a rest to regain your thoughts. It is a lot better than keep trading and get even bigger drawdown. In the meantime, you can analyze your trades. See if you made a mistake or you just had a losing trade. There is a huge difference between sticking to your plan and hitting a stop loss and not sticking to your plan then hitting the SL.
COMMON MISTAKE #2 Cutting Profits Early
The next important mistake many new traders make is not letting a trade in profits reach the planned target. They let the losses run for a long time in hope, and close a profitable trade with small or negligible profits in greed. Patience is a key aspect of the Forex trading, which is always lagging among new Forex traders.
However, it does not mean that you hope for HUGE profits, as it is a balanced strategy and sticking to plan for each trade with TP, SL and trailing SL. In a few cases you may consider trailing your stop to break even and let the trade run for some time. So, if a trade is doing well, do not get afraid and close it as it might result in good profits.
COMMON MISTAKE #3 Trading Too Many Instruments
Forex market is tempting, but that does not mean you can do it all at once. New traders instead of sticking to analyzing a few instruments or currency pairs, they go bananas and try to trade every pair or instrument available. It means they do not monitor the Forex market and plan a trade well before entering.
So, it is always best to choose certain instruments (may be 5), follow and analyze them well. It increases the chances of winning since you will be well prepared and confident. Moreover, if you a medium to long term trader and follow higher time-frame charts like W1 or D1, then you can increase the count to maybe 8.
COMMON MISTAKE #4 Trying Too Much Too Soon
When a new trader enters into the Forex market, a thought that comes in mind is let's make money as soon as possible. In order to achieve it, a trader uses too many expert advisors, automated systems, strategies and methods, but ends up blowing up the account.
Trying too much too soon never works. Learn  a strategy, work on it, and master it to perfection. Do not rush for a new strategy every week or month, as it won't do much for you. A better and well analyzed strategy can significantly improve the risk reward potential of a trade and diminishes the chances of losses in the long term.
COMMON MISTAKE #5 Practice, Practice and then Practice Some More
Will Smith once said, "I've always considered myself to be just average talent and what I have is a ridiculous insane obsessiveness for practice and preparation".
I think this also makes sense for a new trader in the Forex market. One needs to plan well in advance and practice it for some time in order for things to work. At the initial stages, trading on a demo account and practicing always works. You can work closely on your plans, strategies and analysis before switching to a live account. Take one step at a time, and once you practice for a couple of months and become confident, then move to real trading. Many would directly start trading on a real account and end up losing everything. It is one of the most common mistakes and should be avoided.
Finally, everyone makes mistakes, but the most important aspect is learning and not repeating.
Morihei Ueshiba, which was a martial artist and founder of the Japanese martial art of aikido, said "Failure is the key to success; each mistake teaches us something".
So learn and trade well traders!
Yours,
Vladimir