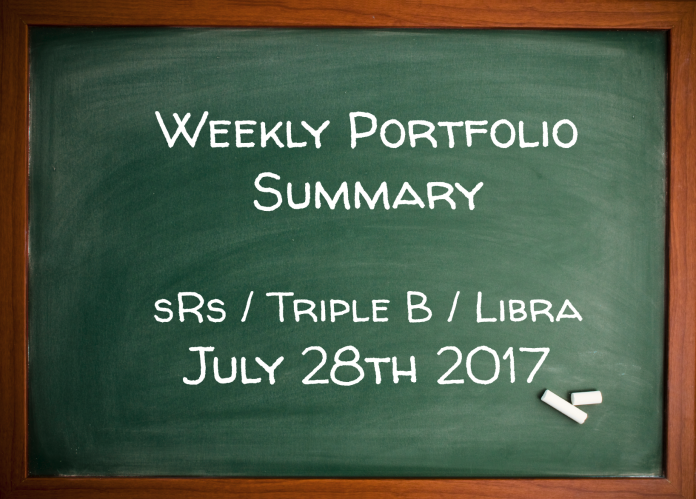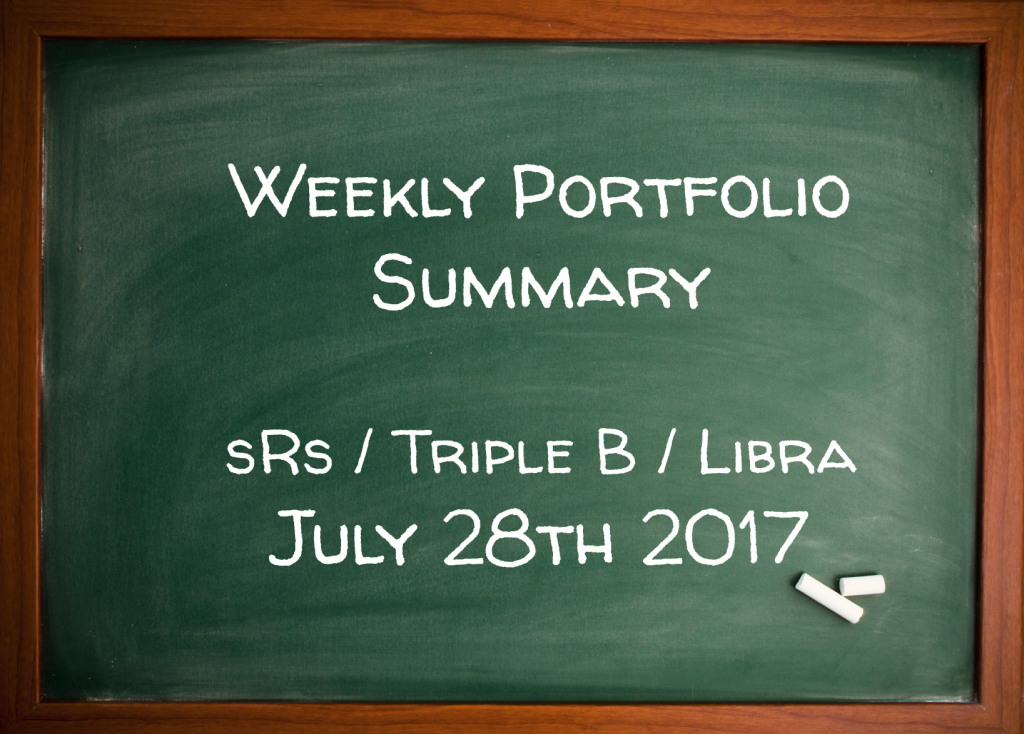 Hi traders!
Before anything else – I'm wishing you a great and fun weekend!
Weekly Portfolio Summary July 28th 2017 is here. This week we are back with full performance on all 3 strategies and we have Forex Libra Code leading with +1.81%, followed by sRs Trend Rider which provided +0.75% and at the bottom we have Forex Triple B which realized closed to half percent loss.
You can follow the full performance of each strategy on its official page or on the blog performance page.
NOTE – Positive amount of pips could come along with negative percentage and vice versa.
Weekly Performance Summary
| | | |
| --- | --- | --- |
| Forex Libra Code | Total pips -436.3 | Return on investment 1.81% |
| Forex Triple B | Total pips +25.7 | Return on investment -0.41% |
| sRs Trend Rider 2.0 | Total pips -15.9 | Return on investment 0.75% |
FOREX LIBRA CODE
This GBPCAD long signal came at the right time as our main and general direction remains to be up. As to the setup – was it perfect and ideal – no BUT it was correct and when we have a correct setup, that comes at the correct levels, we go ahead and trade it.
Entry
Exit
I would like to discuss this CADCHF buy and not so much the setup of FLC but the analysis behind it. Here is the cycle we are following – https://www.screencast.com/t/Mlbgcm7midVs .Now what happened here guys? Once the price broke above the high around 0.7630, the potential double cycle, might now turn to be Triple or Special Cycle. Since there is divergence forming already BUT it is not completed, we draw our projections and see that the weekly top of the range and resistance zone coincides with the projection of the 3rd leg. AND HERE IS THE KEY – technically, as PER THE RULES of the cycles, this cycle is not completed, which means we can follow the next projection zone and do what? Look for buys, as this is the main trend direction at the moment.
To summarize it, and make it as simple as possible – as long as the cycle is not completed, we can still look for trades in the main direction.
If you are interested to learning more about cycles and the rules, here is the webinar.
Unfortunately this trades lost but the important part here is to understand why I took it in a first place. When things are obvious, everyone will make money.
Entry
Exit
SRS TREND RIDER 2.0
Speaking about obvious 🙂
EURJPY –  this is the bullish cycle and once we get out confirmation (which we did) we start looking for sells. There is another bigger cycle which coincides with this one but for the sake of the examples, I will leave it out of the picture. https://www.screencast.com/t/iHr7Q0W5
Now regarding the sRs setup. We got an alert with a beautiful and obvious trend line. If you want to learn more about sRs watch my free webinar on youtube – https://www.youtube.com/watch?v=1Wb1025I72A&t=3312s
NOTE – even though we got a conservative signal (check out the Exit image), there is no trend line and pullbacks we can use. So what do we do then? Ignore it. We don't need to trade every single signal out there. Besides that, we just cashed out our sell position from before. Don't be greedy. Respect the market and the rules.
Entry
Exit
Once again the GBPCAD pair. We have already commented that we are looking for buys and this is our sRs signal. Very nice, clean trend line and moves. Correct level and the trade failed.
Why do I share this one with you? Because once you have learned and understood the rules and logic of a given trading method, you must learn to control your emotions and feelings. Even best setups fail and that teaches us the following:
Do NOT overexpose, EVER, your account, and bet on a single trade just because it looks perfect. Perfect trades fail all the time, just like "perfect" traders who think they can outsmart the statistics and money/risk management. If you risk 3 or 4 times more than your regular lot size, you will suffer not only financially but also mentally. This will put you in situation where you should score a few winners in a row just to get to where you were. What if you after this loss (the over exposed one), you get 3 more losses? How do you think you will react to this situation? So whenever you feel like GAMBLING, think about the worst case scenario and then a bit further. The market doesn't own you anything. You either respect it and play by it's rules or he will punish you.
Entry
Exit
If you like the sRs Trend Rider 2.0 and want to achieve the same result or even better – you can download it for free. Click on the button below to get your copy.

FOREX TRIPLE B
I want you to pay close attention to the triple b setup that we got here. Once we know our direction (based on cycles), half the job is already done. Now for this specific setup we saw a move up, flat correction of some sort, and then another push up. At this point, we have our double wave up, we are inside a great resistance zone, risk:reward is on our side and there is basically no reason why we should not try this sell.
Entry
Exit
Next example comes from the GBPUSD pair. Things don't look too different here, besides the fact that we are looking for a buy, instead for a sell. We got the double wave down, we are inside a great supportive zone and the only thing here that I don't like is the risk:reward. Larger than 1:1 but I think you will agree with me that it could've been a bit better 🙂
Entry
Exit
If you like the Forex Triple B 2.0 and want to achieve the same result or even better – you can download it for free. Click on the button below to get your copy.
You can get Forex Triple B 2.0 for FREE here:

Yours
Vladimir