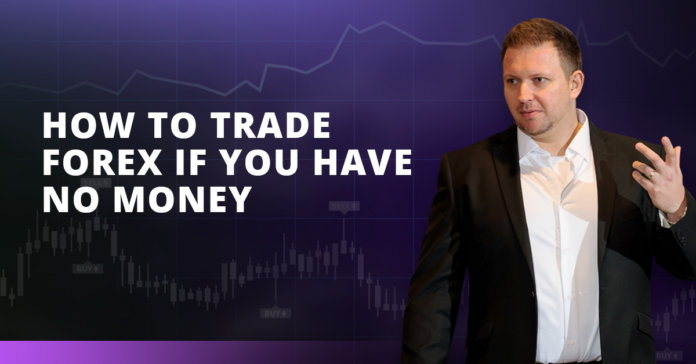 Hi Traders! Do you want to know how To trade forex if you have no money? You can find it in the below article:
How much money can you expect from trading?
Many traders start with small accounts sized up to $5,000 USD and hoping to reach financial freedom. If we need $2,000 USD every month for a day to day living, we must increase the value of the account by 40% every month. However, such an increase in value is not realistic. Based on my own experience, I know that one can realistically expect 4-7% growth per month.
Having excessively high expectations usually cause frustration and the trading itself is suffering. We tend not to be concentrated, trade excessive position sizes and we are forced to make common mistakes such as over trading or the inability to close the loss or on the other side, hoping for an unrealistically high profit from a single trade.
If you don't have $50,000 – $100,000 USD and still want to trade responsibly and financially meaningfully, the answer can be the in this offer – offer 1.
[Learn All About it in this Intuitive Video]
At FTMO, they provide up to $100,000 USD to talented traders, who prove their discipline and precise compliance to follow their own trading plan. The selection of suitable traders works on a monitored demo account that they call the Challenge. In the Challenge, traders have to make 10% during 30 calendar days. The evaluation is really motivating, and it goes hand in hand with the maximum permitted loss of 10% as well. So, in the Challenge itself, they want you to make 10% while not losing 10% of the initial capital. The required profit and the maximum permitted loss are then perfectly balanced as 1:1 which is pretty fair.
All traders who are successful in the test, will sign a contract with FTMO about managing their capital. The profits from the funded accounts are split as full 70% for the trader and 30% for FTMO.
In the table below, you can see the account sizes offered by FTMO together with calculated long-term evaluation expectations.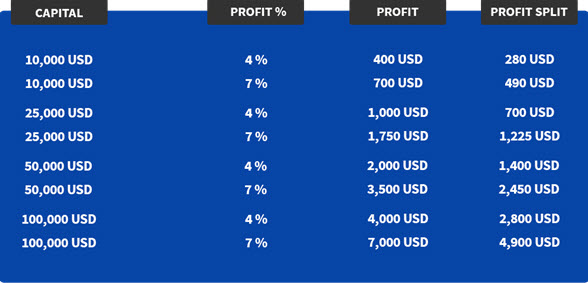 Let's compare the account value growth in a small $5,000 USD account, together with the $100,000 USD sized account offered by FTMO. For example, let's assume that the account value grows by 7%. The final profit in a small $5,000 USD account would be $350 USD. On the other side, the FTMO account sized $100,000 USD will appreciate by $7,000 USD, however you have to deduct those 30% that FTMO reserves for themselves. You will be left with $4,900 USD net, which is pretty much the salary of a bank financial analytic ora senior IT specialist.
With a small personal account of $5,000 USD, that most retail traders normally trade with, it is simply not realistic to trade for a living. You would really need to risk excessively and rather gamble than trade. Bigger accounts are not only better for trader's psychology but it also makes trading much more effective.
With FTMO, you can get that $100,000 USD for trading completely free of charge as they will reimburse your initial fee with the first profit withdrawal. I truly believe that their offer might be interesting for a number of serious traders from our community.
I wish you best of luck in your trading and success if you take the exam!
And remember – those who pass the exam, will be accepted to talk 1 on 1 with me about their trading!
For any questions – please contact us at support@vladimirribakov.com
Yours to your success,
Vladimir Ribakov
https://tradersacademyclub.com