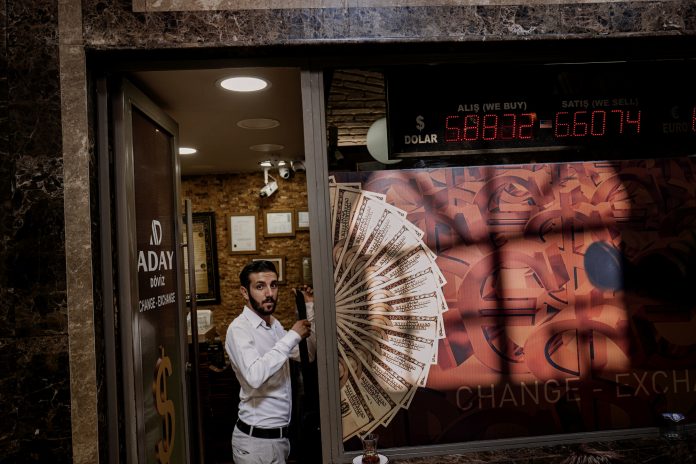 Click To Join Our Community Telegram Group
U.S. stocks fell and the dollar rallied as the economic crisis in Turkey continued to rattle global markets. Developing-nation currencies slumped with crude oil.
The S&P 500 Index reversed early gains and dropped to a two-week low in thin trading. The dollar rallied to its highest since 2017, while Turkey's lira sank for a fourth day to a fresh record. Emerging-market equities tumbled more than 2 percent, and South Africa's rand touched the lowest since June 2016. European banks dragged down stocks in the region. Crude slid below $66 a barrel and gold hit to the lowest since January 2017.
"The fact that the early day rally faded has spooked investors that Turkey risk is still increasing toward a bigger event," said Jim Paulsen, chief investment strategist at Leuthold Weeden Capital Management. "Contagion risk is the primary driver today."
Turkish President Recep Tayyip Erdogan maintained his defiance toward both the U.S. and financial-market orthodoxy in speeches on Sunday, heightening concern that the financial woes there would spread to other markets. Central bank moves to boost liquidity provided little relief.
Argentina's central bank unexpectedly hiked its key rate and unveiled a plan to gradually eliminate the stock of its short-term notes as the peso slumped to a record low amid a broad selloff of developing nation assets.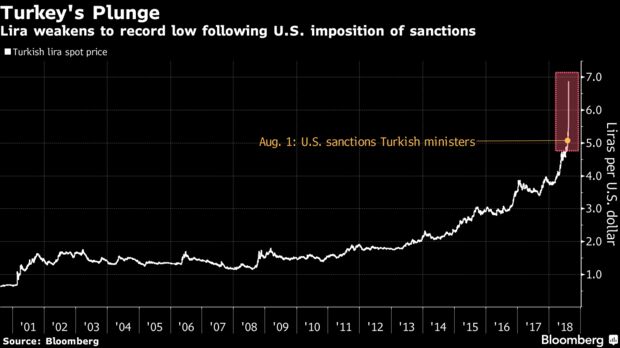 "The efforts of regulators on the European continent and in the U.K. over the last eight-plus years to fortify their respective banks (via improved regulation and government administered 'stress tests') will likely mitigate damage — should it occur — and prevent development of systemic risk or contagion from spreading," Oppenheimer & Co. strategists led by John Stoltzfus wrote in a note to clients Monday.
The leading gainer on the S&P 500 was Nielsen Holdings Plc, which rose 9 percent after billionaire Paul Singer's hedge fund Elliott Management Corp. took a position in the company with the intention of pushing for a sale. Meanwhile, in Europe shares of Bayer AG plunged on concern about the potential costs of a legal battle over Roundup weed killer.
Advertisement