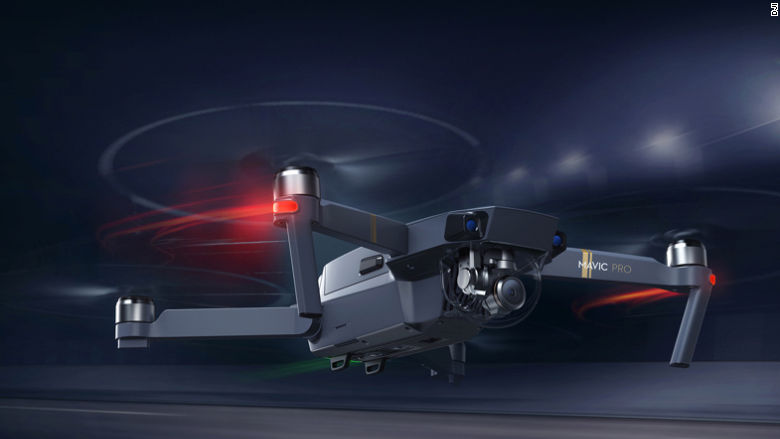 If you are still looking for the perfect gift for yourself or a family member who is crazy about the newest tech gigs out there you may want to check out the 12 must-have tech gifts list for 2016 from CNN. Which one is your favorite?
1. Google Home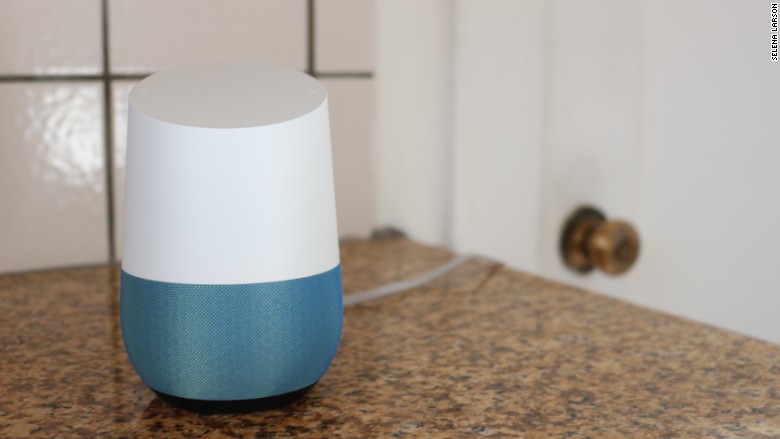 We get it. Everyone wants an iPhone 7, a 4K TV and a new laptop.
At least according to the Consumer Technology Association, which says those items are the year's most sought after.
But the coolest and most buzz-worthy products don't quite fit into those buckets.
From PlayStation VR and Nintendo's mini console to gorgeous connected watches from Kate Spade and Emporio Armani, here are our top picks of 2016.
Related: 13 hottest tech gifts under $100
Amazon's (AMZN, Tech30) Dot made our top tech gifts under $100 list, but Google's (GOOGL, Tech30) new smart home speaker, appropriately called Google Home, missed the cutoff with its $129 price tag.
The smart home hub is a hit among Android users, despite some early adoption hiccups. Similar to the Echo ($180) and Dot ($49), it reads you the news, answers your questions ("how many teaspoons are in a half a cup of flour"), plays music and controls your smart devices.
Amazon might have a head start on the space — with rich integrations with Uber, Spotify and Nest — but Google is storing decades of search data that will likely give Home a leg up soon.
2. FujiFilm smart photo printer
You're probably hoarding thousands of photos on your phone's camera. But FujiFilm's SP-2 printer reminds you that physical photos are pretty rad and cranks them out in just 10 seconds.
The SP-2 syncs up to your mobile device and works alongside an app that lets you edit, add filters and create collages, before sending it to the mini printer.
Related: 14 coolest toys for the holiday season
The device, available in silver and gold, is typically priced at $200, but it's currently listed on Amazon for $150.
3. NES Classic Edition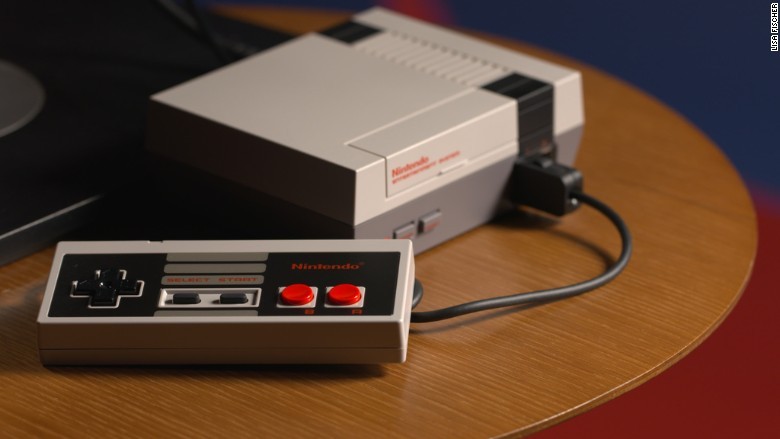 The NES Classic Edition is perhaps the most hyped gift of the season.
Nearly three decades after its launch, Nintendo (NTDOF) has stuffed 30 of its classic games — from Mario Bros. and Legends of Zelda to Pac-Man and Castlevania — into one mini console. The USB-powered system serves them up in a Netflix-style menu that makes it easy for scrolling. It comes with one controller — the second is sold separately ($10).
Related: Nintendo's mini-sized classic console is worth the hype
The bad news is it's nearly impossible to track down a retailer with one in stock. Companies like Walmart (through a third-party provider) and eBay have it available but at markups as high as $500. Some merchants say they're getting new shipments in soon.
4. Smartwatch hybrids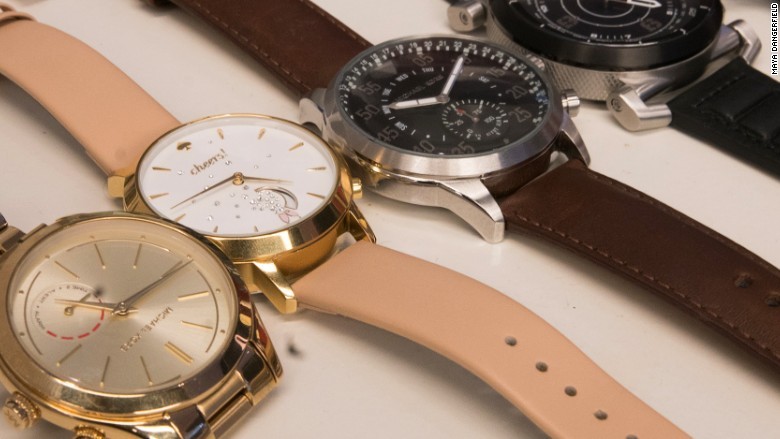 The Apple Watch is the obvious wearable to give this year, especially now that its first-generation model is $269.
But it's not the only watch worth giving. Brands like Emporio Armani, Kate Spade New York, Michael Kors (KORS), Diesel and Chaps have new "smartwatch hybrids" that look and feel like traditional analog watches but do much more.
Related: Fossil launches 40 hybrid smartwaches across Kate Spade, Diesel, Armani brands
They count your steps, monitor your sleep and push notifications (via buzzes and subtle lights) to your wrist. While hybrids don't have typical smartwatch displays — you'll need to open an app to see activity data — it blends smart touches with a classic design. And it looks way nicer than a Fitbit. Kate Spade's scallop-hinged bangle ($128) also doubles as a tracker .
Prices are reasonable, too — they range from $160 (Chaps) to $395 for Armani's connection edition. Considering a traditional Armani watch can cost close to $1,000, the smart version is a steal.
5. Wireless headphones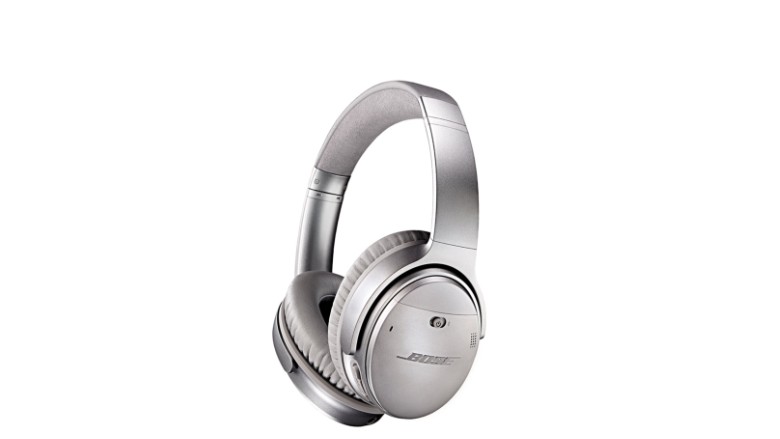 When Apple (AAPL, Tech30) did away with the headphone jack on its iPhone 7 models, wireless headphones became hotter and more relevant than ever. Our pick of the season is the Bose Quiet Comfort model — a pricey but durable pair for $350.
The noise-cancelling set works with Bluetooth to take calls and listen to music.
Related: No headphone jack, no problem: Wireless headphones for the holidays
For more on how to find the best wireless headphones for you or someone you know, check out our roundup.
6. PlayStation VR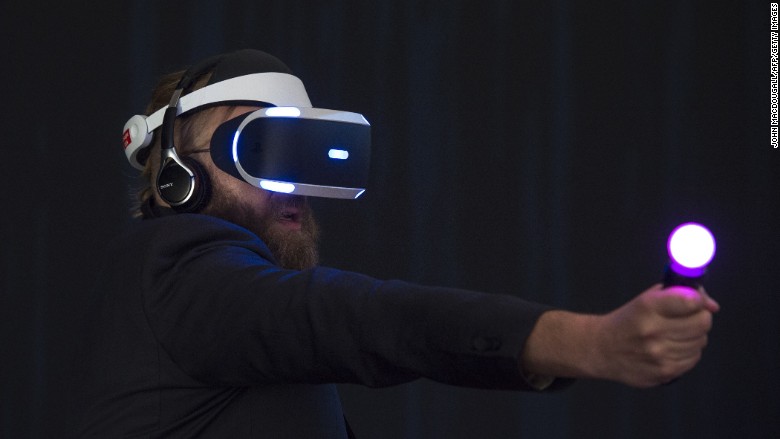 It's hard to shop for gamers, but PlayStation VR is a no-brainer gift for someone who already owns a PlayStation 4. Considering virtual reality headsets can cost thousands, PlayStation VR is moderately priced at $399.
Related: 14 gifts gamers would actually want
The device transports users into immersive game experiences — for example, the Eagle Flight game ($40) takes you soaring through an abandoned Paris, while Batman: Arkham VR ($20) is all about analyzing crimes and hanging out in the Batcave.
7. Roli Blocks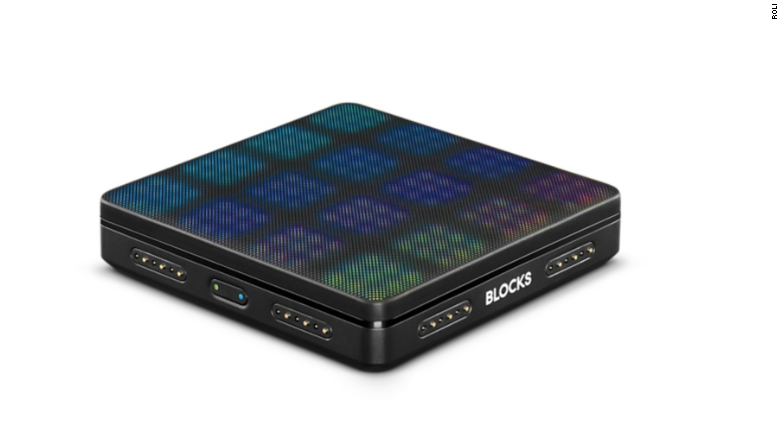 This little square box doesn't look like much, but it's a pretty killer modular music studio. Each color grid on the on the ROLI Blocks lightpad ($179) creates a melody, drum beat, bass line and other sounds.
You tap, slide and press its touch-sensitive silicone surface to change the sound, and before you know it, you're overlaying beats and recording tracks. More controls, called Control Blocks, are sold separately for $79.
Whether you're an amateur musician or a professional, it's a ton of fun to play on the go.
8. Under Armour sneakers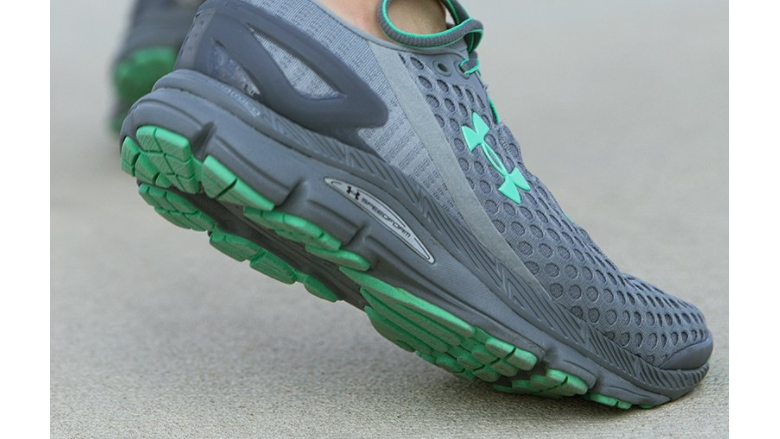 Under Armour's Gemini Sneakers are fitness trackers for your feet. Comfortable to wear and available in two colors (blue and red), the pair comes with tiny built-in sensors that track your distance, pace, where you're going and count calories.
The sneakers ($98) also sync up to the MapMyRun app via Bluetooth, so all fitness data is housed in one place. The best part: You don't need to carry a phone when out for a jog; the shoes store up to five workouts at a time.
9. August smart lock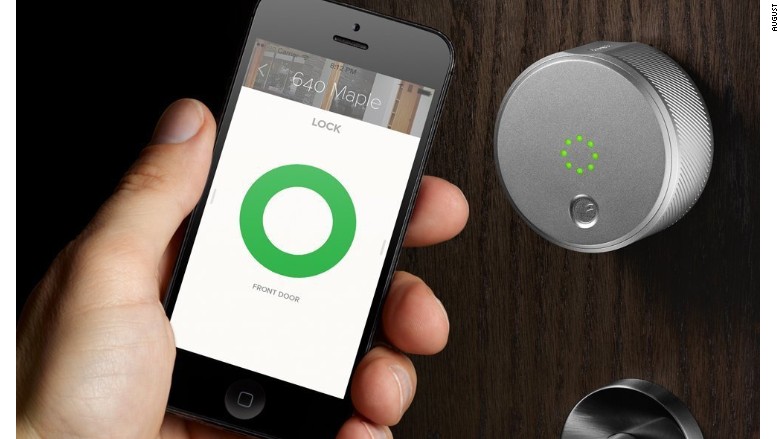 On the surface, there's nothing sexy about giving a door lock as a gift. But the August's Smart Lock ($229) is a worthy buy.
To quell fears of getting locked out of the home, it senses when you're near (by detecting your iOS or Android device) and unlocks the door.
Related: These Christmas lights don't need to be wrapped around the tree
The smart lock — which requires an easy enough install — is powered by back-up batteries, just in case the Wi-Fi or power goes down. (You can still carry a key for peace of mind.)
The real advantage is that you can give remote access to visitors — say, a dog walker who's arriving at a certain time. The app also keeps a log of who's been coming and going, so you can check in to see if your kid is home from school yet.
10. DJI Mavic Pro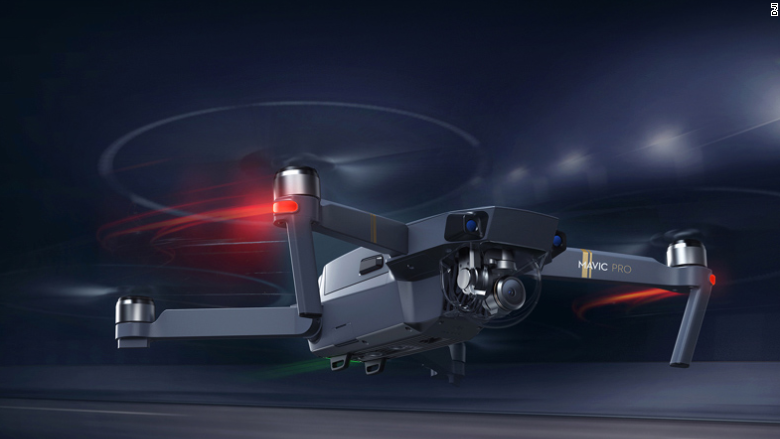 There are a ton of drones out there, but perhaps the year's most hyped (and rightfully so) is DJI's Mavic Pro ($749) — a drone so small it rivals the size of a water bottle. Unlike others, it's light and foldable, so you can easily transport it in a bag.
It's nearly half the price and size of its flagship Phantom drone ($1,400), and it captures crisp photos and video via a 4K 12-megapixel camera and even has livestreaming integration.
Related: We tested DJI's new foldable drone
But it's not cheap. More affordable drone options include the Parrot Mambo ($100) and the Syma X5C Explorers ($60).
11. Eero Wi-Fi router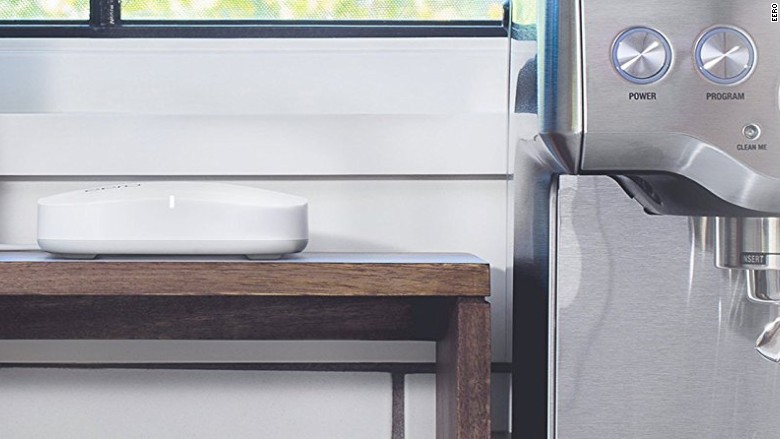 Give the gift of always-working Wi-Fi.
Most homes have one router, but Eero says that's like asking a speaker in the living room to make sure audio gets to your upstairs bathroom.
Eero's Wi-Fi extension routers make sure each inch of your house is covered, so you can stream movies and download big files without walking around to find the right spot.
Related: You can now design your own ugly Christmas sweater
The neat part is you can shut off Wi-Fi accessibility in certain parts of the home, such as a children's room at bedtime.
One Eero costs $199, a two pack costs $349 and a three pack is $499 — although you can find them discounted on sites like Amazon.
12. Professional-grade selfie stick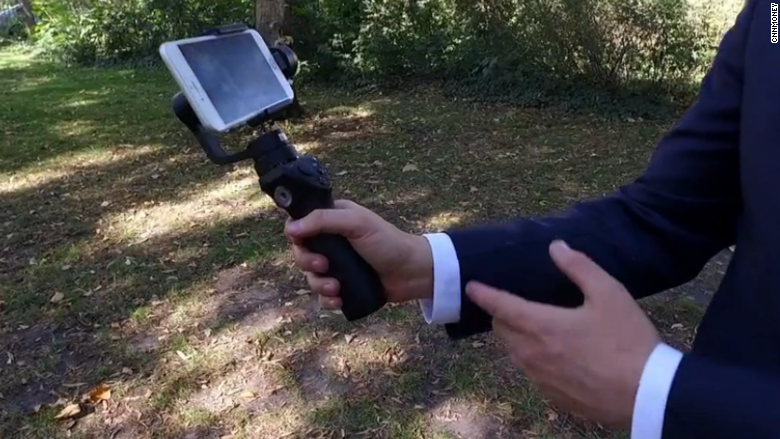 DJI is most known for drones, but it's also made a big impact this year with other product lines, including the Osmo Mobile — the high-tech selfie stick of our dreams.
The gadget attaches to your smartphone and helps you take stable footage without amateur-style bumps.
Related: Drone company DJI just made the selfie stick of our dreams
On the handle, you'll find quick access to the recording button and a way to lock the focus on whatever object you want.
At $300, it's far pricier than other "selfie sticks" but none quite compare to the professional results of the Osmo Mobile.
Advertisement