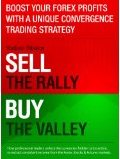 Hi friends,
Today I'd like to tell you about my recently published book. I waited till today because I wanted to see the response from people who purchased it. After getting many emails with such positive feedback, I decided to share it in the blog. The book is available in Amazon, here:
In this book, I take you behind the scenes of the market's price action, showing how to maximize your pips and identify trading setups before the rest of the crowd.
This is done using my convergence-divergence strategy which I named "Sell The Rally, Buy The Valley". If you've been with me long enough, you probably remember that I once held a special live trading marathon based on this strategy.
The book comes with a recording of that marathon webinar, over 3.5 hours in length. This webinar provides additional in-depth guidance, real-life examples of trades and tips.
The unique strategy in this book can be applied successfully to the Forex market as well as for stocks, indices and futures markets, and is intended both for beginner and advanced traders.
Just to show you the power of it, here is an example of one of the last convergences I was in (part of the move). It is GBPUSD daily chart. We all know where it is today:
http://screencast.com/t/Ao9wux9Y7jiI
Enjoy!
Vladimir Ribakov
www.vladimirforexsignals.com