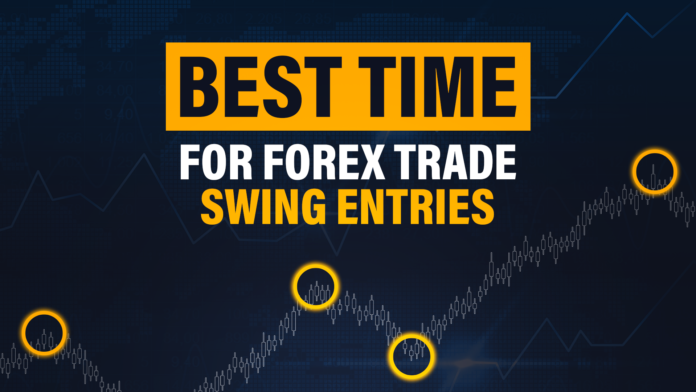 Throughout today's publication, we will be diving into the best time to conduct forex swing trade entries.
Considered a medium-term trading approach, swing trading the foreign exchange markets is generally performed by traders seeking to accrue profits via price swings, hint, swing trades.
Compatible with various styles of online forex trading, swing trading provides investors with greater flexibility than traditional forms of trading while its versatility makes it ideal for traders of varying experience levels.
To learn more regarding the common types of forex swing trading approaches along with the best time to execute forex swing trades we invite you to continue reading.
What is Forex Swing Trading?
As a whole, swing trading is quite popular and used heavily amongst forex traders.
Generally, positions are held between no less than two days up to several weeks.
Given the scope of the time frame used for swing trading, traders can employ a variety of trading strategies whose methodologies are comprised of a myriad of trading approaches.
The ideology behind swing trading would be that traders can benefit and profit from price swings occurring within the financial markets.
Ideally, swing trading is more suitable for traders who possess no more than a few hours of trading availability.
Types of Forex Swing Trades
Swing trading generally includes trading strategies whose focal point revolves around trade reversals, investment retracements, breakouts, and breakdowns.
Reversal Swing Trading
Gauging momentum is the biggest alley for accurately predicting trade reversals. For instance, if you notice that an asset in a bullish trend is losing strength then it may be an indicator that the buyers are losing control to the sellers and that a switch in control of that's assets price may occur. Reversals can happen in either a positive or negative manner (bearish or bullish).
Retracement Swing Trading
Traders tend to levy their knowledge regarding that asset by detaching and looking at the chart at a bigger scale to identify important price points. Generally, this results in traders seeking price points within a larger trend while it is well-known that short-term reversals can be difficult to predict and decipher from natural asset price flow. Retracements can be thought of as an ill-prepared minor countertrend residing within the natural flow of a larger trend. One way to tell if a retracement trade opportunity is available is through the recognition of noticing that price fluctuations are temporary at bay from their recent progression. The fundamental flaw of retracement trading is that it is difficult to predict what is a true trend reversal from only a temporary pullback.
Breakout Swing Trading
The breakout trading strategy is where traders obtain an early position in an ongoing uptrend to amass profits through the "breakout" of price. Generally, this is executed by traders who can effectively identify and take advantage of key resistance levels.
Breakdown Swing Trading
The breakdown strategy is the opposing side of the breakout trading strategy, meaning, it is essentially just the opposite. Traders take advantage of an early position in a bearish trend, which tends to occur after that investor as already identified and keyed an important support level.
Now that you have a brief background into the types of swing trading, let's dive into the best time for forex swing trade entries.
Optimal Forex Swing Trade Time
It's important to have a well-rounded base of trading fundamentals and now that you understand more about the various types of swing trading approaches you can better understand how they are used in the day-to-day itinerary of a forex trader.
First off, it is important to know which assets are the most heavily invested within the foreign exchange industry, which you can learn more about in my recent publication Popular Forex Currency Pair Correlations (2020).
By investing the most heavily invested assets in the $5.1 trillion foreign exchange market, you can take advantage of increased volatility and better monitor news that may affect the value of your targeted currency pairs.
It is well-known that currency pairs paired with the US Dollar, denoted USD, are among the most heavily traded forex currency pairs.
Therefore, the best time to trade forex swing trade entries is during the U.S. market hours, which range between 9:30 a.m. to 4:00 p.m. Eastern Standard Time (EST).
The Bottom Line
The best time to trade forex swing trade approaches is between 9:30 a.m. to 4:00 p.m. EST. Key in on core currency pairs paired with the US dollar, level the playing field by learning more through our dozens of free eBooks geared towards educating traders with unstoppable forex trading approaches, insights, and need-to-know tips.
Thank you for taking the time to read this publication and if you have any insights or feedback to share I invite you to share them below with us!
Tim Lanoue
Guest Author