Is BMW going to be hammered between Trump and Merkel? In Europe, car tariffs are shaping up as the next battle between the United States and its closest allies. Trump has made a huge hue and cry of the fact that American car makers need to pay a 10% import tariff when they export to Europe as compared to just 3% tax for European companies exporting to the US.
President Trump is looking to deal a body blow to European automotive companies with steep tariffs. He shocked the world on March 1, 2018, with his announcement that the United States would impose a tariff of 25 percent on steel imports and 10 percent on aluminum imports. Carmakers would be next on the firing line was a given.
Any move by Trump administration on levying tariffs on imported cars would have the maximum effect on Germany. Auto exports account for almost 20% of total exports and are a crucial part of the German manufacturing economy. Any attack on the industry is a thinly veiled direct attack on German leadership.
Advertisement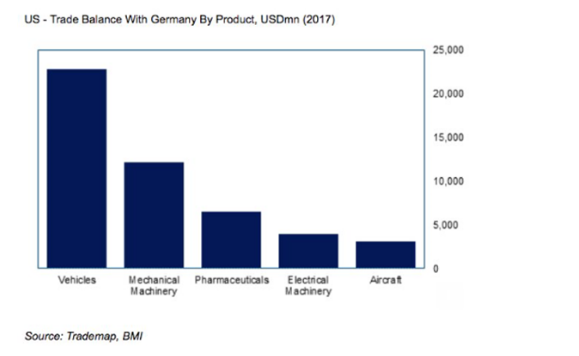 Effect on BMW
Though BMW and other German car makers would be hit, the fact of the matter is that BMW is America's biggest "exporter" of cars. The company has huge manufacturing investments in the US. Its primary investment is an assembly plant in Spartanburg, South Carolina and the company employs over 9,000 people. More than 30% of BMWs sold in the US were manufactured at the plant. Even more intriguing is the fact that the plant exports 70% of its production to places like China and Germany.  The tariffs seen through this angle seem to be a self-goal. The company shed over 3% on the news.
According to the report by the IFO Center for International Economics, the Trump will have an economic impact of more than $6 Billion.
Merkel Response
In an interview, Chancellor Angela Merkel acknowledged the issue head-on and it is definite that she won't be taking this latest tariff missile form Trump lying down. There are retaliatory tariffs in the work and EU is expected to give a joint and sharp response to the new tariffs being planned by the Trump government.
According to the German Automotive Industry Association, German Car Makers and their vendors and subcontractors employ over 100,000 people and produce 800,000 vehicles. They believe that these tariffs go against the principles of an open and fair market and would ultimately result in reduced choice and more expensive cars for the American consumers.
Conclusion
President Donald Trump is hoping to block German luxury carmakers flooding American streets by imposing tariffs on foreign carmakers. He has hinted before in interviews that he believes that every rich household in America seems to have cars by BMW and Mercedes but none by US based Chevrolet. These tariffs are a misguided attempt at solving America's manufacturing decline. The impact of such an announcement will be on both U.S. and Germany and it will have far-reaching consequences in future too.