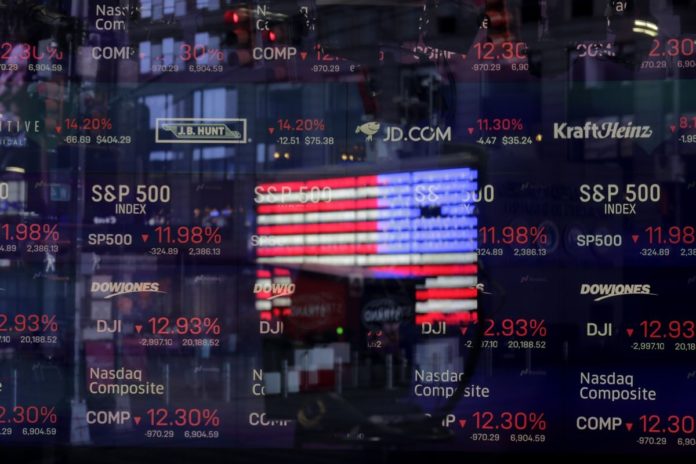 U.S. stocks began the week on a down note and Treasuries rallied on signs that a second wave of the pandemic is emerging. The dollar turned mixed against most other major currencies.
The benchmark S&P 500 Index dropped as much as 2..5% before cutting the decline in half. Energy, financial and industrial stocks led the losses. Investors sought the safety of havens, pushing the yield on 10-year Treasuries down by two basis points. Oil futures slumped to around $35 a barrel in New York as BP Plc warned the pandemic will hurt long-term energy demand.
After a fierce rally sent global equities close to their pre-pandemic levels, sentiment in markets has turned negative. Economic data across the board suggests that the global economy is still weak and there's no sign that international travel is returning to normal anytime soon.
"There's still a lot of uncertainty in this market, and we would not be surprised if the pullback that started last week is 10%-15% in its entirety," Tom Essaye, a former Merrill Lynch trader who founded "The Sevens Report" newsletter, wrote in a note.
More than 20 U.S. states are seeing a pick-up in virus cases, and spreading cases in Beijing have also raised concern of a resurgence of the pandemic. The travel ban between the U.S. and Great Britain could persist for months, according to Anthony Fauci, director of the National Institute of Allergy and Infectious Diseases.
In China, a string of top-tier data all showed that factory output, consumer spending and investment continued to improve in May, but there are few signs of a broad-based rebound needed to spur a V-shaped recovery.
China's Slow Reboot Points to Hard Road Back for Global Economy
Despite the risk-off mood in markets, gold prices slumped, with prices approaching $1,700 an ounce in London.
"One thing is leading to the other. Obviously Covid-19, what happened with Beijing this weekend and a couple of states that are seeing a bit of a growth in cases," said JJ Kinahan, the chief market strategist at TD Ameritrade. "What that really leads to is the fact that if you think abut this quote on quote optimism trade that we've had over the last couple weeks, the optimism trade really was about businesses getting started, going quickly. If we do have a slowdown in opening businesses, a couple of states have slowed their dates, it's going to be very difficult for the reality of business to keep up with expectations of a few weeks ago."
These are some key events coming up:
Policy decisions from the Bank of Japan, Bank of England and the Swiss National Bank are due this week.
China on Monday releases industrial production and retail sales data for May.
CBOE plans to open its trading floor, which has been electronic only since March 16.
Federal Reserve Chairman Jerome Powell delivers his semi-annual policy report to Congress.
These are some of the main moves in markets:
Stocks
The S&P 500 Index declined 1% to 3,011.77 as of 10:52 a.m. New York time.
The Dow Jones Industrial Average decreased 1.3% to 25,264.40.
The Nasdaq Composite Index dipped 0.5% to 9,544.08.
The MSCI All-Country World Index fell 1.1% to 511.01, the lowest in more than two weeks.
Currencies
The Bloomberg Dollar Spot Index was little changed at 1,214.27.
The euro climbed 0.2% to $1.1283.
The Japanese yen strengthened 0.1% to 107.26 per dollar.
The British pound gained 0.2% to $1.2569, the biggest advance in a week.
Bonds
The yield on two-year Treasuries decreased one basis point to 0.19%.
The yield on 10-year Treasuries decreased two basis points to 0.68%.
Germany's 10-year yield dipped less than one basis point to -0.44%, the lowest in more than two weeks.
Britain's 10-year yield declined less than one basis point to 0.203%.
Commodities
West Texas Intermediate crude fell 1.8% to $35.61 a barrel, the lowest in two weeks.
Gold weakened 0.8% to $1,717.63 an ounce, the biggest drop in more than a week.