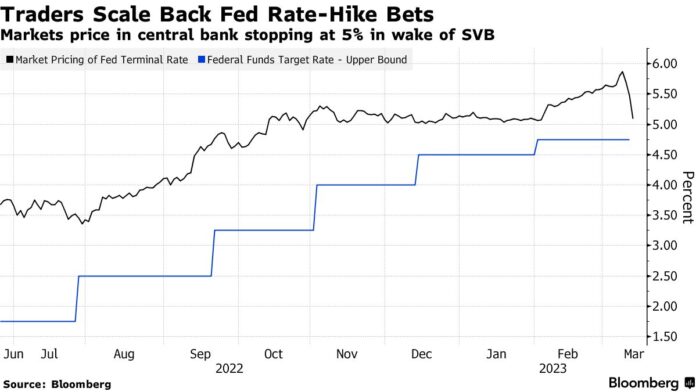 Treasuries surge as traders tecalibrate tate bets. Investors poured money into the safest assets, snapping up government bonds and gold, and unloaded bank shares as the collapse of Silicon Valley Bank reverberated across trading desks.
Treasury two-year yields plunged as much as 60 basis points to less than 4%, heading for their steepest three-day decline since Black Monday of October 1987, as traders bet the collapse of SVB and two other lenders will compel the Federal Reserve to halt rate hikes. The 10-year yield dropped more than 50 basis points to six-week low, and the dollar erased its gains for the year.
The turmoil has caused a rapid repricing in markets for where the Fed will take policy. Swaps traders are now pricing a less than one-in-two chance the Fed will hike by another quarter point this cycle. Goldman Sachs Group Inc. economists said they expect no change in the policy rate following the collapse of SVB. Expectations had built for a hike of as much as 50 basis points after Chair Jerome Powell addressed lawmakers Tuesday.
"The failure of SVB puts the Fed's focus on financial stability," said Marija Veitmane, senior multi-asset strategist at State Street Global Markets. "This is a difficult position Fed is in, on the one hand it needs to keep hiking to arrest inflation, but also it needs to protect the financial system. Feels like a lose-lose situation for the Fed and the market."
The S&P 500 dropped more than 1% amid a rout in bank shares. The fallout from SVB's collapse prompted President Joe Biden to promise stronger regulation of US lenders, while reassuring depositors that their money is safe.
First Republic Bank slumped more than 60%amid growing worries about the state of US regional banks. Among bigger lenders, Bank of America Corp. and US Bancorp were down more than 5% each.
Treasury Secretary Janet Yellen said her office would protect "all depositors" at SVB. The government actions will also include a new lending program that Fed officials said would be big enough to protect uninsured deposits in the wider US banking sector. Still, the sudden closure of New York's Signature Bank by state regulators Sunday underscored the urgency of stabilizing the financial system.
Stocks in Europe dropped the most since mid-December, with banks leading declines. Commerzbank AG and Credit Suisse Group AG shed more than 10%. HSBC Holdings Plc fell more than 2% after buying the UK unit of SVB for £1. The yield on two-year German debt plunged 27 basis points to 2.23%, putting it on course for the steepest two-day fall on record.
Monday's moves in markets come after risk assets got pummeled last week, with the US stock benchmark suffering its worst week since September. Wall Street's so-called "fear gauge" spiked, with the Cboe Volatility Index hitting the highest this year. Anxiety is also running high ahead of this week's consumer price index report.
"From the Fed's point of view, there are additional dangers that need to be reviewed, which will take some time," Carol Pepper of Pepper International said on Bloomberg Television. "So I'm hoping that this will help them to have a good reason to pause because frankly creating financial stability is the number one job at the Fed."
Some of the main moves in markets:
Stocks
The S&P 500 fell 1.2% as of 9:36 a.m. New York time
The Nasdaq 100 fell 0.7%
The Dow Jones Industrial Average fell 0.6%
The Stoxx Europe 600 fell 2.9%
The MSCI World index fell 1.1%
Currencies
The Bloomberg Dollar Spot Index fell 0.6%
The euro rose 0.6% to $1.0706
The British pound rose 0.6% to $1.2099
The Japanese yen rose 1.8% to 132.55 per dollar
Cryptocurrencies
Bitcoin rose 4.2% to $22,394.18
Ether rose 2.1% to $1,589.35
Bonds
The yield on 10-year Treasuries declined 25 basis points to 3.45%
Germany's 10-year yield declined 32 basis points to 2.19%
Britain's 10-year yield declined 35 basis points to 3.29%
Commodities
West Texas Intermediate crude fell 4.5% to $73.22 a barrel
Gold futures rose 2.1% to $1,905.80 an ounce