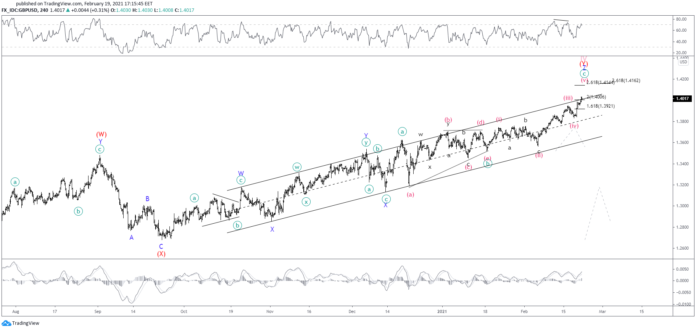 Cable's break of the $1.40 handle is an attractive psychological level to consider short bets. Despite the 200% Fibonacci extension of pink (i)-(ii) supporting a similar narrative, pink (v) could be extended. In such a scenario, the possibility of breaking to fresh highs to 1.4150 will increase.
Pound Could Extend Higher in Wave (v)
The now established breakout somewhat validates the current medium-term structure seen since the 1.2676 low registered on Sep 23rd, '20. The 1.4162, a tad higher than the abovementioned high that can be expected to end this bullish run, is the 261.8% extension of blue W-X of the triple three in wave (Y).
Although the break towards the said highs could validate a bullish move outside the regression channel, it could be a false-break, where more sellers could unload a better size of pounds for a reversal at higher levels.
A close alternative count suggests that the cycle in wave IV ended, and a reversal will ensue without rising to fresh highs, giving early speculators a greater advantage.
Long-tern Alternative Count is More Bullish
However, looking at a third –and less likely- count from the $1.14 low registered on Mar 19th, '20, a continuation higher in the very short-term and long-term could be possible.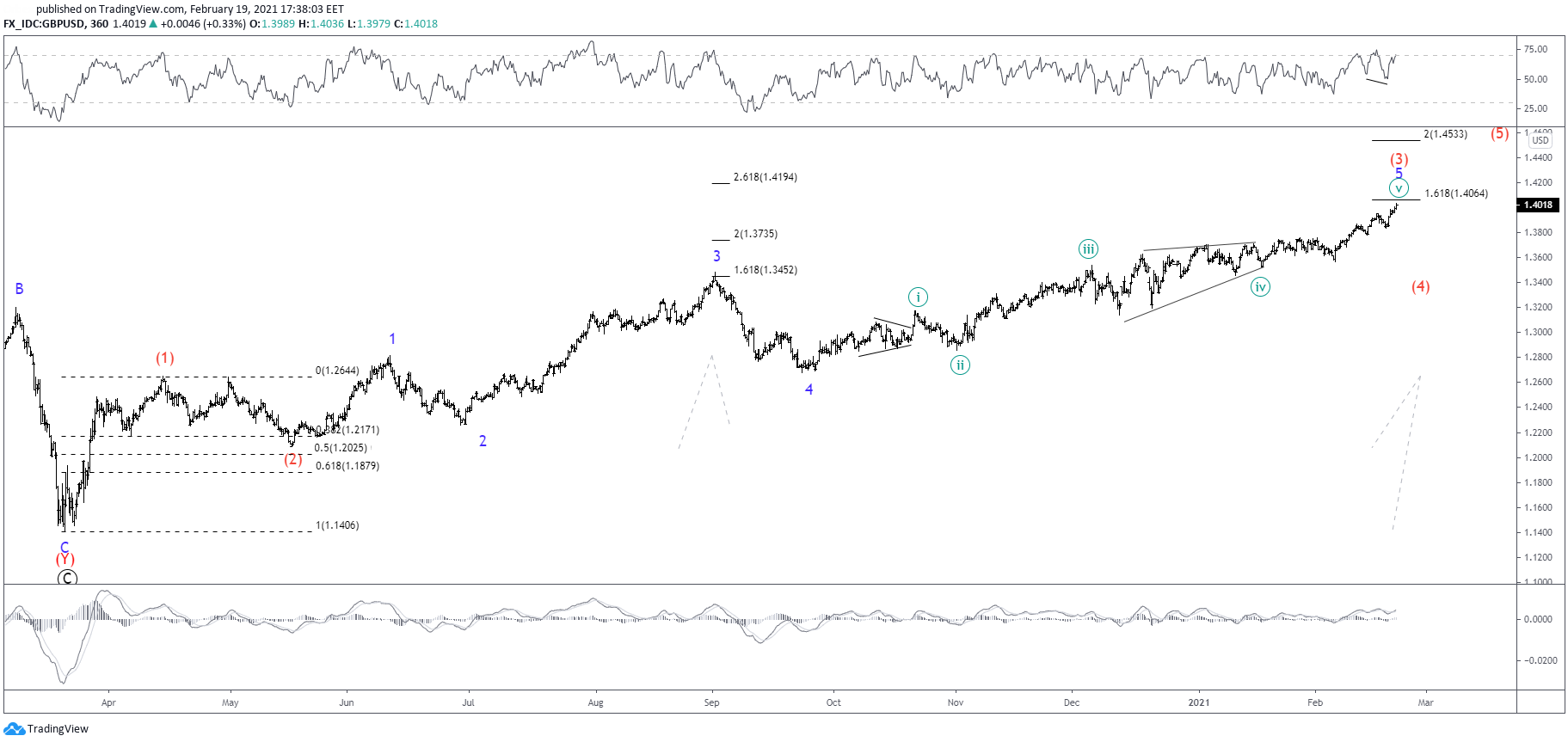 We are looking at an impulse in red (3) in the above count, either completed or likely to complete in the very short-term near 1.4064. There is also a chance that blue 5 extends to the 261.8% extension of the internal blue 1-2 in (3). Either way, once (3) is in, a correction in red (4) could be expected to drive rates lower.
The medium-term correction could take us to a fresh low around or below the 50% of red (3). This is extracted by the depth of red (1)-(2). The Fibonacci can be drawn once (3) is finally in and we have a new high with sellers potentially driving the pound back towards the 30s.
About the Author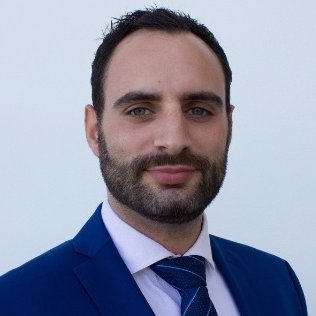 Stavros is an licensed Forex professional, currently heading the investment research team at a reputable broker. He has demonstrated history in proprietary trading, Elliott Wave analysis and educational content writing. He is seen writing in the best sites for traders.
You can follow Stavros on Twitter and Linkedin here: https://twitter.com/StavrosTousios & https://www.linkedin.com/in/stavrostousios/