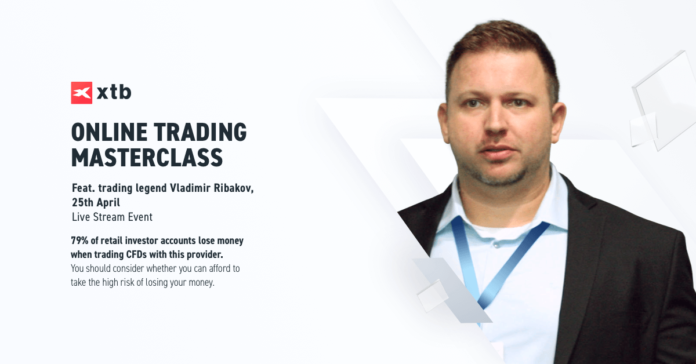 Click To Join Our Community Telegram Group
YOU ARE INVITED!
Join Global Online Trading Masterclass
Thursday, Apr 25, 09 am – 6 pm BST
Hi traders,
I have a very interesting event to share with you. Are you sitting?
Read carefully!
Our partner – XTB, highest rated FX & CFD Broker of 2018,  is arranging a truly global trading masterclass, where over 10 prominent traders will speak about their successful trading strategies. Just imagine – 9 hours of pure highest quality education.
As you know, people pay thousands of Dollars to attend such an event.
Not this time!
I accepted to be part if that's free for the audience. I want people to hear my message and not to pay for that.
The attendance is FREE. That's right – NO COST!
So I invite you to join and listen to me, learn the amazing technique I am about to share and also listen to the rest of the speakers and get their message.
Don't miss this valuable opportunity to get in the online trading world from the right foot.
I will be speaking about the following:
1 – Engulfing Candle Pattern 
2 – Fibonacci levels
3 – The art of combining them together for ultimate profits!
But, you know me…. I always look for more benefits to my followers!
So…
As per an agreement with XTB – I prepared some bonuses for you.
Those, who will open a new account with XTB and deposit minimum $400, I will give any two of my systems for FREE:
sRs Trendrider 2.0

Forex Triple B

Forex Crystal Ball

FX Delta

Divergence University

Traders Academy Club annual membership
Take the chance of this combined expertise to learn and develop your trading skills. You will be shocked by what I am about to share with you. Don't miss.
*This is a training masterclass organized by XTB International, it is not investment advice of any sort, and XTB International is in no way liable for any outcomes of this masterclass.
Advertisement