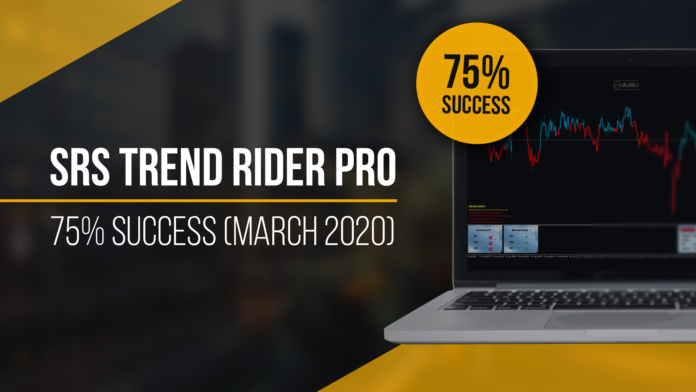 Known as the flagship trading system of Vladimir Ribakov, the sRs Trend Rider Pro is a highly intuitive and accurate trading system designed to rival the toughest market conditions with precision.
The most recent iteration of the sRs Trend Rider Pro was released in October of 2019 and since then has gone on to generate a cumulative success over 75% since November of 2019.
Nearly 6,000 pips have been generated since its inception while the exclusive trading features of the sRs Trend Rider Pro have long since created a significant performance gap between itself and other trend-oriented trading systems.
To learn more regarding the recent performance, valuable sRs Trend Rider Pro trading tips, and more we invite you to continue reading our sRs Trend Rider Pro review.
sRs Trend Rider Pro Recap
Functioning as a semi-automated trading system, the sRs Trend Rider Pro dominates the trend trading arena with unrivaled accuracy and continues to generate success rates over 70% for three consecutive months in a row.
Apart from its paramount success as an online trading system, the sRs Trend Rider Pro reflects unique and powerful trading features that are exclusive entirely to the sRs Trend Rider Pro.
We are talking, of course, of the customized sRs Candlestick system feature that is designed to scan for the existence of reliable trend conditions across a multitude of varying timeframes along with the following:
sRs Monitors – Autonomous system integration which scans and gauges the momentum on the 5 most recent candlestick formations, optimized more specifically for longer timeframes.
sRs Sentiment – Powerful system feature that automatically scans the sentiment of price action behavior across multiple time frames.
sRs Trade Manager – Ultra comprehensive tools that provide traders assistance with entering trades above trend lives, tackling support and resistance levels while providing absolute support coverage on pending orders.
News Headlines – A strong defensive system integration for traders where the sRs scans incoming news and alerts traders to when these announcements are published.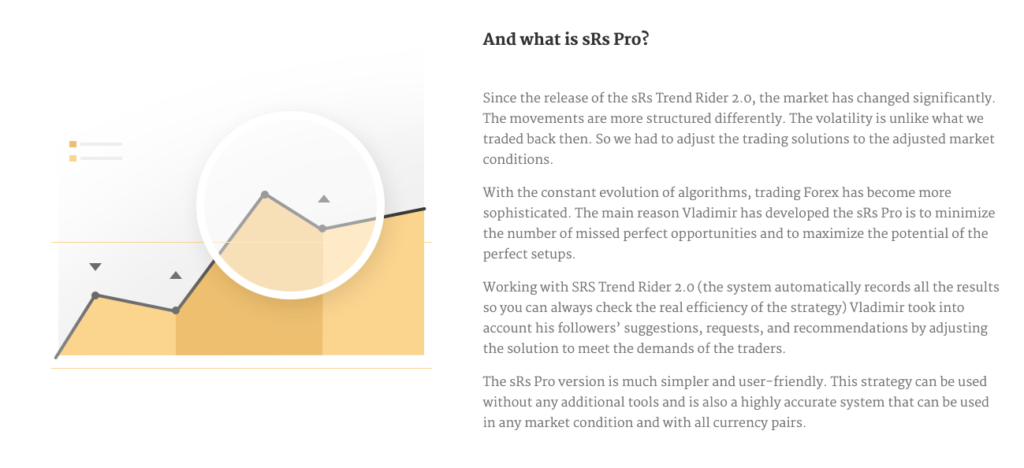 These system integrations are a combination of traders' requests and system enhancements seen fit by Vladimir Ribikov, who has been a full-time trader for over 14 years and is a Certified Financial Technician.
For those of you who aren't too familiar with this financial trading blog, you can see the documented trading performance of the sRs Trend Rider Pro and other industry-leading trading systems on our Performance Page.
As you will notice, the trading results of each trading system are well-documented through the autonomous screenshots of trade entries and exits (a really sleek MetaTrader4 feature) while we take transparency one step further by documenting our entry and exit rates, trade direction, and performance.
sRs Trend Rider Pro Performance
From the first week of November 2019, we've been closely documenting the trading performance of the sRs Trend Rider Pro.
As we displayed in our sRs Trend Rider Pro Case Study, the sRs Trend Rider Pro generated a success rate of 81.69% eclipsing a period of over 12 weeks and since then has still proven beyond its worth generating an average success well over 70% since the start of the 2020 New Year.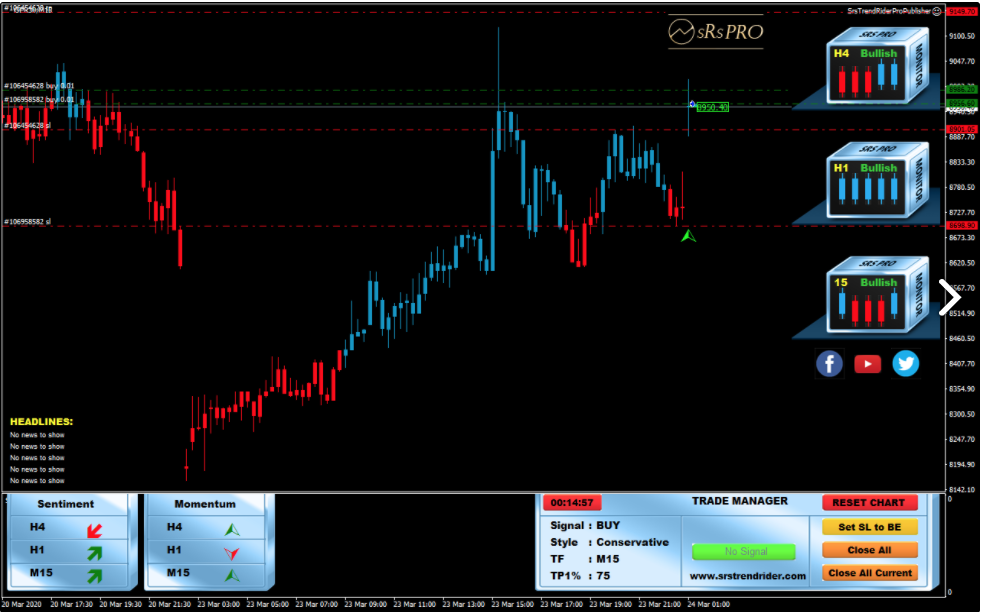 Last month, March 2020, the sRs Trend Rider Pro amassed a 75% success rate, which considering the conditions of the financial markets (remember the Coronavirus has all but obliterated the financial markets), is a feat entirely within itself.
The hysteria and panic surrounding the effects of COVID-19 have been felt worldwide while even the best day traders have struggled to make educated trading decisions given the exhibited volatility of the financial markets.
Bear these facts in mind before you but the sRs Trend Rider Pro on the back-burner because we can tell you, for over the decade that we've been involved in the financial trading arena, we have yet to see a trading system prove its worth and consistency during such trying times as we've been enduring.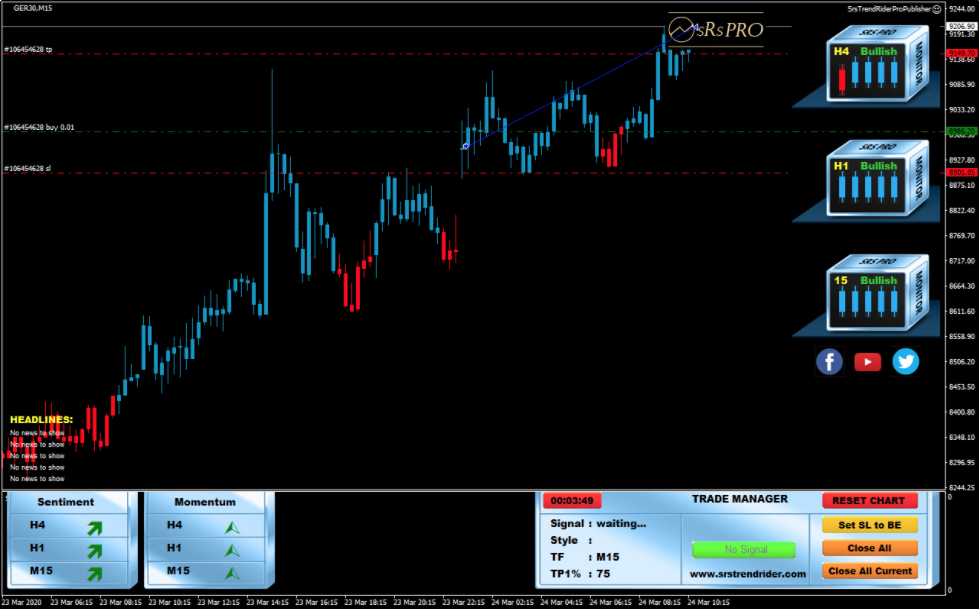 sRs Trend Rider Pro Tips
We've taken the time to compile 2 rudimentary (yet often overlooked) tips to employ when it comes to trading effectively with the sRs Trend Rider Pro.
Money Management
It's common knowledge for most day traders who have a taste of experience with online trading that sometimes the biggest threat to your success can be yourself.
Emotional trading takes its toll and it is difficult to remove your emotions from the equation when it comes to trading your hard-earned money.
Apart from never chasing losing trades (do not double up after losing investments, a.k.a. Martingale strategy) and never invest more than 3% to 5% of your account balance per investment.
One thing to remember is that trading is like a marathon, not a sprint.
Despite what you may see online or in some YouTube video you will not get rich quick nor should you want too because truth be told you should be considering online trading for the long-haul, not just the short-term profits that can be generated.
Do you remember what we just told you to remember?
Trading is like a marathon, not a sprint!

Trade Limit + Stop Loss Method
Before you begin your trading journey take the time to put forth a couple of rules, and more importantly, abide by them!
Setting up trade minimum and maximums is one method you can to tackle this.
Commonly traders employ a method similar to this:
Stop Trading If – 2 Consecutive Losses Have Occurred.
Trade Limit – Place No More Than 3 Trades Per Day.
Stop Trading If – You Lose More Than 15% Account Balance In 1 Week.
If you employ these trading methods while using the sRs Trend Rider Pro you will not only be doing yourself a courtesy by investing responsibly but more importantly, you could actually even improve your success with this system, which remember, is generating a great success over 70%.

The Bottom Line
The sRs Trend Rider Pro can significantly improve your performance as an online trader and as the performance results of the system have shown, the sRs Trend Rider Pro continues to generate success rates that can beef up your trading portfolio.
There are only a few other trading systems available for the FX and CFD marketplace that generate the type of success as the sRs Trend Rider Pro while there is no trend-oriented trading system that functions as effectively and consistently as the sRs Trend Rider Pro.
Mastering the learning curve takes between 5 to 10 days thanks to the in-depth user manual and multiple tutorial videos provided upon registration while traders can receive this system for free by opening and depositing with one of the sRs Trend Rider Pro's regulated investment brokers.
If you have any questions regarding the sRs Trend Rider Pro please don't hesitate to reach out to us at support@vladimirribakov.com!
sRs Trend Rider PROClick Here To Get Free