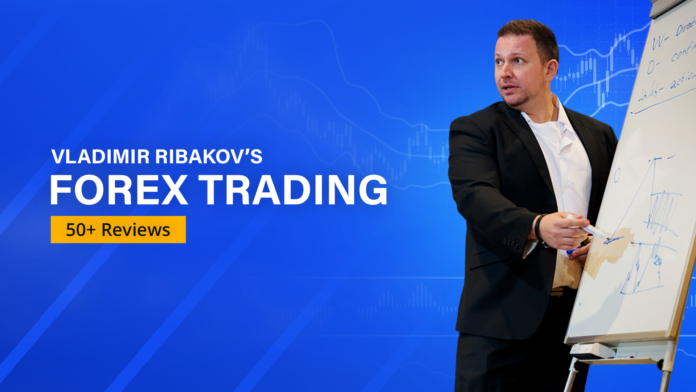 The forex trading industry, like any other industry, has been plagued with scams since its inception and will continue to reflect these unsavory ordeals so long as the Earth keeps spinning.
As the majority of you can relate with, you venture into the murky waters of the foreign exchange industry with one purpose, to invest your hard-earned money and generate profits on those funds.
The sad reality of the matter, however, is that most day traders lose their initial investment not once, not twice, but multiple times.
Only once the pain of losing our hard-earned capital surpasses the notion that this time things will be different do we tend to take a step back and put things into perspective.
We like to refer to this as the newbie trader precipice, where traders generally take one of two routes.
Either they can allow self-doubt to bubble out from within to cloud their judgment to decide that it's just not meant to be or they can choose the path that is more difficult, to stick it through, to put their nose back onto the grinding stone and literally chip away, little by little, against the self-doubt and haters because you know deep down that this opportunity is meant to be.
No one ever said it would be easy, and if they did, they would be a liar.
Like any other job, forex trading takes hard-work, discipline, and diligence to not only arise to the occasion but to surpass the incalculable number of obstacles that you'll have to overcome.
You will either become your biggest hater or you can leverage optimism, take the difficult route not meant for many and carve out a legacy that will forever change the way you live.
The choice is up to you – it always has been.
Now, why am I telling you all this?
The reason would be because you don't have to shoulder the burden of trying to do everything on your own.
You see, we live in the information era, where an infinite sum of information can instantly be accessed with your fingertips or a few swift clicks of a mouse.
As a result, many people believe that no matter the difficulty of the subject at hand that they can decipher not only the fundamentals but also the complexities associated with forex trading.
While this may hold true for some of you, as a whole it is not only impractical but it creates a realization that the sort of commitment involved with forex trading is not for the faint of heart – you literally need to become obsessive about it on your end if you are to succeed.
You see, luck will only carry you so far in the day trading arena and if you continue to press your luck you will get burned.
With that being said, it takes not only courage to admit when you are out of your element but also honest self-awareness – which many people tend to shy away from because they enjoy being comfortable "in their box."
The truth of the matter, which we will reiterate once more, is that you are not alone.
Knowing how to start your forex trading journey is just as important as knowing the end goal in sight, therefore allowing you to reverse engineer the process into chunk-size pieces that can be broken down and tackled over time.
That is what we aim to do here at VladimirriRibakov.com.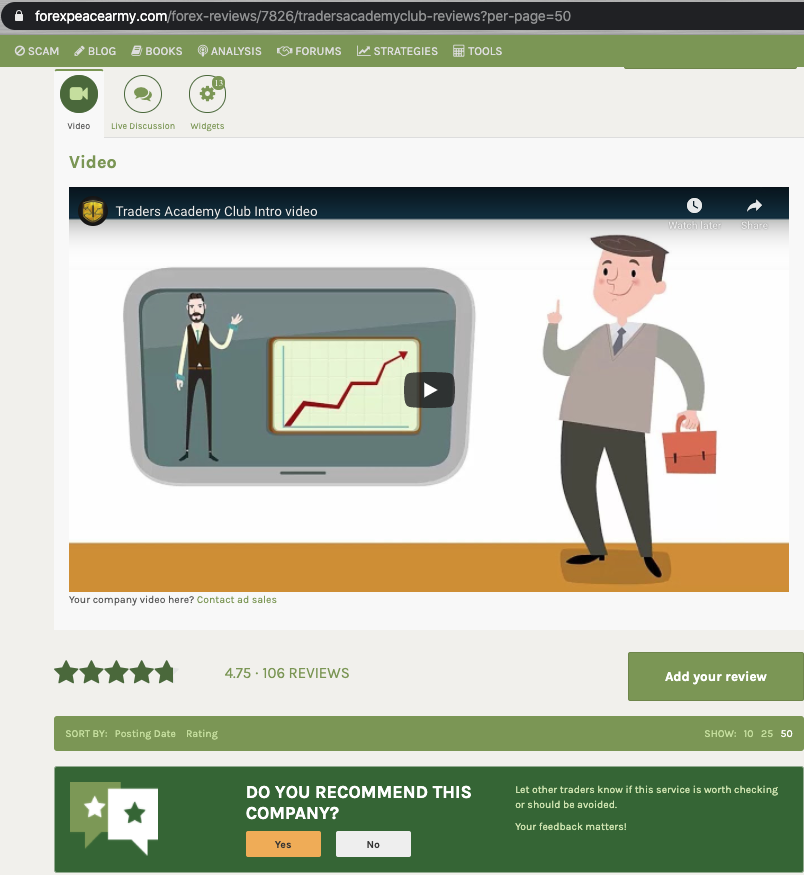 We aim to provide the astronomical encompassing insight that you need so that you can begin leveraging the foreign exchange markets and start changing your life for the better.
Let us pronounce this disclaimer beforehand, though, it will not be easy and you WILL be met with obstacles that seem not only insurmountable but that will also shake you down to your core and test not only your resilience but also your character.
Through the free resources, we've amassed over the past half-decade we've been able to help novice traders learn the art and science behind trading while advanced traders have significantly benefitted from our advanced forex trading strategies and semi-automated trading systems that we've fine-tuned and perfected over the years.
With that being said, if you aren't FIRED UP, then perhaps forex trading isn't for you – but know this, if you are still excited about trying to tackle the foreign exchange markets because you feel it deep down in your bones that this is what you are meant to do then we got good news, we got your back and will always be here to provide the insight you crave.
Now to provide additional transparency to support the claims we've made, we've compiled 50 reviews by traders who have been positively affected by the mentoring and teachings offered by Vladimir Ribakov, a Certified Financial Technician, a full-time FX trader of 14+ years, and more importantly a mentor to all.
These reviews, and many more, were compiled and may be found from the following sources disclosed within the pictures and from telegram and email messages we received.
meehanmj01 – "By following his teachings he will make you money and give you a career for life. He also creates a number of ai programes and a divergence course of study and live applications."
VinceVega – "Hey guys, I've been with TAC and Vladimir Ribakov for 2 months now and it's been an overwhelmingly positive experience. I day traded Futures before, so I had trading experience, no idea how to trade Forex mid- to long term though… However, they dont provide entry signals, they just give you direction and invalidation, which is a good thing in my opinon, because it forces you to pay attention yourself and truly master the skill of trading, which eventually will lead to becoming an independent trader, if you just follow someones signals, you'll never be free… So to summarize, overwhelmingly positive, very great experience, best trading decision I have made in my life, been out there alone for a year and it's not been working. Trading itself is hard enough, no need to fight out there alone. So don't hesitate, join us for a ridiculously cheap price btw!" 
Franco8181 – "I have been a member of TAC for over a year now and I cannot say enough great things about Vlad and his team. The education material is amazing, the chat rooms are always monitored and questions are always answered, and the (almost) daily live trading room is amazing. Best bang for your buck, hands down!!"
yu1ji5 – "To be honest, I accidentally watched Vlad's videos on YouTube about his attitude towards Forex. I just felt that oh man, this guy is so passionate about Forex based on his voice and logic behind the scene. Therefore, I dig up deeper to watch his videos from his channel. I have to say his work is AMAZING! And then, I had a chance to communicate with him one by one. His suggestion and knowledge in Forex saves my confidence as I was a loser before. I told him that I would watch several more of his Forex Teaching videos before I joined in TAC, and Vlad was glad that I would like to solidify my fundamentals first before the next step. In July, I was part of the TAC family. Group members are generally active and share their trading ideas. However, more important is that, Vlad is quite approachable. He will answer each of the question in the club, if you have some concerns to ask. Vlad and TAC is my strongback for trading now since after one-month participation, I have the idea about the real way to earn money and some trading strategies that I am beneficial from the club. Thank you Vlad. I will keep working hard to be an outstanding trader. This long-term goal will be unchanged since I follow you."
Ojomola1 – "I came into the world of Forex trading over six (6) years ago and was going To and Fro in the market, from one system to another without success. I was a follower of Vlad for more than two (2) years before joining the club. Traders Academy Club afforded me the knowledge I've been looking for and I now trade the market on my own successfully without a guidance or signal from any source to trade profitably. If I must be sincere with my review, this club is not for everyone i.e, people looking to be alerted when to buy or sell, people looking for the holy grail of Forex trading, and those who wants to buy luxurious cars, house etc. withing a short-while trading Forex. But its for those whose want is to learn the real art and science of Forex trading and those who look out to growing their account slowly over time.Of course there will be losing period, but consistency is the key."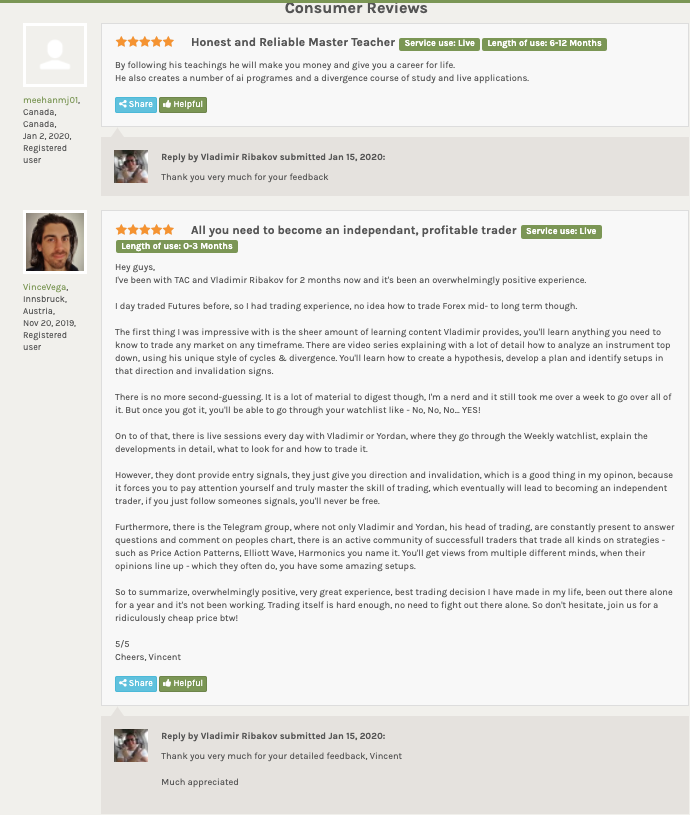 Farhan Azeem – "Great sir. As usual. You are genious."
Hamad  Ahmad – "thanks for your vidoe. This video is great .I have learn many things in this video. Thanks vladimir ribakov."
Mister jaohar – "YOU ARE THE BEST"
Kave Goodarzi – "thank u for your time and amazing learning you are the best  the best"
Prince M. Golds – "you have a million dollar secret on 11:00 minutes in this video!"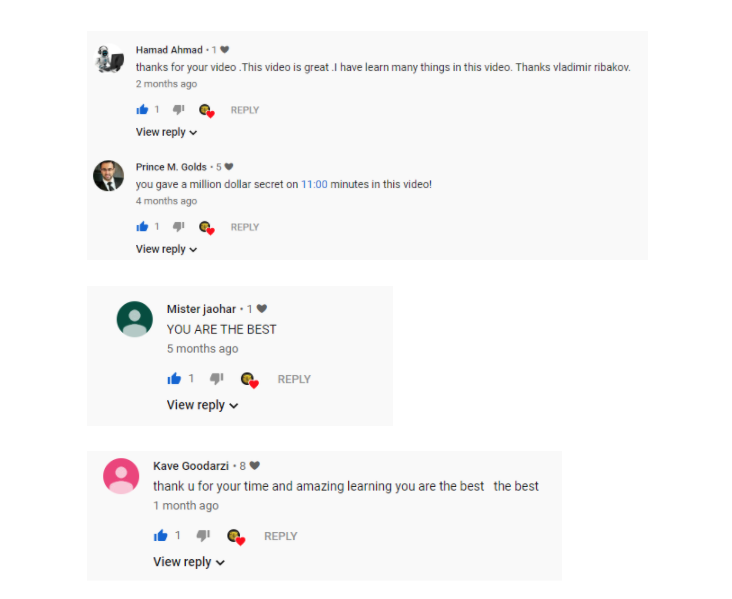 Valid – "before I find TradersAcademyClub, I just confused about how to start to be a trader, I fallow too many groups on the internet most of them tell you, you will be rich faster , 1k to 10 k like this, also you going for robots or fallow signal provider just for profit but in the short term you below down your account to 0..when I join trader academy club I just realized I don't know anything about trading fact and now I am a member from 7 months and learning of too many technical analysis and the best mentor with perfect support, if you want to learn how to trade, honestly I recommended 100% trader academy club is the best place for education .you should try hard to be a good trader and should have a real mentor, if you want to hear buy here or sell here don't waste your money and your time."
rafaelizidorotr – "Ive been signed to TAC more than a month now, and it is being great. It's pretty cheap since it's an annual subscription and the member's area is so complete and clarifying with awesome lessons. Their advanced technical analysis with Cycles and Divergences takes some time to understand and apply with precision, and I really recommend taking notes and re-watching the videos, but once your master it, it's completely game-changing and added up with their weekly forecast and daily market analysis, it will keep you always on the right side of the market. I definitely recommend it."
Tricia54 – "I have been with Traders Academy Club since 2017. I have no regrets. I will continue being a student at this club because you learn something new everyday. The resources provided are superb and I love the weekly and daily webinars. I have purchased most of their indicators and it helps me a lot. There are also free indicators and learning tools inside you can utilized. My account has grown consistently because I took my education seriously. Vladimir has thought me to be patient. Wait for setups! I don't rush into pairs. I take my time in selection of pairs. Learn and earn!"
Isaac_Novoa – "Im very glad to found Vladimir and the TAC team, they are not only looking for cusmers, but they are also reliable as they do teach and personalize our needs. I am new at TAC and I have to say Im glad to find them. Thank you for your suppor and mentorship, this just started and looking forward on learning and help others as you all currently do. Good Organization, Good Results, Caring Service equals to happy clients and growth. Thank you again for this wonderful ideas and forecast information."
AOBIORA – "Traders academy Club is a must for fortunate traders. The trainers are not only knowledgeable but are constantly striving to bring to the community other opportunities that may benefit traders in the community. The time investment by the trainers are second to non. At the club every trader is willing to lend help to newer traders, a rob-off from the CEO who is on his toes to ensure everyone in the community gets the best. Can you imagine investing over 5 hours weekly on Live trading training ? TAC is simply the best."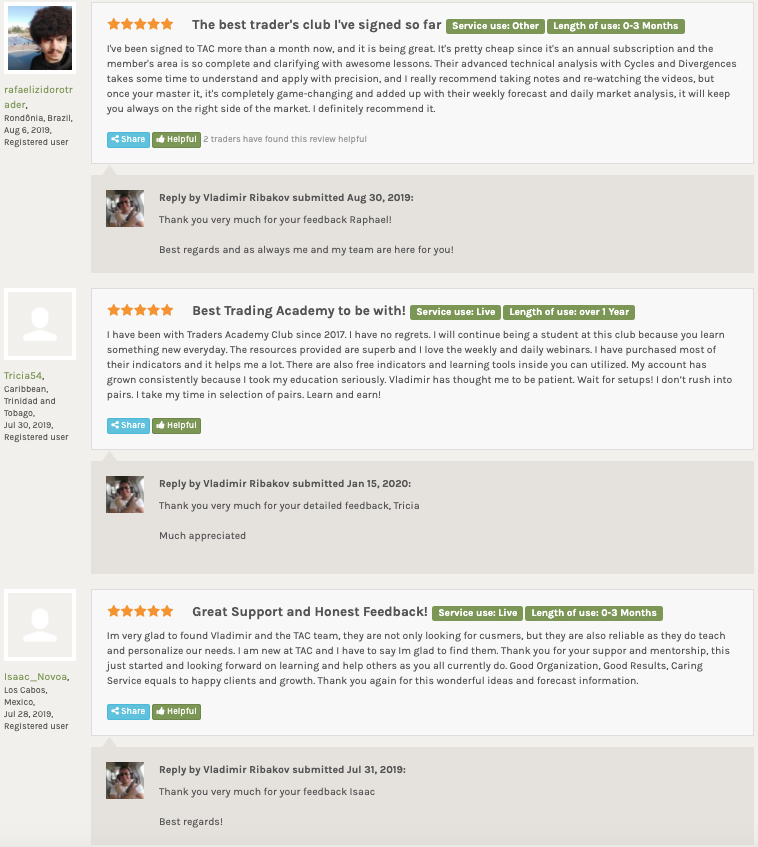 kikomp18 – "I joined TAC about 6 months ago, and I am only disappointed I did not do it earlier! TAC is a community of traders who share their trading ideas and help each other on a daily basis, where you have from experienced to new traders and with many different strategies and styles. Beyond the community, TAC also has vital services that help me on my trading a lot, like the daily market report and setups and the live trading room… If you are serious about trading, not thinking you'll be a millionaire next month, then trust me and join TAC, I bet you will never leave, because even if you are a pro trader after some years, the price you pay for the community you get is very much worth it and very valuable."
Marco – "Absolutely love their approach. They want you to truly understand their way of trading and how to manage risk. They always have time for your questions and are fully supportive. If you are willing to put in the work this is an amazing community to be part of. The best forex educators I've seen so far. They publish daily reports there is a ton of online webinars available that allows you to watch their techniques over and over again. Totally worth it!"
Andrei.Cioban – "I like this club very much, there are a lot of experience traders from where I can learn a lot. They and especially Vladimir and Yordan are punting a lot of time and effort to teach us to trade with responsibility, and to have patience. Witch every live trading room, I become better at understanding how the market works"
recep – "It is great opportunity. They care to all your problems. Trustable persons and club. You can succeed with this guys and club. I get answers to all my questions. What we must do is only follow their instructions patiently. If you try them, will see the same result. They are continously on our side adn with regards. Wishing great success to all traders."
MO_AL – "I joined the club i still learn how to trade and try to understand forex vladimir and yordan are the best they will always support you if you ask they have a lot of webinars and understand the secret of trading and how to read the charts daily webinars trading setups tips also they have telegram group you share your setups if you are wrong vlad and yordan will help you with your setups i'm glad that i joined my name is mohammad i'm from kuwait"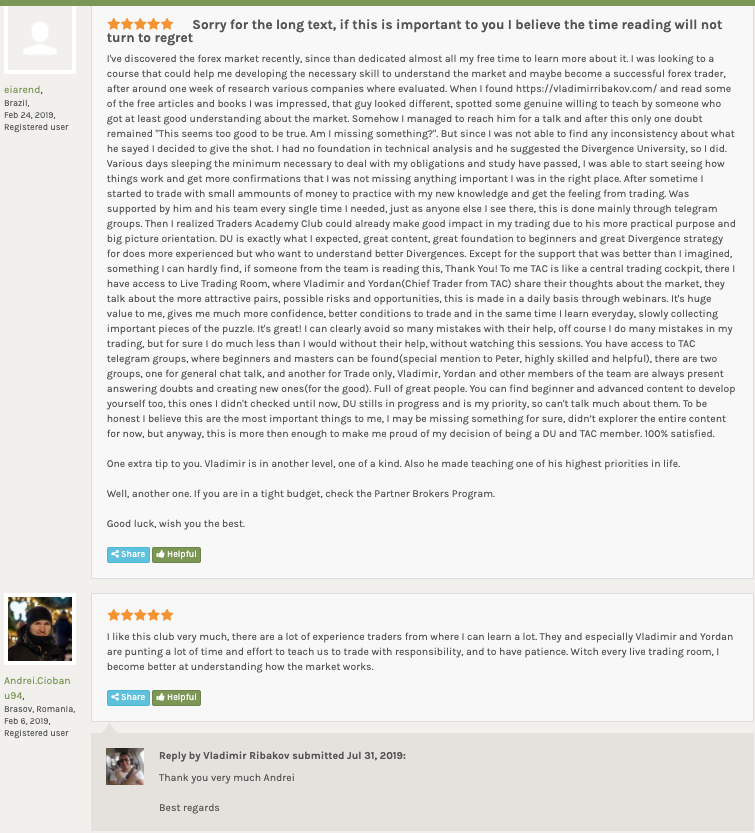 As you are beginning to see, Vladimir Ribakov and his team are here for the long-run.
Compared to most service providers who primarily seek a once-and-done relationship with their clients, we believe in long-term prosperity between both parties involved.
Consider the following for a second, Forex Peace Army, arguable one of the FX industry's biggest Watchdogs, reflects over 100 reviews from traders rating Vladimir Ribakov, his educational systems, and various semi-automated trading systems with a 4.75/5.0 star rating.
Unparalleled value is what Vladimir aims to deliver with every opportunity that he brings into fruition, there is a reason why Vladimir has one of the largest trading communities online of over 91,000 traders – it is because the value given is unwavering and applicable to traders of all experience levels.
Whether you are doubting your ability or you are eager to get started, we have the resources, expertise, and know-how to get you started on the best investment path possible – regardless of experience level and that is a fact!
If you want to learn more regarding any of the services, educational trading opportunities or more about Vladimir Ribakov himself we invite you to visit the resources below:
Additional Resources of May Find of Value
Thank you for your time and interest in Vladimir Ribakov and his high-valued forex investment opportunities.
Should you have an experience or insight to share we openly invite you to share your feedback with us below so that others may benefit from your experiences.
Advertisement